Ligue 1 Injuries & Suspensions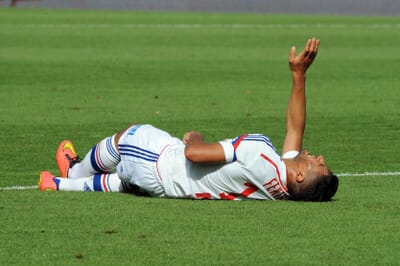 Ligue 1 is the top professional football division in France, with famous teams such as Paris Saint-Germain, Lyon and Monaco competing throughout the season for domestic honours.
On this page, we provide the latest team news relating to Ligue 1, with injuries and suspension information available for every club in the division. You can discover when each player is expected to return for their team and the nature of each injury.
Having access to the Ligue 1 confirmed line-ups means that you are in a good position to place bets on French football, while you can also view the upcoming fixtures to help you place bets on individual matches as well as multiple bets.

Ligue 1
Injuries & Suspensions
Type
Player
Info
Expected return

Next Game

25/11 20:00 (CET)
Type
Player
Info
Expected return
Pele
Red card (2 yellow cards)
1 game
Andrea Raggi
Straight red
1 game
Nacer Chadli
Rib injury
Unknown
Jordi Mboula
Thigh injury
Unknown
Kamil Glik
Groin injury
Late November 2018
Aleksandr Golovin
Ankle injury
Mid November 2018
Andrea Raggi
Back injury
Unknown
Adama Traore
Thigh injury
Unknown
Jean-Eudes Aholou
Foot injury
Mid December 2018
Stevan Jovetic
Thigh injury
Unknown
Danijel Subasic
Thigh injury
Back in training
Kevin N'Doram
Elbow injury
Back in training
Pietro Pellegri
Thigh injury
Unknown
Willem Geubbels
Thigh injury
Back in training
Rony Lopes
Hamstring
Back in training

Next Game

24/11 19:00 (CET)