In-Play Betting Tips
In-Play Betting Tips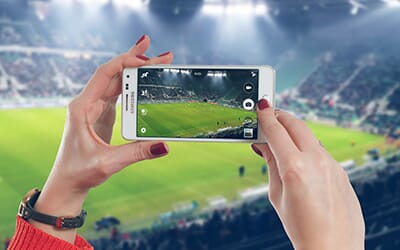 It's easy to forget that In-Play or In-Running betting is a new concept in the betting world, although bookmakers report that more In-Play bets are often received on a particular football match than pre-match, especially if the game is televised.
What is In-Play betting?
In-Play betting is simply a bet that is placed when a sporting event starts. For a football match, if the game has kicked off and you place a bet, then that counts as an In-Play bet. You will find that the odds are changing on a more frequent basis compared to pre-match where the markets stay fairly static due to the fact that little has changed apart from team news.
What are the advantages of betting In-Play?
For many customers, In-Play betting offers more excitement than pre-match, especially if you're watching a sporting event and want to add a new dimension to proceedings.
Some people want to watch the early stages of a football match before deciding to place a particular bet, while you might end up seeing a player come close to scoring and decide that they could be a good Next Scorer bet In-Play.
In-Play markets are often quickly settled, especially if you're betting on markets like Next Scorer, Next Team to Score and Half-Time Result. It means that you can place further bets on the game without waiting for the final whistle.
You can also Cash Out when it comes to In-Play bets and that means you don't even have to be right with your bets. If there's a greater chance of them winning as the event wears on, you will find attractive cash out values.
Who has the best In-Play odds?
The bookmakers offer different In-Play markets and odds so it's difficult to tell who has the best value. It should be noted that the pre-event markets have more competitive odds, with the bookies making the live odds less competitive to avoid customers being able to gain an advantage.
Bet365, Unibet, William Hill, 888sport and Paddy Power offer a very solid In-Play service for a range of sports and betting markets, while you can nearly always cash out your bets In-Play with thes operators. Most of them also offer partial cash out so you can take part of your money and leave some of the bet intact.
Bookmaker Free Bets & Bonuses