Baseball Betting Tips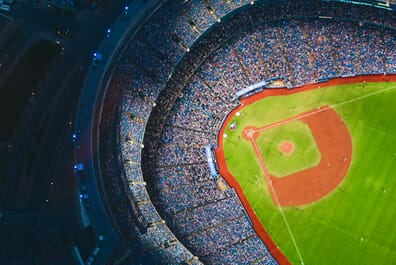 Major League Baseball is based in the United States of America and currently features thirty teams. Twenty-nine of these sides are from the USA, with Canada responsible for one and they compete each year to determine which team will win the World Series.
The Major League is initially split between the National League and American League, with fifteen teams competing in each division. The NL and AL winners then go through to play in the World Series which is a series of matches to determine the overall champion.
The MLB was founded in 1903 and continues to be highly popular both in north America, Europe and other parts of the world. The New York Yankees are the most famous baseball team and they're also the most successful, with twenty-seven titles landed at the time of writing.
How to bet on Major League Baseball
Baseball is a sport which lends itself very well to betting, in particular In-Play betting providing that you have the knowledge to go up against the traders and bet accordingly.
The current Major League Baseball regular season features 162 matches for each team, so that's a huge number of betting opportunities depending on how much you follow. The season usually starts at the beginning of April and is played through the summer before culminating in October.
After the regular season, you then have the postseason where ten teams enter the play-offs. Six of the teams are division champions, while four are wildcard teams. We then have four rounds of series of games being played and the bookmakers naturally create a wide range of betting markets for each one.
When it comes to betting on a baseball match, you have something called Game Lines. This is where you can choose between the Run Line, Total Runs and the Money Line. The Money Line is fairly straightforward as you're just betting on the winner of a particular game.
The Total Runs is usually a case of choosing Under / Over a certain amount of runs being scored in a baseball match. A bookmaker might set the line at seven runs or 7.5 runs.
Then you have something called baseball prop bets. So customers can choose from a wide range of markets including 1st Innings Winner, 1st Innings Hits, Top 1st Run, 7 Innings Line and Last Team to Score.
You can also have MLB Futures Bets such as To Win Series, Series Correct Score and To Win Outright. The outright betting involves predicting the winner of the world series and this can be an open betting market.
We have a written a short guide on baseball betting strategy here.
Watch Major League Baseball Live Streaming
Several bookmakers such as bet365 offer In-Play betting on MLB matches and the great news is that you can also watch live streaming of baseball games. Any time you see the "play" icon next to a particular betting market means you can watch the action and it's a great way to enjoy this fascinating sport.
Naturally, if a bookmaker live streams the baseball at their site, there will be accompanying In-Play odds so you can choose from a wide range of betting markets to add to the overall excitement.

Other Sports betting Tips