Betfair - THE WORLD'S BIGGEST BETTING EXCHANGE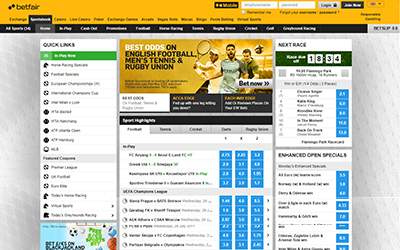 Betfair are the world's biggest sports betting exchange, having launched in 2000 and they can lay claim to revolutionising the online betting landscape. Offering an alternative to fixed-odds betting has made bookmakers innovate their own product range, including In-Play betting. Betfair are now part of the Paddy Power Betfair group and their sports betting exchange sits alongside a fixed-odds product.

Odds and Markets

The odds can be very competitive depending on which sports and markets you choose. That is because each market is powered by the customers, with liquidity depending on how many people choose to bet on a football game, a horse race or a tennis match.

Betfair create a wide range of markets for a variety of sports and, when there is a lot of liquidity for a particular market, then you can expect to get better odds than you will find with a fixed-odds bookmaker.

In-Play Betting

Betfair have changed the landscape of In-Play betting due to the fact that they have a person-to-person model. This means that they don't have traders pricing up different markets and therefore don't have to suspend betting as often. The odds and amounts are changing all the time, lending a dynamic feel to things.

Live Streaming

Betfair have live streaming available and they show a range of sporting events every week, which can be enjoyed through a range of platforms including PC, laptop, tablet and smartphone. It's a simple case of having a funded account and you will be access live quality streamed footage.

More reasons to join betfair

The unique selling point is the chance to either "back" or "lay", with customers able to position themselves as the bookmaker as well as the punter. You can also request better odds than the ones available, while you can sometimes trade out for a profit before a sporting event has even started.

New Customer Offer

Betfair will match your first bet with a free bet up to a certain amount. Once your qualifying bet has been settled, then you can expect to receive a free bet within 72 hours.