Golf Betting Tips & Previews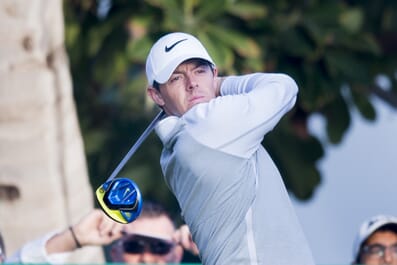 Golf is a unique and popular sport when it comes to online betting. Professional tournaments take place nearly every week which see the bookmakers take a large volume of bets, especially when it comes to the major tournaments. The Masters, the PGA Championship, the Open Championship and the US Open see many betting customers place a series of bets on the four-day events.
The Ryder Cup is also immensely popular from a betting perspective. This is where Europe plays against the USA over three days, with a mixture of fourball, foursome and singles matches offering a wide range of punting opportunities including hours of live In-Play betting possibilities.
How to bet online on golf
Golf betting is completely unique and you don't have to bet on the winner of a tournament in order to make money. Naturally, when you have over a hundred high calibre players involved, it's difficult to pick out the winner every time even if you choose several players against the field.
Some customers prosper from betting on a golf player each-way which means that they can make money simply from their player finishing in the top six or sometimes top eight when it comes to the leaderboard. For the major tournaments, the bookmakers are often quite generous with their each-way terms which means you can back any player each-way and make a potential profit.
However, there are many other pre-tournament golf betting markets. Some of the most popular ones are 72 Hole Match Betting, 72 Hole Group Betting, Top American, Top European and 1st Round Leader. 72 Hole Match Betting is where a bookmaker will choose two golfers and price them for who will perform best in the tournament. The same applies to 72 Hole Group Betting.
Some golf punters bet on a round-to-round basis. Most bookmakers will offer odds on three balls or two balls in terms of who will win their playing group. These three ball and two ball groups have betting markets which go In-Play and can provide captivating excitement.
Back to lay or Bet to Cash Out on golf
Making money on golf betting doesn't even have to involve finding a winning selection. That is because you have betting sites such as bet365 who offer Cash Out when a golf tournament goes In-Play and that happens as soon as the first group have teed off. If you have backed Sergio Garcia to win a tournament at odds of 34.00 and he enjoys a good opening round, there is often the chance to Cash Out for a profit.
Alternatively, betting exchanges such as Betfair provide customers with the chance to back to lay their golf betting selections. This works in a similar way to cash out, with customers able to bet on players at big prices and potentially lay at shorter odds. However, this only applies should your selection stand a greater chance of winning after you have placed the original bet.
Golf was made for In-Play betting
The majority of golf bets are placed In-Play rather than pre-tournament and it's easy to see why. Punters like to watch some of the action before deciding where to place their bets and there's a chance to bet on a smaller field from the third round onwards where the field is reduced in size.
Golf is actually a fantastic trading sport from a betting perspective, with many customers using a betting exchange to play the role of punter and bookmaker. They can lay some of the players they think are too short in the betting and back some of the unfashionable players at bigger prices.
Sometimes, you will get players who are very popular to back every tournament. The likes of Rory McIlroy, Justin Thomas and Jordan Spieth are often at short odds partly because a lot of people like to back them and sometimes a profit can be realised from simply backing against the favourites on a regular basis.

More Golf Hub Pages
Other Sports betting Tips