Betting Strategy - How to make money betting on sport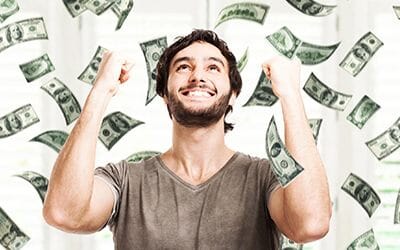 Nothing beats the thrill of winning money from a bookmaker and we want to make this happen for you as regularly as possible. There are lots of ways to place bets online, whether that is on a PC, laptop, tablet or smartphone.

Here at SportsGambler.com, we give you some tips on which sports and markets can help you make a profit on a regular basis. In addition, we will provide other perks such as bonus offers, price boosts and live streaming details so that you can get the most out of your betting account.

Click on the above links to read more about how to bet and make money on the most popular betting sports.

How to claim a free bet

Most bookmakers will offer you a free bet or welcome bonus when you register a new account. We recommend you take advantage of this free bet as a new customer – it might be the only time that the bookie gives you something like this.

Make sure you read the terms and conditions, with a rollover requirement often in place and you sometimes have to bet at minimum odds of 1.50 or similar. You can read more about the different bonuses and offers available in our bonus guide.

When to bet against the favourites

It's worth noting that favourite-backers will rarely make a profit on a long-term basis. Why? Because the odds are artificially short. Teams like Barcelona, Bayern Munich and Liverpool never offer good value because a lot of people always want to back them.

Therefore, some bravery is often required to go against teams at odds-on where the weight of money often pushes a price down despite the chances of a team winning remaining exactly the same.

How to place an accumulator bet and win

An accumulator is a fantastic way of trying to win money from a small stake. You select a group of teams that you expect to win and their odds multiply together to make a nice big price.

You can choose any number of teams / horses for your accumulator and there are options for bets like a Yankee which is four selections which includes doubles, trebles and an accumulator.

Don't be greedy! It's usually unrealistic to win an accumulator with fourteen teams although many customers regularly win by choosing four or five teams to win. Consider this - there are three possible outcomes in each football match, so even getting a winning treble involves the right combination out of twenty-seven possibilities.

Don't just fill your acca with so-called banker picks at short odds. One of these is sure to let you down and it's better to go for teams that you really fancy to win.

How to Bet In-Play

In-Play or live betting is increasingly popular and involves betting when the match has already started. For a football match, this could be after ten minutes, at half-time or even just before the game is about to end.

Most bookmakers offer In-Play betting on a wide selection of sporting events and you will see the odds move quickly according to what's happening on the field of play. There is often a few seconds delay when it comes to placing any bets but this type of betting is a great way to gauge what's happening before striking a bet.

How to Cash Out Your Bets

Cashing out is the latest craze with punters. It means you don't have to wait until the bet it settled to take the money. This can help you make a guaranteed profit or limit how much you're going to lose on a bet. Just make sure that the Cash Out value represents a good offer and trust your judgement.

What is Dutching and how does it help me to win?

Dutching involves betting on more than one selection within the same market. You might back Liverpool to beat Manchester United 1-0 and 2-0 which gives you two bites of the cherry. Or you might bet on two or even three horses for a race and think that the winner will come from your selections.

The one thing to note with Dutching is that for each additional selection you make within that market, your overall return is reduced as a result.

What is Asian Handicap betting?

Asian Handicap betting was essentially created so that customers can enjoy betting on a two-way market rather than a three-way. As the name suggests, this type of betting developed in Asia although it's now become popular in Europe and often offers fantastic value, with operators betting to tight margins.

Asian Handicap markets are available for a wide range of sports. Football punters can choose from a variety of Asian Lines when it comes to betting on a match. You might get 2.00 (evens) on Chelsea -1.0 against Leicester and the Foxes might be +1.0 at odds of 1.90 (9/10).

There are also Goal Lines and some Asian bets involve half the stake going on one selection and the other half going on a second selection. It's regarded as a safer way to bet and often offers some insurance.

What is Arbing and is it allowed?

Arb is short for arbitrage betting and involves betting on both sides of the market. Imagine if you could back Novak Djokovic and Andy Murray at 2.10 (11/10) before they played each other. Naturally, a bookmaker wouldn't offer those odds but operators often differ in terms of prices and that is where arbing comes in.

It should be noted that bookies frown upon arbing and, even if you make money from doing it, you shouldn't be surprised if you have your stake size limited should you regularly start winning on arb betting.

What is the difference between fractional and decimal odds?

Fractional odds are old school and could be 3/1, 7/2 or even 10/3. So if you bet £1 at odds of 3/1, you would win £3 plus your £1 stake back. However, 3/1 in decimals is expressed as 4.00 which means that the potential £1 stake is included in any possible returns. Every time you see a decimal price, that would be the return including stake. You can also get American odds where a selection at 2.10 (11/10) would be expressed as +110 indicating your profit it you staked EUR 100.

How to watch football live streaming

Several bookmakers including bet365, Unibet , William Hill , Paddy Power and 888sport have live streaming available. So you simply need to have a funded account and you can enjoy a wide range of football matches and other sports on a regular basis. There are geo-restrictions in place although some of the leagues and tournaments covered includes La Liga, Bundesliga, Serie A, Grand Slam tennis etc. You can read more about live streaming in our live streaming section.