What are eSports and how to bet and win on it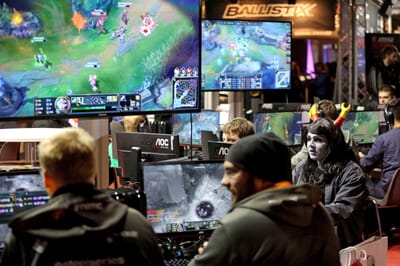 eSports is one of the fastest-growing things to bet on, with a growing community of players wanting to place bets on big money tournaments. bet365 and all leading betting operators have a section now devoted purely to eSports.

In a nutshell, this is a form of competition that takes place on electronic devices and this nearly always relates to video games. Players and teams compete with each other and this has effectively become a professional sport in a short space of time.

The most common video game genres associated with eSports are real-time strategy, fighting, first-person shooter (FPS), and multiplayer online battle arena (MOBA).

There are several different eSports tournaments and the different eSports leagues and tournaments take place at various points throughout the calendar year.

Some of the most prestigious tournaments are League of Legends World Championship, The International and ELeague. The most common eSports video games in terms of prize money are Dota 2, Counter Strike: Global Offensive (CS:GO), League of Legends and StarCraft II.

The global eSports market generates hundreds of millions of dollars in revenue every year and some of the leading eSports nations are United States, South Korea, China, Sweden and Canada.

What types of eSports bets can you have?

When it comes to the type of betting market, then many people like to bet on the overall winner of the tournament. The bookmaker will provide odds about each team and it is usually win-only, with the book closing before the event takes place.

Then you can bet on the match winner two-way market for a particular tournament. So you simply bet on which team will win a particular match. There aren't usually many prop bets that go with the match betting and most prefer to simply back the team that they fancy to win the game.

You can place multiple bets for matches, so it's not uncommon for a betting customer to select an accumulator, which takes into account several teams.

There is also Group Betting for particular tournaments. So there might be four teams placed in a group who all play each other as part of a round-robin tournament. Customers have the option to back the overall winner of each group stage.

There is also In-Play betting available for eSports, with betting customers able to strike wagers while a tournament is taking place. Two teams might be competing against each other and there are live markets on offer, which offer exciting opportunities and the chance to make money.

Betting In-Play is fast-paced and benefits those who understand the game play and the potential to make money in this way. The odds will change on a frequent basis according to what is happening in that particular eSports match-up, with the markets often suspended and then re-opened.

There is often the chance to cash out when you bet In-Play on eSports so it's often about trying to work your way into a profitable situation rather than actually back winners.

There might also be live streaming available for a particular eSports tournament which means you can watch the action while also placing bets. If your favourite bookmaker does not broadcast the tournament of your interest, you can watch most popular eSports events live on live streaming video platform twitch.tv.

Where to bet on eSports?

All leading betting operators such as bet365 , Unibet , William Hill , 888sport and Paddy Power today offer betting on eSports. They all have dedicated trading teams, which offer a wide range of betting markets, and customers have to work out how they can be beaten.

Another betting operator is betway who are committed to offering a complete eSports betting service and that includes sponsorship within the sport which has attracted plenty of eSports enthusiasts.

eSports attracts a younger client base than you would get with other sports and, if you're knowledgeable about this sport, then it's certainly worth considering a bet on it.