How to bet and win on Formula One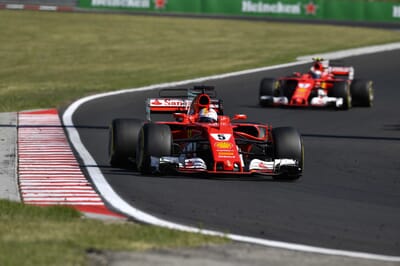 Formula One remains a popular betting sport, with a hardcore group of fans often enjoying a bet on the high-octane action from around the globe. There are several betting opportunities from the moment the drivers start competing for places on the grid, right through to the end of the actual race when the chequered flag is raised.

The most popular Formula One markets

Naturally, a lot of betting customers enjoy a wager on the winner of a Grand Prix. This is a straightforward bet, whether this is placed before the GP starts or In-Play. You can bet win-only or each-way depending on which driver you are backing and what his odds happen to be.

Most of the time, there are only a handful of drivers that can potentially win a Grand Prix. The drivers for the top constructors naturally have the strongest chance of winning and a lot depends on the grid positions. The winner of a GP tends to come from a driver who is on the first two rows of the grid and that's mostly because they had the fastest car in qualifying.

You can bet on Grand Prix Qualifying including Pole Position and it's worth looking at previous Qualifying Times during that season to get an indication of what might happen before placing a bet. Also look out for driver comments regarding their car and any technical changes which might affect the times next time out.

Grand Prix Qualifying markets stay open In-Play a lot of the time and that can make for a pulsating betting experience. As with any live betting on sport, it often pays to hold your nerve when striking a bet, with the odds often affected by knee-jerk betting decisions from other punters.

Other popular markets include Grand Prix Fastest Lap, Grand Prix Podium Placing and Drivers' Championship Winner. The driver that records the Fastest Lap is often not the same man that wins that particular Grand Prix and a lot depends on whether a driver has a clear track for a particular lap and their fuel load at that moment in time. This is a very popular In-Play market and the odds often fluctuate a lot.

Back a driver to finish on the podium or points instead

Podium Placing provides a little more variety than Grand Prix Winner. So rather than back a driver each-way to win (when you might feel first place is beyond them), then you can simply back them to finish on the podium which is a first, second or third place finish. A similar market to this is Points Finish and this is a great way of backing a driver to get some points on the board even if they finish right down the placings.

However, if you're backing one of the better drivers to record a Podium Finish or a Points Finish, then you should bear in mind that their odds might not be too generous compared to Grand Prix Winner. If there's a driver completely dominating the sport at a certain time, you might expect to see a "Betting without the Favourite" market.

Betting on the winner of the Drivers' Championship is a popular thing to do. At the start of a Formula One season, there might be several drivers in with a chance of landing the title and the odds change as the campaign wears on depending on race outcomes.

This is one of the several ante post markets and you can also bet on the Constructors Championship winner, while you might also find special markets such as Top British Driver, Number of Grand Prix wins for a particular driver and sometimes you have fictional match bets where you decide which one of two drivers will get the most points that season.

How to make a profit on Formula One

Like any other sport, people make money on Formula One on a regular basis. However, this is by betting selectively rather than placing a flurry of pre-race and In-Play bets in the hope of landing a profit.

Our first recommendation is make sure you do your research because every bookmaker has a trading team that will have done this. The start of a Formula One season is shrouded in uncertainty due to the rule changes that have been made for that particular year. So that's where it's especially important to read the view from the pit lane as well as the outlook from each driver.

Unlike sports such as boxing, Formula One drivers are generally realistic about their prospects of success and they are often critical of their car's condition. While they might be egotistical sportsmen, they're aware that their performance levels are very much dependent on the machine that they are paired with. Make sure you get their views.

Betting race-to-race can involve considering lots of factors. There is the weather conditions that will occur that particular weekend and whether tyre changes might be needed on a frequent basis. There's also the consideration over which drivers are better in fast conditions and even the racetrack itself. Do certain drivers prefer particular types of track?

On the subject of tracks, there are a wide variety of Formula 1 venues and some provide far more overtaking opportunities than others. The Monaco GP is the greatest example of the driver on pole having an enormous advantage when it comes to winning the race, while there are many other races where pole is less of a factor as drivers will be able to challenge each other more.

Also question the pecking order when it comes to each Constructor. Formula 1 teams generally have a lead driver who gets the best car and mechanical team. The secondary driver in the team regularly has to follow team orders and that means that they may not overtake their team-mate in a race situation.