How to bet and win on football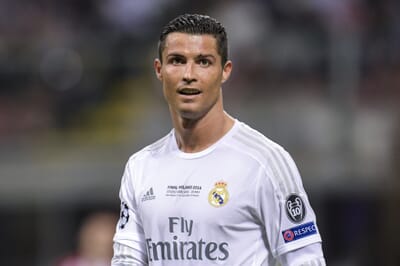 Football is the most popular sport in the world when it comes to playing, watching and betting on it. You can now bet In-Play and Cash Out on your bets while live streaming is also a big feature of a bookmaker sports betting service.

Antepost betting

At the start of the season, the bookies offer markets on the winner of each competition. That could be Premier League, Champions League, La Liga, Ligue 1 or Bundesliga. You can also bet on Top Goalscorer, Relegation and Bottom Place. These are all known as antepost bets.

Antepost bets aren't just available at the start of a season. They are regularly updated after every Game Week. For example, Leicester City started the 2015/16 season as 5001 (5000/1) outsiders to win the Premier League before their odds shortened during the course of the season. There are often great Cash Out opportunities with these sort of bets.

Pre-match betting

Having a bet on a particular football match is very popular. Customers love the immediacy of knowing that their bet will be a potential winner in a short space of time, with the bookmakers often serving over 100 pre-match markets on a football game.

Naturally, many people like betting on the 1X2 market, which is simply predicting the match winner, although First Goalscorer, Correct Score, Half-Time/Full-Time, Both Teams to Score and Over/Under 2.5 Goals are also very common.

Accumulator betting

Accumulators are another form of pre-football match betting. Accumulators typically involve selecting three or more teams in a multiple bet, with those selections all needing to win in order to enjoy a payout. However, some customers cash out when they get into a profitable position and don't want the multiple bet to potentially lose.

The reason why Accumulators or Accas are so popular is that the odds on a multiple bet are a lot bigger than simply backing one team. If you select five teams instead, then their odds multiply together to give you a much bigger potential payout for the stake you are putting down.

Many bookmakers have Acca Insurance which is a promotion designed to give customers their money back should one selection in their accumulator let them down. There is also the opportunity to Edit My Acca with some operators which means you can remove losing legs.

Accumulator bets don't have to be a selection of teams to win their game. You can have an accumulator featuring football matches where you think both teams will score or where there will be a certain number of goals scored.

Yankees, Lucky 15's and other football bets

There are lots of different bets you can place when it comes to football. Single bets are where you make just one selection and accumulators feature several teams in a roll-up bet. However, something like a Lucky 15 combines single bets with multiple bets.

A Lucky 15 involves four selections which are combined in doubles, trebles and a four-fold (accumulator in this case). It also includes single bets so you are placing 15 bets in total on the four selections. Ideally, all four of your teams would win and you would win all 15 bets.

However, if three bets win, then you still win on some of the bets (a treble, three doubles and three singles) and you might even make a profit from getting two out of four right.

There are lots of similar bets to a Lucky 15. You could make five selections and choose to have them in trebles which amounts to ten bets. Sometimes, you would only need three teams to win a profit although all five teams winning can return a handsome profit.

Asian Handicap betting

It might look complicated but it's worth trying to understand how Asian Handicap betting markets work for football. After all, they are the football markets which have the tightest margin available, meaning that you can statistically make more money than other markets.

A typical Asian Handicap market might see a football team given a handicap for a certain football match. You then have to bet on whether they will win the game taking into account the fact that they start the game with a +0.5 goal start or a -0.5 goal handicap.

Asian Handicap markets typically apply to Match Odds and also Total Goals. The best way to think about these type of markets is that they are two-way markets where the draw is taken out of the equation for betting purposes.

In-Play betting

The wonderful world of In-Play! As the name suggests, In-Play betting on football takes place between the time that a match kicks off and the time when the final whistle is blown. It's an exciting fast-paced way of betting where the odds are constantly updating according to what's happening out there on the pitch.

You can typically expect to find the same sort of markets In-Play that you would find for pre-match. So that includes 1X2, Next Goalscorer and Correct Score. However, you will also get In-Play markets like Next Team to Score, Next Player to Score and Half-Time Score.

Bookmakers often take more money In-Play than they do pre-match on some of the big football matches, with many punters now enjoying this exciting form of betting which sees immediate winnings if you land a correct bet.

In this modern age of life, people want to see an immediate outcome with their bets and In-Play betting gives customers the chance to bet throughout the game while there are also cash out opportunities along the way which provide more choice to the customer.

How to watch football live streaming

It's fantastic that having a bet365 account or registering with another bookmaker provides customers with a wonderful chance of watching a live football game whenever they want.

Several operators have agreed deals with TV rights providers which means that customers can log into their betting account and, providing they have some money deposited, watch from a range of football matches including La Liga, Bundesliga and Ligue 1.

As you might expect, the games that are being live streamed also have accompanying live odds next to them, which means you can enjoy a football match from start to finish and also place a bet on the action as you are watching it.

The picture quality is generally very high and you can watch the live streaming on a variety of platforms including desktop, laptop, tablet, mobile and app.

Best ways to make money on football betting

There are people who make a profit from betting on football. This doesn't involve backing winners every time but simply getting value prices and winning on a long-term basis from taking the right odds.

If you back a selection at 2.00 (even money) ten times and you win with six of these bets, then you make a profit. You have to accept that you will sometimes lose and continue to bet if you feel as though your judgement is accurate.

Many winning punters draw up their own odds about a football match and compare it to the bookmaker prices. If there's a big difference, then they will bet accordingly and often make a profit.

The introduction of Cash Out means that you don't even have to back winners to make money from betting. You simply need to get into a profitable position to have the option to be successful with your betting.

Bookmakers often give a football team short odds because they know they will be a popular selection. So sometimes the prices reflect the weight of money going on a football match rather than each team's chances of winning.

Sticking to a football staking plan

The golden rule of betting is to stay disciplined. Never bet more than you can afford and never go chasing your losses without considering each wager. There are going to be times when you are having a bad run but you must continue with the same staking plan or even lower the stakes if the going gets tough.

A simple staking plan might be to have a three-tier system. If you really fancy a football bet, then that might be worth three points of your money. A more moderate fancy could be worth two points and an outside fancy could be worth one point.

Another key point is don't be greedy! You might put three or four teams into an accumulator bet and then stick another side in just to bolster the odds. However, each football match involves the possibility of Team A, Team B or the Draw winning, so you are making life hard for yourself when selecting a twelve-team accumulator even if each side is a strong favourite.