Betting and winning on Basketball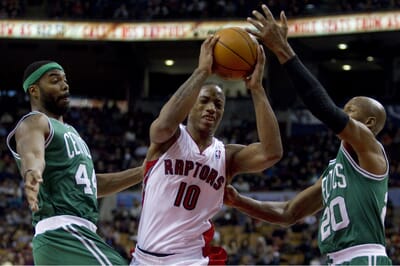 We love to have a bet on the sport of basketball, especially when it comes to the National Basketball Association (NBA) which takes place in America. This is the most competitive and popular league in the world and it's where we will focus our attention with this article.

There are 30 teams within the NBA and they are split into Eastern Conference and Western Conference. These Conferences are then subdivided into three divisions called Atlantic, Central and Southeast (Eastern) and Northwest, Pacific and Southwest (Western).

How the Playoffs and NBA Finals work

The NBA Playoffs take place in April, with eight teams from each Conference competing. They comprise of the winners of each division along with the other best-performing team within that Conference. The Playoffs are along the lines of a knockout format, with each team playing their opponent in a best-of-seven format. The winners of each Conference then compete in the all-important NBA Finals.

Different NBA Markets

The Moneyline market is effectively a way of betting on the winner of a basketball match. This is popular to bet on if the teams are deemed to be evenly-matched but not if there's a big perceived gulf in quality. You aren't going to get a lot of value if your fancied team is 1.10 (1/10) to win their particular match.

Similar moneyline markets can be applied to the first half or first quarter of a match, with these potentially offering better value than the full-time odds.

Handicap betting is the most popular of all when it comes to betting on basketball. The favourite is allocated a number of fictional points they need to overcome in order to win on this betting market. Similarly the underdog is given the same amount of points as a handicap. The skill involved is predicting which of the two teams will outperform their handicap.

The beauty of handicap betting is that it provides a more competitive betting prospect (except when the teams are so evenly-matched that there is no handicap line). It's also an exciting way to bet on this sport and you can bet In-Play with the handicap line changing on a regular basis.

If you want to move away from betting on a particular team to win their basketball match, then bookmakers also offer you the chance to bet on Total Points. So it's basically a case of going Under or Over a certain number depending on how many points combined will be scored by both teams. You can also place this bet for a particular quarter or half.

Finally, there is the outright or ante post markets and you can bet on the Overall NBA Winner, Eastern Conference Winner and Western Conference Winner.

How to make money betting on NBA

We recommend that you don't start piling into your bets at the start of a new NBA season. There are lots of unknowns at this stage and the form and stats from the previous season might not be an accurate barometer when it comes to the new campaign.

The first round of matches can provide some hard evidence over the quality of each team, how many points they are scoring and which players are performing well. However, don't be drawn into over-estimating or under-estimating a side based on one game. The more data you have at your disposal, the more informed a betting choice you will be able to make.

It helps to have the right betting strategy and this could be based on betting purely on the handicap markets or instead on the total points. You have to find what works for you. Studying the form guide is important and many customers also know how to bet In-Play for profit using the correct methods.

In-Play betting on NBA

Naturally, basketball is a sport that lends itself well to In-Play betting, with each match divided into quarters, which means you have plenty of time and gaps between plays to make your wagers.

It's worth studying the way that the In-Play odds change in accordance with the scoreline, with swings often occurring on the basketball court as the losing team plays catch-up and looks to reduce the deficit.

You might also find some value on the In-Play handicap market where the leading team might take their foot off the gas and leave the losing team to close the gap despite not getting level.

There are websites such as NBA.com which carry stats for each match which are always useful for In-Play betting on basketball. Bear in mind that the traders will be using this information for their odds compilation so it's equally as important for you to use data if you want to make a profit.

Watch live streaming of NBA and Euroleague

Bookmakers such as bet365 , Unibet , William Hill , 888sport and Paddy Power offer customers the chance to watch live streaming of the matches from the big leagues such as NBA and Euroleague. It's a simple case of logging into your account and making sure it is funded with some money.

You can then access high quality live streaming of the match in question, with the pictures only a few seconds behind the real-life game, meaning you can confidently bet In-Play on the ever-changing markets.

There is also the chance to Cash Out when you're betting In-Play and you should always consider the best time to potentially make a profit or cut your losses when you have placed a bet. Some customers instead prefer to let their basketball bets ride.