How to bet and win on American Football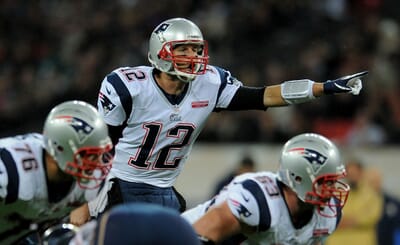 For customers looking to bet on NFL for the first time, it can be a very confusing experience how to start. On the bet365 American Football page, there are stacks of pre-match betting markets and then you have countless other In-Play possibilities when the games are in play.

Let's attempt to keep things simple and illustrate the different types of bet you can have during an NFL season.

Lines

Game Lines are one of the most common forms of bet when it comes to NFL. Most bookies will price up a money line where you simply choose whether to bet on Team A or Team B to win the match.

However, the more popular bet takes place on the Spread where a fictional handicap is created with odds of 1.90 (9/10) about both teams. So for example, Houston Texans might be 1.90 (9/10) with a +7.5 point start. Denver Broncos might be 1.90 (9/10) with a -7.5 point handicap.

You then judge whether Houston will win, draw or lose the game by no more than seven points. If you think any of the above will happen, you might bet on the Texans to cover the handicap. However, if you think that the Broncos will win by eight points or more, then you would bet on them instead.

The third common Lines bet is Total Points. Another two-way market where you bet on either Over or Under a certain number of points, again at similar odds such as 1.90 (9/10).

Main Props

Lots of additional markets for each NFL match including Alternative Point Spread, Winning Margin and Race to (Points). The Alternative Point Spread allows you to take longer or shorter odds depending on your view for a particular match. It's advised to go through a list of NFL matches and see where you think the bookmaker have made a mistake with their handicap prices.

The Race to (Points) market is where you bet on which team will reach 10, 20 or 30 points the quickest. Double Result is another good market for those expecting a fast start from a particular team in an NFL game. With this market, it's like HT / FT in a football (soccer) match and you can get juicier odds than simply backing a team to win.

Score Props

These are all prop or side bets that are related to the score of a particular NFL match. You might want to bet on which team will make the first score or something player-related such as which Houston Texans player will score the first or last touchdown.

You can also back a player to score a touchdown at any stage in the game and that removes the randomness of backing a player to score first or last during a match. Most of the time, every player on this market is 2.00 (evens) or bigger so you will at least double your money by getting this one right.

Team Props

If you want to focus more on one particular team with your bets rather than the match at large, then this is the section for you. A bookmaker will create a list of betting markets for each of the two teams competing in an NFL match, so you can win on NFL betting without having to predict the match outcome.

Team Points 2-way means that you can bet on whether a team will score more or less than a certain amount of points, usually at odds of 1.90 (9/10) or similar. Team Touchdowns is a popular Team Prop bet and you can have as many as seven options for each team, although there are also two-way and three-way options available to you.

Some of the other more unusual Team Prop bets are Team to Lead After Every Quarter, Team to Call First Timeout and Team to Have First Coaches Challenge.

1st Half Props and 1st Quarter Props

Bookmakers know that punters often want an immediate return on their bet and that sometimes means not waiting until a match has finished. So you can place a bet on the 1st Half of a particular NFL match or even the 1st Quarter. Naturally, when the game goes In-Play, there are then options to bet on the 2nd Half and the other three quarters.

NFL Futures

You can enjoy an outright bet on the NFL as with any other sport. This might be backing a particular team to win the Superbowl and the prices change all the way through the season until there are only two teams left. There is usually the option to bet each-way which means getting a side to the final for a guaranteed profit.

You can also back teams to win the Conference, the Division, the Winning Conference and Season Specials such as Division of AFC Champion and Division if Super Bowl Winner.

Does weather make a difference to NFL betting?

The answer is yes, sometimes knowing the weather forecast is a fantastic advantage. The quality of a pitch is also good to know, with rain or snow creating wet conditions which lead to more mistakes being made with the ball. Heavy rainfall can also create a boggy pitch which means tougher running conditions and potentially less touchdowns being scored.

So if there are adverse weather conditions, then it might pay to look for a low points type of bet, although bear in mind that the bookmakers usually adjust their lines in accordance with the weather forecasts. They usually have people on the ground feeding them information.

The same applies to windy conditions which naturally make it harder for players to find each other when it comes to throwing the ball. In colder weather, the freezing temperatures will make the ball harder and a lower points total will be an option again.

In-Play betting on American Football

It's a great sport for live In-Play wagering. There are numerous stoppages throughout the course of an NFL match, so that on average you get three hour-long games and various betting opportunities.

Many betting customers settle down to watch an NFL match and take on board the first quarter of the match before considering where to place their bets. Getting a feel for any sporting event is important when betting In-Play and that includes American Football.