How to bet and win on snooker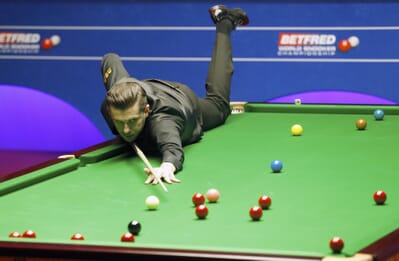 Snooker is a game that is played all year round, with the sport now a global phenomenon, especially in China where a new breed of players are emerging to challenge the old order of English, Welsh, Scottish and Irish professionals.

There are big-money tournaments that take place throughout the year and the biggest of these is the World Championship, which occurs in April at The Crucible Theatre in Sheffield.

The World Championship is part of the "Big Three", with the UK Championship taking place in December and the Masters in the following month which is a tournament exclusively for the top sixteen players in the world.

However, the World Championship is the biggest beast of a tournament, with 17 days of snooker, which starts with best-of-19 frame matches and ends up with a final, which is best-of-35 frames. It's this tournament that every professional wants to win the most and you often see players excel here.

In addition to these three ranking tournaments, there are a further eight ranking tournaments that take place in Germany, Wales, Australia and China. Indeed, there are now five tournaments in China and it's a reflection of the game's growth in this country.

After these tournaments come a further 13 Players Tour Championships which take place all over the world, with ranking points available as players aim to finish as high up as possible.

What are the most popular snooker bets?

Firstly, you can bet on the winner of each snooker tournament. Customers can place a bet before the tournament starts or alternatively bet on the winner further along the way. Indeed, it sometimes pays to wait until an event has started before trying to back the winner.

Other outright bets might be "to reach the final", "winning quarter" or "highest break". Sometimes if there's a clear favourite to win, you might also get "betting without the favourite" to create a more competitive betting market.

Then you have the match betting which is the more popular type of bet. So you might want to back a snooker player to win a particular match. You might want to have an accumulator featuring several players to win their respective games during a tournament. The advantage of an accumulator is that you get bigger odds with the various selections rolled up.

Alternatively, you can bet on the frame handicap. Just say Player A and Player B are playing first to 5 frames. Player A might be 1.91 with a -2.5 frames handicap which means you would need them to win 5-2, 5-1 or 5-0 to cover the line. Player B's +2.5 handicap means that they would only need to get three frames for you to win on the handicap.

The handicap might sound complicated but it's actually a great way of betting on a snooker match, especially if the bookmakers anticipate it being a one-sided affair. It's a case of working out whether the bookie have got their prediction correct for a particular match.

How to make a profit betting on snooker

Betting on the tournament winner requires a bit of luck along the way. After all, there are several matches in a tournament that go to a final frame and those matches can be decided by a moment of fortune or a kick on the cue ball.

Some betting customers will select more than one player to win a particular tournament. It naturally helps to look at the draw for a tournament as you don't want to back several players who are all drawn in the same half. Indeed, it often pays to back two players from the opposite half and there is often a Name the Finalists market.

In terms of which players to pick, it helps to look at previous form and also understand that some professionals are overrated by the bookies. The reason for them being overrated is that many people want to back them because they have won a lot of tournaments in the past or carry a wow factor such as Ronnie O'Sullivan.

However, punters will often make a profit going for the less fashionable players and you will see a variety of different winners popping up throughout the year. Ultimately, the top professional players all play to a similar standard and it's often a case of "on the day".

It's also worth considering the format of a particular tournament. Some players do well with a best-of-nine frames match but they might struggle in the World Championship and other big tournaments where the matches are played over a longer format.

Alternatively, some players thrive at particular venues like the Crucible which often provides an electric atmosphere, with Barry Hawkins, Mark Selby and Stuart Bingham the sort of players who enjoy a longer format and are happy to be patient with their snooker game.

On the subject of the World Championship, it's worth paying attention to the qualifying stage for that particular tournament. It's a highly competitive affair and you often get a qualifier coming through to the Crucible and then performing out of their skin.

That was certainly the case in the 2016 World Championship where Ding Junhui (having dropped out of the top sixteen) worked his way to the final before a defeat against Mark Selby in the final. It just goes to show that the more you follow the sport of snooker, the greater the chance of making a profit.

How to Bet In-Play on the Snooker

Snooker betting is highly popular and that's especially the case when a match goes In-Play. This means that the odds are frequently changing and punters can make a profit by placing successful bets based on what they are seeing.

It's always important to remember that the odds are generally based on what the traders think and also the amounts they have taken on each player. So a well-backed favourite might be odds-on when a match goes In-Play, although if that player is looking off-colour, then you can back his opponent having assessed the situation.

There are stacks of In-Play betting markets when it comes to snooker. You can bet on the winner of the Next Frame, Race to 20 Points and even Next Colour Potted. However, it's important to remember that a lot of these live markets are completely random and the house edge means you are likely to lose money over time.

Watch live snooker streaming

Thanks to bookmakers such as bet365, William Hill , 888sport , Paddy Power and Unibet , you can watch live streaming of many snooker tournaments and it's a great part of the service. A simple case of logging into your account and placing a bet which automatically activates the live streaming functionality.

The picture quality is very good and it goes without saying that In-Play betting and live streaming go hand in hand.