Augsburg Betting Tips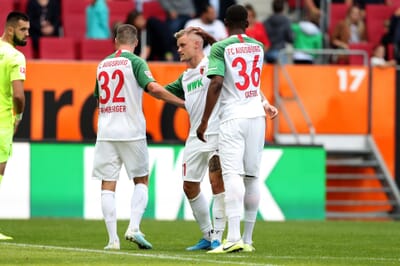 Sportsgambler.com are always keen to provide Augsburg betting tips, with this German football team playing their matches at the WWK Arena and they're know as the Fuggerstädter due to the famous family from the same city.
We bring you the Augsburg team news so you can understand the latest injury situation at the club. There are sometimes many players missing and that can make all the difference to the predicted and confirmed lineups that you will find on the site.
Check out the match odds and use our free Augsburg betting tips and recommendations to place the best possible bets on this popular German soccer team.
Augsburg Free Bets & Bonuses
Augsburg Injuries
Type
Name
Position
Matches
Goals
Assists
Info
Expected Return
Fredrik Jensen
M
6
0
0
Illness
Late October
Niklas Dorsch
M
6
0
0
Illness
Late October
F. Niederlechner
F
6
2
0
Groin injury
Early November
Felix Uduokhai
D
3
0
0
Tendon injury
Late October
Next Game: Mainz 05 vs Augsburg
1:

1.66

X:

4.00

2:

4.75
Bet Now!
T&Cs apply, Gamble Responsibly 18+
Augsburg Lineups
Confirmed Lineups
Predicted Lineups
Augsburg Squad
Manager: Markus Weinzierl
Goalkeepers

1

Rafal Gikiewicz

25

Daniel Klein

40

Tomáš Koubek
Defenders

2

Robert Gumny

3

Mads Pedersen

5

Tobias Strobl

6

J. Gouweleeuw

19

Felix Uduokhai

22

Iago

26

Frederik Winther

32

R. Framberger

36

Reece Oxford
Midfielders

10

Arne Maier

14

Jan Moravek

20

Daniel Caligiuri

24

Fredrik Jensen

25

Carlos Gruezo

29

Lasse Günther

30

Niklas Dorsch

33

F. Schwarzholz

41

Tim Civeja
Forwards

7

F. Niederlechner

9

Sergio Córdova

11

M. Gregoritsch

16

Ruben Vargas

17

N. Sarenren-Bazee

21

Andi Zeqiri

27

A. Finnbogason

28

Andre Hahn

44

Dion Berisha
Augsburg Fixtures
Saturday 23 October
Best Odds
Saturday 30 October
Saturday 06 November
Saturday 20 November
Saturday 27 November
Augsburg Results
Sunday 17 October
Bundesliga 18:30 Sun 17 Oct
18:30
Germany Bundesliga
Saturday 02 October
Bundesliga 16:30 Sat 2 Oct
16:30
Germany Bundesliga
Borussia Dortmund
0-0
Augsburg
Sunday 26 September
Bundesliga 18:30 Sun 26 Sep
18:30
Germany Bundesliga
Saturday 18 September
Bundesliga 16:30 Sat 18 Sep
16:30
Germany Bundesliga
Augsburg
1-0
Monchengladbach
Saturday 11 September
Bundesliga 16:30 Sat 11 Sep
16:30
Germany Bundesliga
Union Berlin
0-0
Augsburg
Bundesliga 2021/2022
| # | Team | G | W | D | L | +/- | P |
| --- | --- | --- | --- | --- | --- | --- | --- |
| 1 | Bayern Munich | 8 | 6 | 1 | 1 | 29:8 | 19 |
| 2 | Borussia Dortmund | 8 | 6 | 0 | 2 | 22:14 | 18 |
| 3 | Bayer Leverkusen | 8 | 5 | 1 | 2 | 21:12 | 16 |
| 4 | Freiburg | 8 | 4 | 4 | 0 | 12:6 | 16 |
| 5 | Union Berlin | 8 | 4 | 3 | 1 | 12:9 | 15 |
| 6 | Wolfsburg | 8 | 4 | 1 | 3 | 9:10 | 13 |
| 7 | FC Cologne | 8 | 3 | 3 | 2 | 13:14 | 12 |
| 8 | RB Leipzig | 8 | 3 | 2 | 3 | 16:8 | 11 |
| 9 | Hoffenheim | 8 | 3 | 2 | 3 | 17:11 | 11 |
| 10 | Monchengladbach | 8 | 3 | 2 | 3 | 10:11 | 11 |
| 11 | Mainz 05 | 8 | 3 | 1 | 4 | 8:8 | 10 |
| 12 | VfB Stuttgart | 8 | 2 | 3 | 3 | 13:14 | 9 |
| 13 | Hertha Berlin | 8 | 3 | 0 | 5 | 10:21 | 9 |
| 14 | Eintracht Frankfurt | 8 | 1 | 5 | 2 | 9:12 | 8 |
| 15 | Bochum | 8 | 2 | 1 | 5 | 5:16 | 7 |
| 16 | Augsburg | 8 | 1 | 3 | 4 | 4:14 | 6 |
| 17 | Bielefeld | 8 | 0 | 5 | 3 | 4:11 | 5 |
| 18 | Greuther Furth | 8 | 0 | 1 | 7 | 5:20 | 1 |
| # | Team | G | W | D | L | +/- | P |
| --- | --- | --- | --- | --- | --- | --- | --- |
| 1 | Borussia Dortmund | 5 | 5 | 0 | 0 | 17:8 | 15 |
| 2 | Union Berlin | 5 | 3 | 2 | 0 | 6:2 | 11 |
| 3 | FC Cologne | 4 | 3 | 1 | 0 | 9:4 | 10 |
| 4 | Bayern Munich | 4 | 3 | 0 | 1 | 16:4 | 9 |
| 5 | RB Leipzig | 4 | 3 | 0 | 1 | 14:4 | 9 |
| 6 | Freiburg | 4 | 2 | 2 | 0 | 7:3 | 8 |
| 7 | Monchengladbach | 4 | 2 | 2 | 0 | 6:3 | 8 |
| 8 | Hoffenheim | 4 | 2 | 1 | 1 | 10:5 | 7 |
| 9 | Mainz 05 | 4 | 2 | 1 | 1 | 5:2 | 7 |
| 10 | Wolfsburg | 4 | 2 | 1 | 1 | 4:4 | 7 |
| 11 | VfB Stuttgart | 4 | 2 | 0 | 2 | 11:8 | 6 |
| 12 | Bayer Leverkusen | 4 | 2 | 0 | 2 | 9:9 | 6 |
| 13 | Bochum | 3 | 1 | 1 | 1 | 3:3 | 4 |
| 14 | Augsburg | 4 | 1 | 1 | 2 | 3:9 | 4 |
| 15 | Hertha Berlin | 3 | 1 | 0 | 2 | 4:5 | 3 |
| 16 | Eintracht Frankfurt | 4 | 0 | 3 | 1 | 3:4 | 3 |
| 17 | Bielefeld | 4 | 0 | 3 | 1 | 1:5 | 3 |
| 18 | Greuther Furth | 4 | 0 | 1 | 3 | 2:7 | 1 |