Bayer Leverkusen Betting Tips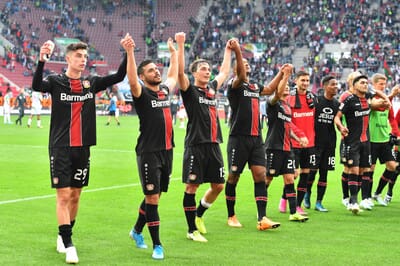 Bayer Leverkusen are one of the biggest names in German football and that is why we regularly serve up free Bayer Leverkusen betting tips and picks to our readers. We look ahead to the latest match and make recommendations based on injury news and suspensions.
You can get Bayer Leverkusen betting tips and odds for every match, with the team playing their home matches at the BayArena and there are often hundreds of markets available.
If you want to bet In-Play on matches involving Leverkusen, then that option is available and you're able to access the latest lineups according to the Sportsgambler.com website ahead of kick-off.
Bayer Leverkusen Free Bets & Bonuses
Bayer Leverkusen Injuries
Type
Name
Position
Matches
Goals
Assists
Info
Expected Return
Charles Aranguiz
M
5
0
0
Calf Injury
Mid November
J. Baumgartlinger
M
0
0
0
Knee injury
Early November
Timothy Fosu-Mensah
D
0
0
0
ACL injury
Late November
Next Game: FC Cologne vs Bayer Leverkusen
1:

3.00

X:

3.60

2:

2.10
Bet Now!
T&Cs apply, Gamble Responsibly 18+
Bayer Leverkusen Lineups
Confirmed Lineups
Predicted Lineups
Bayer Leverkusen Squad
Manager: Gerardo Seoane
Goalkeepers

1

Lukas Hradecky

36

Niklas Lomb

40

Andrey Lunev
Defenders

3

P. Retsos

4

Jonathan Tah

5

Mitchel Bakker

6

Odilon Kossounou

12

Edmond Tapsoba

24

T. Fosu-Mensah

30

Jeremie Frimpong

33

Piero Hincapié
Midfielders

8

Robert Andrich

10

Kerem Demirbay

11

Nadiem Amiri

15

J. Baumgartlinger

20

Charles Aranguiz

22

Daley Sinkgraven

25

E. Palacios

27

Florian Wirtz

38

Karim Bellarabi
Forwards

7

Paulinho

13

Lucas Alario

14

Patrik Schick

19

Moussa Diaby

31

Amine Adli

37

Emrehan Gedikli
Bayer Leverkusen Fixtures
Thursday 21 October
Best Odds
Saturday 23 October
Saturday 30 October
Thursday 04 November
Saturday 06 November
Bayer Leverkusen Results
Sunday 17 October
Bundesliga 16:30 Sun 17 Oct
16:30
Germany Bundesliga
Bayer Leverkusen
0-0
Bayern Munich
Sunday 03 October
Bundesliga 20:30 Sun 3 Oct
20:30
Germany Bundesliga
Bielefeld
0-0
Bayer Leverkusen
Thursday 30 September
Europa League 22:00 Thu 30 Sep
22:00
INT Europa League
Celtic
0-0
Bayer Leverkusen
Saturday 25 September
Bundesliga 16:30 Sat 25 Sep
16:30
Germany Bundesliga
Bayer Leverkusen
1-0
Mainz 05
Sunday 19 September
Bundesliga 16:30 Sun 19 Sep
16:30
Germany Bundesliga
VfB Stuttgart
1-3
Bayer Leverkusen
Bundesliga 2021/2022
| # | Team | G | W | D | L | +/- | P |
| --- | --- | --- | --- | --- | --- | --- | --- |
| 1 | Bayern Munich | 8 | 6 | 1 | 1 | 29:8 | 19 |
| 2 | Borussia Dortmund | 8 | 6 | 0 | 2 | 22:14 | 18 |
| 3 | Bayer Leverkusen | 8 | 5 | 1 | 2 | 21:12 | 16 |
| 4 | Freiburg | 8 | 4 | 4 | 0 | 12:6 | 16 |
| 5 | Union Berlin | 8 | 4 | 3 | 1 | 12:9 | 15 |
| 6 | Wolfsburg | 8 | 4 | 1 | 3 | 9:10 | 13 |
| 7 | FC Cologne | 8 | 3 | 3 | 2 | 13:14 | 12 |
| 8 | RB Leipzig | 8 | 3 | 2 | 3 | 16:8 | 11 |
| 9 | Hoffenheim | 8 | 3 | 2 | 3 | 17:11 | 11 |
| 10 | Monchengladbach | 8 | 3 | 2 | 3 | 10:11 | 11 |
| 11 | Mainz 05 | 8 | 3 | 1 | 4 | 8:8 | 10 |
| 12 | VfB Stuttgart | 8 | 2 | 3 | 3 | 13:14 | 9 |
| 13 | Hertha Berlin | 8 | 3 | 0 | 5 | 10:21 | 9 |
| 14 | Eintracht Frankfurt | 8 | 1 | 5 | 2 | 9:12 | 8 |
| 15 | Bochum | 8 | 2 | 1 | 5 | 5:16 | 7 |
| 16 | Augsburg | 8 | 1 | 3 | 4 | 4:14 | 6 |
| 17 | Bielefeld | 8 | 0 | 5 | 3 | 4:11 | 5 |
| 18 | Greuther Furth | 8 | 0 | 1 | 7 | 5:20 | 1 |
| # | Team | G | W | D | L | +/- | P |
| --- | --- | --- | --- | --- | --- | --- | --- |
| 1 | Borussia Dortmund | 5 | 5 | 0 | 0 | 17:8 | 15 |
| 2 | Union Berlin | 5 | 3 | 2 | 0 | 6:2 | 11 |
| 3 | FC Cologne | 4 | 3 | 1 | 0 | 9:4 | 10 |
| 4 | Bayern Munich | 4 | 3 | 0 | 1 | 16:4 | 9 |
| 5 | RB Leipzig | 4 | 3 | 0 | 1 | 14:4 | 9 |
| 6 | Freiburg | 4 | 2 | 2 | 0 | 7:3 | 8 |
| 7 | Monchengladbach | 4 | 2 | 2 | 0 | 6:3 | 8 |
| 8 | Hoffenheim | 4 | 2 | 1 | 1 | 10:5 | 7 |
| 9 | Mainz 05 | 4 | 2 | 1 | 1 | 5:2 | 7 |
| 10 | Wolfsburg | 4 | 2 | 1 | 1 | 4:4 | 7 |
| 11 | VfB Stuttgart | 4 | 2 | 0 | 2 | 11:8 | 6 |
| 12 | Bayer Leverkusen | 4 | 2 | 0 | 2 | 9:9 | 6 |
| 13 | Bochum | 3 | 1 | 1 | 1 | 3:3 | 4 |
| 14 | Augsburg | 4 | 1 | 1 | 2 | 3:9 | 4 |
| 15 | Hertha Berlin | 3 | 1 | 0 | 2 | 4:5 | 3 |
| 16 | Eintracht Frankfurt | 4 | 0 | 3 | 1 | 3:4 | 3 |
| 17 | Bielefeld | 4 | 0 | 3 | 1 | 1:5 | 3 |
| 18 | Greuther Furth | 4 | 0 | 1 | 3 | 2:7 | 1 |