Bologna Betting Tips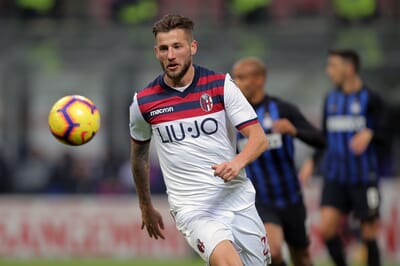 Bologna are a leading Italian football club that play at the Stadio Renato Dall'Ara and their nickname is the Rossoblu on account of them playing in a red and blue football kit.
When the team are in action, you can check out the latest pre-match odds and you can often access Bologna betting tips and recommendations for their games, with our experienced experts providing free Bologna betting tips based on their research.
It's important to know the injury and suspension latest and there are also predicted lineups and confirmed starting 11s which are published on the website closer to kick-off, with this team news helping you to place the most informed and best bets.
Bologna Free Bets & Bonuses
Bologna Injuries
Type
Name
Position
Matches
Goals
Assists
Info
Expected Return
K. Dogo Michael
M
1
0
0
Back injury
Unknown
Kevin Bonifazi
D
6
0
0
Calf Injury
Early November
Jerdy Schouten
M
1
0
1
Muscle injury
Mid October
Next Game: Bologna vs AC Milan
1:

3.60

X:

3.50

2:

2.05
Bet Now!
T&Cs apply, Gamble Responsibly 18+
Bologna Lineups
Confirmed Lineups
Predicted Lineups
Bologna Squad
Manager: Sinisa Mihajlovic
Goalkeepers

12

Marco Molla

22

Francesco Bardi

28

Lukasz Skorupski
Defenders

2

Luis Binks

4

Kevin Bonifazi

5

Adama Soumaoro

6

Arthur Theate

13

Alex Arnofoli

15

Ibrahima Mbaye

29

L. De Silvestri

35

Mitchell Dijks

66

Wisdom Amey

72

Gabriele Corbo

77

Ebenezer Annan
Midfielders

3

Aaron Hickey

8

N. Dominguez

16

K. Dogo Michael

17

Gary Medel

21

Roberto Soriano

30

Jerdy Schouten

32

Mattias Svanberg

44

Mattia Pagliuca

82

Kacper Urbanski
Forwards

7

R. Orsolini

9

Marko Arnautovic

10

Nicola Sansone

11

A. Skov Olsen

19

F. J. Santander

20

S. van Hooijdonk

55

Emanuel Vignato

74

G. Cangiano

76

Antonio Raimondo

91

Diego Falcinelli

99

Musa Barrow
Bologna Fixtures
Saturday 23 October
Best Odds
Wednesday 27 October
Sunday 31 October
Sunday 07 November
Sunday 21 November
Bologna Results
Sunday 17 October
Serie A 16:00 Sun 17 Oct
16:00
Italy Serie A
Sunday 03 October
Serie A 13:30 Sun 3 Oct
13:30
Italy Serie A
Sunday 26 September
Serie A 16:00 Sun 26 Sep
16:00
Italy Serie A
Tuesday 21 September
Serie A 19:30 Tue 21 Sep
19:30
Italy Serie A
Saturday 18 September
Serie A 19:00 Sat 18 Sep
19:00
Italy Serie A
Serie A 2021/2022
| # | Team | G | W | D | L | +/- | P |
| --- | --- | --- | --- | --- | --- | --- | --- |
| 1 | Napoli | 8 | 8 | 0 | 0 | 19:3 | 24 |
| 2 | AC Milan | 8 | 7 | 1 | 0 | 18:7 | 22 |
| 3 | Inter Milan | 8 | 5 | 2 | 1 | 23:11 | 17 |
| 4 | Roma | 8 | 5 | 0 | 3 | 16:9 | 15 |
| 5 | Lazio | 8 | 4 | 2 | 2 | 18:13 | 14 |
| 6 | Atalanta | 8 | 4 | 2 | 2 | 14:10 | 14 |
| 7 | Juventus | 8 | 4 | 2 | 2 | 12:10 | 14 |
| 8 | Bologna | 8 | 3 | 3 | 2 | 13:15 | 12 |
| 9 | Fiorentina | 8 | 4 | 0 | 4 | 10:12 | 12 |
| 10 | Udinese | 8 | 2 | 3 | 3 | 10:12 | 9 |
| 11 | Empoli | 8 | 3 | 0 | 5 | 10:16 | 9 |
| 12 | Torino | 8 | 2 | 2 | 4 | 9:8 | 8 |
| 13 | Hellas Verona | 8 | 2 | 2 | 4 | 17:17 | 8 |
| 14 | Sassuolo | 8 | 2 | 2 | 4 | 9:11 | 8 |
| 15 | Venezia | 8 | 2 | 2 | 4 | 6:12 | 8 |
| 16 | Spezia | 8 | 2 | 1 | 5 | 10:20 | 7 |
| 17 | Sampdoria | 8 | 1 | 3 | 4 | 11:16 | 6 |
| 18 | Genoa | 8 | 1 | 3 | 4 | 12:18 | 6 |
| 19 | Cagliari | 8 | 1 | 3 | 4 | 11:17 | 6 |
| 20 | Salernitana | 8 | 1 | 1 | 6 | 6:17 | 4 |
| # | Team | G | W | D | L | +/- | P |
| --- | --- | --- | --- | --- | --- | --- | --- |
| 1 | AC Milan | 4 | 4 | 0 | 0 | 11:3 | 12 |
| 2 | Roma | 4 | 4 | 0 | 0 | 8:2 | 12 |
| 3 | Napoli | 4 | 4 | 0 | 0 | 7:1 | 12 |
| 4 | Lazio | 4 | 3 | 1 | 0 | 14:6 | 10 |
| 5 | Bologna | 4 | 3 | 1 | 0 | 9:4 | 10 |
| 6 | Inter Milan | 3 | 2 | 1 | 0 | 12:3 | 7 |
| 7 | Juventus | 4 | 2 | 1 | 1 | 5:4 | 7 |
| 8 | Hellas Verona | 4 | 2 | 0 | 2 | 10:8 | 6 |
| 9 | Cagliari | 5 | 1 | 2 | 2 | 8:9 | 5 |
| 10 | Udinese | 5 | 1 | 2 | 2 | 6:8 | 5 |
| 11 | Venezia | 3 | 1 | 1 | 1 | 3:3 | 4 |
| 12 | Torino | 4 | 1 | 1 | 2 | 6:4 | 4 |
| 13 | Atalanta | 4 | 1 | 1 | 2 | 5:6 | 4 |
| 14 | Sassuolo | 4 | 1 | 1 | 2 | 2:3 | 4 |
| 15 | Salernitana | 4 | 1 | 1 | 2 | 3:7 | 4 |
| 16 | Fiorentina | 3 | 1 | 0 | 2 | 4:6 | 3 |
| 17 | Spezia | 4 | 1 | 0 | 3 | 5:7 | 3 |
| 18 | Empoli | 5 | 1 | 0 | 4 | 7:14 | 3 |
| 19 | Genoa | 4 | 0 | 2 | 2 | 7:9 | 2 |
| 20 | Sampdoria | 4 | 0 | 2 | 2 | 5:10 | 2 |