Borussia Monchengladbach Betting Tips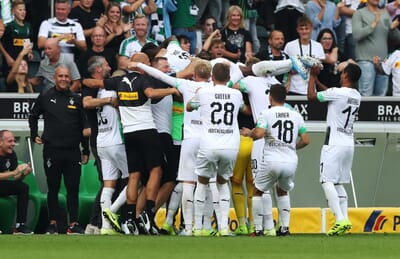 Make sure you get the best and in-depth Borussia Monchengladbach betting tips by visiting Sportsgambler.com on a frequent basis. We will look at the latest match odds for Die Fohlen and then make picks according to how we see the game unfolding when they play their next match.
If you want free Borussia Monchengladbach betting tips and German football team news, then we supply injury information for every game and you can also access the suspension information to establish which players are missing for their team.
We know that readers appreciate seeing the predicted lineups and starting 11s and they are published ahead of kick-off.
Monchengladbach Free Bets & Bonuses
Monchengladbach Injuries
Type
Name
Position
Matches
Goals
Assists
Info
Expected Return
Mamadou Doucoure
D
0
0
0
Achilles tendon
Early July
Torben Müsel
F
0
0
0
Knee injury
Early May
Next Game: Monchengladbach vs VfB Stuttgart
1:

1.66

X:

4.20

2:

4.33
Bet Now!
T&Cs apply, Gamble Responsibly 18+
Monchengladbach Lineups
Confirmed Lineups
Predicted Lineups
Monchengladbach Squad
Manager: Marco Rose
Goalkeepers

1

Yann Sommer

21

Tobias Sippel

31

Max Grün

41

Jan Olschowsky

46

J. T. Kersken
Defenders

3

Michael Lang

4

Mamadou Doucoure

15

Jordan Beyer

17

Oscar Wendt

18

Stefan Lainer

24

Tony Jantschke

25

Ramy Bensebaini

28

Matthias Ginter

29

Joseph Scally

30

Nico Elvedi

33

Kaan Kurt

42

Florian Mayer
Midfielders

6

Christoph Kramer

8

Denis Zakaria

16

Ibrahima Traoré

23

Jonas Hofmann

27

Famana Quizera

32

Florian Neuhaus

43

Rocco Reitz

0

Mika Schroers

0

S. Christiansen
Forwards

7

Patrick Herrmann

10

Marcus Thuram

11

Hannes Wolf

13

Lars Stindl

14

Alassane Plea

19

Valentino Lazaro

20

Julio Villalba

26

Torben Müsel

34

Conor Noss

36

B. Donald Embolo
Monchengladbach Fixtures
Saturday 15 May
Best Odds
Saturday 22 May
Monchengladbach Results
Saturday 08 May
Bundesliga 19:30 Sat 8 May
19:30
Germany Bundesliga
Bayern Munich
6 - 0
Monchengladbach
Sunday 25 April
Bundesliga 19:00 Sun 25 Apr
19:00
Germany Bundesliga
Monchengladbach
5 - 0
Bielefeld
Wednesday 21 April
Bundesliga 21:30 Wed 21 Apr
21:30
Germany Bundesliga
Hoffenheim
3 - 2
Monchengladbach
Saturday 17 April
Bundesliga 16:30 Sat 17 Apr
16:30
Germany Bundesliga
Monchengladbach
4 - 0
Eintracht Frankfurt
Saturday 10 April
Bundesliga 16:30 Sat 10 Apr
16:30
Germany Bundesliga
Hertha Berlin
2 - 2
Monchengladbach
Bundesliga 2020/2021
| # | Team | G | W | D | L | +/- | P |
| --- | --- | --- | --- | --- | --- | --- | --- |
| 1 | Bayern Munich | 32 | 23 | 5 | 4 | 92:40 | 74 |
| 2 | RB Leipzig | 32 | 19 | 7 | 6 | 57:28 | 64 |
| 3 | Wolfsburg | 32 | 17 | 9 | 6 | 57:32 | 60 |
| 4 | Borussia Dortmund | 32 | 18 | 4 | 10 | 69:44 | 58 |
| 5 | Eintracht Frankfurt | 32 | 15 | 12 | 5 | 63:48 | 57 |
| 6 | Bayer Leverkusen | 32 | 14 | 9 | 9 | 51:35 | 51 |
| 7 | Monchengladbach | 32 | 12 | 10 | 10 | 59:52 | 46 |
| 8 | Union Berlin | 32 | 11 | 13 | 8 | 47:41 | 46 |
| 9 | Freiburg | 32 | 12 | 8 | 12 | 49:47 | 44 |
| 10 | VfB Stuttgart | 32 | 11 | 9 | 12 | 54:52 | 42 |
| 11 | Hoffenheim | 32 | 10 | 9 | 13 | 49:52 | 39 |
| 12 | Mainz 05 | 32 | 9 | 9 | 14 | 35:51 | 36 |
| 13 | Augsburg | 32 | 9 | 6 | 17 | 32:49 | 33 |
| 14 | Hertha Berlin | 31 | 7 | 10 | 14 | 38:49 | 31 |
| 15 | Werder Bremen | 32 | 7 | 10 | 15 | 34:51 | 31 |
| 16 | Bielefeld | 32 | 8 | 7 | 17 | 23:51 | 31 |
| 17 | FC Cologne | 32 | 7 | 8 | 17 | 33:60 | 29 |
| 18 | Schalke 04 | 31 | 2 | 7 | 22 | 20:80 | 13 |
| # | Team | G | W | D | L | +/- | P |
| --- | --- | --- | --- | --- | --- | --- | --- |
| 1 | Bayern Munich | 16 | 12 | 4 | 0 | 59:19 | 40 |
| 2 | RB Leipzig | 16 | 11 | 3 | 2 | 27:11 | 36 |
| 3 | Wolfsburg | 16 | 10 | 4 | 2 | 30:13 | 34 |
| 4 | Eintracht Frankfurt | 16 | 9 | 7 | 0 | 34:19 | 34 |
| 5 | Borussia Dortmund | 16 | 10 | 2 | 4 | 37:19 | 32 |
| 6 | Union Berlin | 16 | 7 | 8 | 1 | 30:17 | 29 |
| 7 | Monchengladbach | 16 | 8 | 4 | 4 | 31:17 | 28 |
| 8 | Bayer Leverkusen | 16 | 8 | 4 | 4 | 33:21 | 28 |
| 9 | Freiburg | 16 | 7 | 5 | 4 | 31:21 | 26 |
| 10 | Hoffenheim | 16 | 7 | 3 | 6 | 30:23 | 24 |
| 11 | VfB Stuttgart | 16 | 5 | 6 | 5 | 27:24 | 21 |
| 12 | Hertha Berlin | 16 | 5 | 4 | 7 | 21:26 | 19 |
| 13 | Augsburg | 16 | 5 | 4 | 7 | 19:25 | 19 |
| 14 | Bielefeld | 16 | 6 | 1 | 9 | 12:22 | 19 |
| 15 | Mainz 05 | 16 | 4 | 4 | 8 | 15:23 | 16 |
| 16 | Werder Bremen | 16 | 3 | 5 | 8 | 14:24 | 14 |
| 17 | FC Cologne | 16 | 2 | 5 | 9 | 19:31 | 11 |
| 18 | Schalke 04 | 15 | 2 | 3 | 10 | 9:29 | 9 |