Cagliari Betting Tips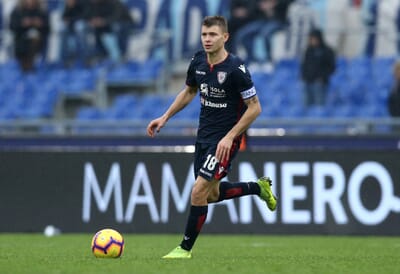 The team are also known as Cagliari Calcio and are a prominent Italian football club who are based on the island of Sardinia. They are nicknamed the "Isolano", which means "The Islanders".
When this team have a high profile match on the horizon, there will be free Cagliari betting tips and recommendations available as we look ahead to the game and unearth the odds and markets which provide the most value.
We have Cagliari betting tips including injury information along with the latest lineups and starting 11s so that you are completely informed before you go ahead and place a bet. There are several gambling markets available so you have plenty of excellent options.
Cagliari Free Bets & Bonuses
Cagliari Injuries
Type
Name
Position
Matches
Goals
Assists
Info
Expected Return
Riccardo Sottil
F
19
1
1
Back injury
Mid May
Gaston Pereiro
F
14
2
2
COVID-19
Mid May
Marko Rog
M
13
0
0
ACL injury
Mid May
Next Game: Cagliari vs Fiorentina
1:

2.35

X:

3.20

2:

3.20
Bet Now!
T&Cs apply, Gamble Responsibly 18+
Cagliari Lineups
Confirmed Lineups
Predicted Lineups
Cagliari Squad
Manager: Eusebio Di Francesco
Goalkeepers

1

Simone Aresti

28

Alessio Cragno

31

G. Vicario

34

Giuseppe Ciocci

99

Nicolò Cabras
Defenders

2

Diego Godin

3

A. Tripaldelli

15

Ragnar Klavan

16

Arturo Calabresi

22

C. Lykogiannis

23

Luca Ceppitelli

24

Daniele Rugani

25

Gabriele Zappa

38

Fabio Porru

40

S. Walukiewicz

44

Andrea Carboni

97

Salvatore Boccia
Midfielders

4

Radja Nainggolan

6

Marko Rog

8

Răzvan Marin

10

J. P. Geraldino

14

A. Deiola

16

Filip Bradaric

17

Matteo Tramoni

18

Nahitán Nández

19

Kwadwo Asamoah

32

Alfred Duncan

35

R. Ladinetti

43

Isaias Delpupo

76

Lisandru Tramoni
Forwards

9

G. Pablo Simeone

20

Gaston Pereiro

26

Daniele Ragatzu

27

Alberto Cerri

30

L. Pavoletti

33

Riccardo Sottil

42

Gianluca Contini

47

Luca Gagliano

52

Zito Luvumbo
Cagliari Fixtures
Wednesday 12 May
Best Odds
Sunday 16 May
Sunday 23 May
Cagliari Results
Sunday 09 May
Serie A 16:00 Sun 9 May
16:00
Italy Serie A
Sunday 02 May
Serie A 16:00 Sun 2 May
16:00
Italy Serie A
Sunday 25 April
Serie A 19:00 Sun 25 Apr
19:00
Italy Serie A
Wednesday 21 April
Serie A 21:45 Wed 21 Apr
21:45
Italy Serie A
Saturday 17 April
Serie A 21:45 Sat 17 Apr
21:45
Italy Serie A
Serie A 2020/2021
| # | Team | G | W | D | L | +/- | P |
| --- | --- | --- | --- | --- | --- | --- | --- |
| 1 | Inter Milan | 35 | 26 | 7 | 2 | 79:30 | 85 |
| 2 | Napoli | 36 | 23 | 4 | 9 | 83:40 | 73 |
| 3 | Atalanta | 35 | 21 | 9 | 5 | 84:42 | 72 |
| 4 | AC Milan | 35 | 22 | 6 | 7 | 65:41 | 72 |
| 5 | Juventus | 35 | 20 | 9 | 6 | 67:34 | 69 |
| 6 | Lazio | 34 | 20 | 4 | 10 | 60:51 | 64 |
| 7 | Roma | 35 | 17 | 7 | 11 | 63:53 | 58 |
| 8 | Sassuolo | 35 | 15 | 11 | 9 | 58:52 | 56 |
| 9 | Sampdoria | 35 | 13 | 6 | 16 | 46:52 | 45 |
| 10 | Hellas Verona | 35 | 11 | 10 | 14 | 42:43 | 43 |
| 11 | Bologna | 35 | 10 | 10 | 15 | 48:57 | 40 |
| 12 | Udinese | 36 | 10 | 10 | 16 | 41:52 | 40 |
| 13 | Fiorentina | 35 | 9 | 11 | 15 | 47:57 | 38 |
| 14 | Genoa | 35 | 8 | 12 | 15 | 41:54 | 36 |
| 15 | Torino | 34 | 7 | 14 | 13 | 48:57 | 35 |
| 16 | Cagliari | 35 | 9 | 8 | 18 | 43:58 | 35 |
| 17 | Spezia | 35 | 8 | 10 | 17 | 44:67 | 34 |
| 18 | Benevento | 35 | 7 | 10 | 18 | 38:71 | 31 |
| 19 | Parma | 35 | 3 | 11 | 21 | 38:76 | 20 |
| 20 | Crotone | 35 | 5 | 3 | 27 | 42:90 | 18 |
| # | Team | G | W | D | L | +/- | P |
| --- | --- | --- | --- | --- | --- | --- | --- |
| 1 | Inter Milan | 17 | 15 | 1 | 1 | 45:16 | 46 |
| 2 | Juventus | 18 | 13 | 2 | 3 | 37:16 | 41 |
| 3 | Roma | 18 | 12 | 4 | 2 | 40:18 | 40 |
| 4 | Napoli | 18 | 12 | 3 | 3 | 49:19 | 39 |
| 5 | Lazio | 17 | 12 | 2 | 3 | 35:23 | 38 |
| 6 | Atalanta | 17 | 11 | 3 | 3 | 47:22 | 36 |
| 7 | AC Milan | 18 | 8 | 5 | 5 | 31:24 | 29 |
| 8 | Bologna | 17 | 7 | 5 | 5 | 32:27 | 26 |
| 9 | Sassuolo | 17 | 6 | 8 | 3 | 28:24 | 26 |
| 10 | Sampdoria | 17 | 8 | 2 | 7 | 27:24 | 26 |
| 11 | Fiorentina | 18 | 6 | 6 | 6 | 25:23 | 24 |
| 12 | Hellas Verona | 18 | 6 | 5 | 7 | 21:21 | 23 |
| 13 | Genoa | 18 | 5 | 7 | 6 | 26:26 | 22 |
| 14 | Udinese | 18 | 5 | 4 | 9 | 14:18 | 19 |
| 15 | Spezia | 17 | 4 | 6 | 7 | 22:30 | 18 |
| 16 | Cagliari | 17 | 5 | 3 | 9 | 22:31 | 18 |
| 17 | Torino | 17 | 3 | 8 | 6 | 24:28 | 17 |
| 18 | Crotone | 17 | 4 | 1 | 12 | 21:34 | 13 |
| 19 | Benevento | 18 | 2 | 6 | 10 | 18:38 | 12 |
| 20 | Parma | 18 | 2 | 5 | 11 | 15:36 | 11 |