Eintracht Frankfurt Betting Tips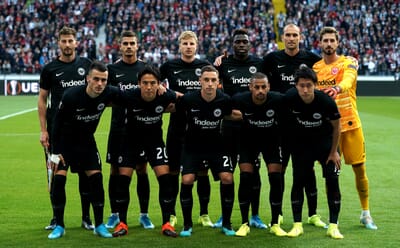 Many readers like to bet on German football every week and we're always looking to provide Eintracht Frankfurt betting tips when the team are in action, with our writers recommending a Full Time Result, Total Goals or Asian Handicap bet.
You can get a wide variety of free Eintracht Frankfurt betting for every match, with plenty of match data available including injury and suspension news which indicates the players who are missing for the club.
The confirmed lineup is published roughly an hour before kick-off and you can also get a predicted starting eleven in the 24 hours before each match to give you an indication of how things might work out.
Eintracht Frankfurt Free Bets & Bonuses
Eintracht Frankfurt Bonuses
Eintracht Frankfurt Injuries
Type
Name
Position
Matches
Goals
Assists
Info
Expected Return
Aymen Barkok
M
2
0
0
Leg injury
Early November
Ragnar Ache
F
0
0
0
Bruised knee
Late October
Christopher Lenz
D
4
0
0
Hip injury
Early November
Next Game: Bochum vs Eintracht Frankfurt
1:

3.20

X:

3.40

2:

2.25
Bet Now!
T&Cs apply, Gamble Responsibly 18+
Eintracht Frankfurt Lineups
Confirmed Lineups
Predicted Lineups
Eintracht Frankfurt Squad
Manager: Oliver Glasner
Goalkeepers

1

Kevin Trapp

31

Jens Grahl

40

Diant Ramaj
Defenders

2

Evan NDicka

13

M. Hinteregger

18

Almamy Toure

20

Makoto Hasebe

22

Timothy Chandler

24

Danny da Costa

25

Christopher Lenz

35

Tuta

37

Eric Durm

47

Jan Schröder
Midfielders

3

Stefan Ilsanker

6

Kristijan Jakic

7

Ajdin Hrustic

8

Djibril Sow

15

Daichi Kamada

17

Sebastian Rode

27

Aymen Barkok

28

Fabio Blanco

29

J. Lindstrøm

45

Martin Pecar

48

G. Schäfer
Forwards

9

Sam Lammers

10

Filip Kostic

19

R. Santos Borré

21

Ragnar Ache

23

J. Petter Hauge

29

G. Paciência

32

Amin Younes

38

E. H. García
Eintracht Frankfurt Fixtures
Thursday 21 October
Best Odds
Saturday 23 October
Saturday 30 October
Thursday 04 November
Saturday 06 November
Eintracht Frankfurt Results
Saturday 16 October
Bundesliga 16:30 Sat 16 Oct
16:30
Germany Bundesliga
Eintracht Frankfurt
0-0
Hertha Berlin
Sunday 03 October
Bundesliga 18:30 Sun 3 Oct
18:30
Germany Bundesliga
Bayern Munich
0-0
Eintracht Frankfurt
Thursday 30 September
Europa League 19:45 Thu 30 Sep
19:45
INT Europa League
Antwerp
0-0
Eintracht Frankfurt
Saturday 25 September
Bundesliga 16:30 Sat 25 Sep
16:30
Germany Bundesliga
Eintracht Frankfurt
1-1
FC Cologne
Sunday 19 September
Bundesliga 20:30 Sun 19 Sep
20:30
Germany Bundesliga
Wolfsburg
1-1
Eintracht Frankfurt
Bundesliga 2021/2022
| # | Team | G | W | D | L | +/- | P |
| --- | --- | --- | --- | --- | --- | --- | --- |
| 1 | Bayern Munich | 8 | 6 | 1 | 1 | 29:8 | 19 |
| 2 | Borussia Dortmund | 8 | 6 | 0 | 2 | 22:14 | 18 |
| 3 | Bayer Leverkusen | 8 | 5 | 1 | 2 | 21:12 | 16 |
| 4 | Freiburg | 8 | 4 | 4 | 0 | 12:6 | 16 |
| 5 | Union Berlin | 8 | 4 | 3 | 1 | 12:9 | 15 |
| 6 | Wolfsburg | 8 | 4 | 1 | 3 | 9:10 | 13 |
| 7 | FC Cologne | 8 | 3 | 3 | 2 | 13:14 | 12 |
| 8 | RB Leipzig | 8 | 3 | 2 | 3 | 16:8 | 11 |
| 9 | Hoffenheim | 8 | 3 | 2 | 3 | 17:11 | 11 |
| 10 | Monchengladbach | 8 | 3 | 2 | 3 | 10:11 | 11 |
| 11 | Mainz 05 | 8 | 3 | 1 | 4 | 8:8 | 10 |
| 12 | VfB Stuttgart | 8 | 2 | 3 | 3 | 13:14 | 9 |
| 13 | Hertha Berlin | 8 | 3 | 0 | 5 | 10:21 | 9 |
| 14 | Eintracht Frankfurt | 8 | 1 | 5 | 2 | 9:12 | 8 |
| 15 | Bochum | 8 | 2 | 1 | 5 | 5:16 | 7 |
| 16 | Augsburg | 8 | 1 | 3 | 4 | 4:14 | 6 |
| 17 | Bielefeld | 8 | 0 | 5 | 3 | 4:11 | 5 |
| 18 | Greuther Furth | 8 | 0 | 1 | 7 | 5:20 | 1 |
| # | Team | G | W | D | L | +/- | P |
| --- | --- | --- | --- | --- | --- | --- | --- |
| 1 | Borussia Dortmund | 5 | 5 | 0 | 0 | 17:8 | 15 |
| 2 | Union Berlin | 5 | 3 | 2 | 0 | 6:2 | 11 |
| 3 | FC Cologne | 4 | 3 | 1 | 0 | 9:4 | 10 |
| 4 | Bayern Munich | 4 | 3 | 0 | 1 | 16:4 | 9 |
| 5 | RB Leipzig | 4 | 3 | 0 | 1 | 14:4 | 9 |
| 6 | Freiburg | 4 | 2 | 2 | 0 | 7:3 | 8 |
| 7 | Monchengladbach | 4 | 2 | 2 | 0 | 6:3 | 8 |
| 8 | Hoffenheim | 4 | 2 | 1 | 1 | 10:5 | 7 |
| 9 | Mainz 05 | 4 | 2 | 1 | 1 | 5:2 | 7 |
| 10 | Wolfsburg | 4 | 2 | 1 | 1 | 4:4 | 7 |
| 11 | VfB Stuttgart | 4 | 2 | 0 | 2 | 11:8 | 6 |
| 12 | Bayer Leverkusen | 4 | 2 | 0 | 2 | 9:9 | 6 |
| 13 | Bochum | 3 | 1 | 1 | 1 | 3:3 | 4 |
| 14 | Augsburg | 4 | 1 | 1 | 2 | 3:9 | 4 |
| 15 | Hertha Berlin | 3 | 1 | 0 | 2 | 4:5 | 3 |
| 16 | Eintracht Frankfurt | 4 | 0 | 3 | 1 | 3:4 | 3 |
| 17 | Bielefeld | 4 | 0 | 3 | 1 | 1:5 | 3 |
| 18 | Greuther Furth | 4 | 0 | 1 | 3 | 2:7 | 1 |