FC Cologne Betting Tips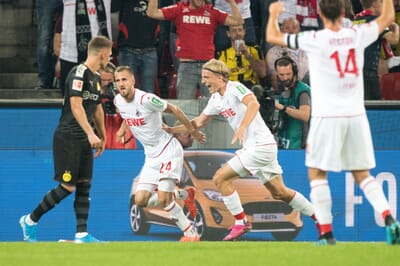 FC Koln, or FC Cologne betting tips are regularly available considering that they're a high-profile football team in Germany who are based in Cologne and they have a nickname of the Billy Goats which also appears on their club logo.
If you want to get free FC Cologne betting tips and lineups, then Sportsgambler.com will publish the predicted teams and then the confirmed side as we get closer to kick-off, with our team using the latest injury and suspension information to provide this data.
Check out the bookmaker markets and odds for FC Koln, with a wide variety of match markets available and you can therefore have plenty of choice when it comes to your German football bets.
FC Cologne Free Bets & Bonuses
FC Cologne Injuries
Type
Name
Position
Matches
Goals
Assists
Info
Expected Return
Marco Höger
M
2
0
0
Groin injury
Early June
Jannes-Kilian Horn
D
26
0
1
Groin injury
Late May
Next Game: Hertha Berlin vs FC Cologne
1:

2.30

X:

3.25

2:

3.25
Bet Now!
T&Cs apply, Gamble Responsibly 18+
FC Cologne Lineups
Confirmed Lineups
Predicted Lineups
FC Cologne Squad
Manager: Friedhelm Funkel
Goalkeepers

1

Timo Horn

16

R. Zieler

32

Julian Krahl
Defenders

2

Benno Schmitz

3

Noah Katterbach

4

Robert Voloder

5

Rafael Czichos

19

K. Ehizibue

22

Jorge Meré

23

J. Horn

26

Sava Cestic

33

S. Bornauw

0

Marius Laux

0

João Queirós
Midfielders

6

Marco Höger

8

Ismail Jakobs

13

Max Meyer

14

Jonas Hector

18

Ondrej Duda

20

Elvis Rexhbecaj

21

Salih Özcan

28

Ellyes Skhiri

31

Marius Wolf

0

Jens Castrop
Forwards

7

Tolu Arokodare

9

S. Andersson

11

Florian Kainz

15

D. Limnios

24

Dominick Drexler

25

Tim Lemperle

29

Jan Thielmann

43

E. B. Dennis

47

Marvin Obuz
FC Cologne Fixtures
Saturday 15 May
Best Odds
Saturday 22 May
FC Cologne Results
Sunday 09 May
Bundesliga 14:30 Sun 9 May
14:30
Germany Bundesliga
FC Cologne
1 - 4
Freiburg
Friday 23 April
Bundesliga 21:30 Fri 23 Apr
21:30
Germany Bundesliga
Augsburg
2 - 3
FC Cologne
Tuesday 20 April
Bundesliga 19:30 Tue 20 Apr
19:30
Germany Bundesliga
FC Cologne
2 - 1
RB Leipzig
Saturday 17 April
Bundesliga 19:30 Sat 17 Apr
19:30
Germany Bundesliga
Bayer Leverkusen
3 - 0
FC Cologne
Sunday 11 April
Bundesliga 19:00 Sun 11 Apr
19:00
Germany Bundesliga
FC Cologne
2 - 3
Mainz 05
Bundesliga 2020/2021
| # | Team | G | W | D | L | +/- | P |
| --- | --- | --- | --- | --- | --- | --- | --- |
| 1 | Bayern Munich | 32 | 23 | 5 | 4 | 92:40 | 74 |
| 2 | RB Leipzig | 32 | 19 | 7 | 6 | 57:28 | 64 |
| 3 | Wolfsburg | 32 | 17 | 9 | 6 | 57:32 | 60 |
| 4 | Borussia Dortmund | 32 | 18 | 4 | 10 | 69:44 | 58 |
| 5 | Eintracht Frankfurt | 32 | 15 | 12 | 5 | 63:48 | 57 |
| 6 | Bayer Leverkusen | 32 | 14 | 9 | 9 | 51:35 | 51 |
| 7 | Monchengladbach | 32 | 12 | 10 | 10 | 59:52 | 46 |
| 8 | Union Berlin | 32 | 11 | 13 | 8 | 47:41 | 46 |
| 9 | Freiburg | 32 | 12 | 8 | 12 | 49:47 | 44 |
| 10 | VfB Stuttgart | 32 | 11 | 9 | 12 | 54:52 | 42 |
| 11 | Hoffenheim | 32 | 10 | 9 | 13 | 49:52 | 39 |
| 12 | Mainz 05 | 32 | 9 | 9 | 14 | 35:51 | 36 |
| 13 | Augsburg | 32 | 9 | 6 | 17 | 32:49 | 33 |
| 14 | Hertha Berlin | 31 | 7 | 10 | 14 | 38:49 | 31 |
| 15 | Werder Bremen | 32 | 7 | 10 | 15 | 34:51 | 31 |
| 16 | Bielefeld | 32 | 8 | 7 | 17 | 23:51 | 31 |
| 17 | FC Cologne | 32 | 7 | 8 | 17 | 33:60 | 29 |
| 18 | Schalke 04 | 31 | 2 | 7 | 22 | 20:80 | 13 |
| # | Team | G | W | D | L | +/- | P |
| --- | --- | --- | --- | --- | --- | --- | --- |
| 1 | Bayern Munich | 16 | 12 | 4 | 0 | 59:19 | 40 |
| 2 | RB Leipzig | 16 | 11 | 3 | 2 | 27:11 | 36 |
| 3 | Wolfsburg | 16 | 10 | 4 | 2 | 30:13 | 34 |
| 4 | Eintracht Frankfurt | 16 | 9 | 7 | 0 | 34:19 | 34 |
| 5 | Borussia Dortmund | 16 | 10 | 2 | 4 | 37:19 | 32 |
| 6 | Union Berlin | 16 | 7 | 8 | 1 | 30:17 | 29 |
| 7 | Monchengladbach | 16 | 8 | 4 | 4 | 31:17 | 28 |
| 8 | Bayer Leverkusen | 16 | 8 | 4 | 4 | 33:21 | 28 |
| 9 | Freiburg | 16 | 7 | 5 | 4 | 31:21 | 26 |
| 10 | Hoffenheim | 16 | 7 | 3 | 6 | 30:23 | 24 |
| 11 | VfB Stuttgart | 16 | 5 | 6 | 5 | 27:24 | 21 |
| 12 | Hertha Berlin | 16 | 5 | 4 | 7 | 21:26 | 19 |
| 13 | Augsburg | 16 | 5 | 4 | 7 | 19:25 | 19 |
| 14 | Bielefeld | 16 | 6 | 1 | 9 | 12:22 | 19 |
| 15 | Mainz 05 | 16 | 4 | 4 | 8 | 15:23 | 16 |
| 16 | Werder Bremen | 16 | 3 | 5 | 8 | 14:24 | 14 |
| 17 | FC Cologne | 16 | 2 | 5 | 9 | 19:31 | 11 |
| 18 | Schalke 04 | 15 | 2 | 3 | 10 | 9:29 | 9 |