Fiorentina Betting Tips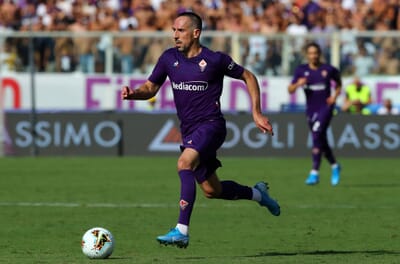 Fiorentina are a famous Italian football club who are based in Florence and they are known for wearing a violet kit and being nicknamed La Viola. The team play at the Stadio Artemio Franchi and over 40,000 fans regularly turn out to watch them.
You can get free Fiorentina betting tips on a frequent basis when you visit Sportsgambler.com, with our team of writers studying the latest odds and looking for the best Fiorentina betting tips and angle when it comes to the next match whether this is a league or a cup match.
You can also access injury information to understand which players are missing in action and there is also predicted lineup and confirmed starting 11 data available for our readers to enjoy.
Fiorentina Free Bets & Bonuses
Fiorentina Injuries
Type
Name
Position
Matches
Goals
Assists
Info
Expected Return
Lorenzo Venuti
D
3
0
0
Shoulder injury
Early October
Michele Cerofolini
G
0
0
0
ACL injury
Unknown
Next Game: Fiorentina vs Inter Milan
1:

3.60

X:

3.60

2:

1.95
Bet Now!
T&Cs apply, Gamble Responsibly 18+
Fiorentina Lineups
Confirmed Lineups
Predicted Lineups
Fiorentina Squad
Manager: Vincenzo Italiano
Goalkeepers

1

P. Terracciano

25

Antonio Rosati

33

F. Brancolini

69

B. Drągowski

0

M. Cerofolini
Defenders

2

L. M. Quarta

3

C. Biraghi

4

N. Milenkovic

17

Aleksa Terzic

23

Lorenzo Venuti

93

Davide Gentile

98

Igor

0

Matija Nastasic

0

Á. Odriozola

0

Christian Koffi
Midfielders

5

G. Bonaventura

8

R. Saponara

10

G. Castrovilli

14

Youssef Maleh

15

Erick Pulgar

24

Marco Benassi

29

Dimo Krastev

32

Alfred Duncan

34

Sofyan Amrabat

42

A. Bianco

0

Lucas Torreira
Forwards

7

J. M. Callejon

9

Dusan Vlahovic

22

Nicolas Gonzalez

33

Riccardo Sottil

67

Louis Munteanu

91

A. Kokorin
Fiorentina Fixtures
Tuesday 21 September
Best Odds
Sunday 26 September
Sunday 03 October
Sunday 17 October
Fiorentina Results
Saturday 18 September
Serie A 16:00 Sat 18 Sep
16:00
Italy Serie A
Saturday 11 September
Serie A 21:45 Sat 11 Sep
21:45
Italy Serie A
Saturday 28 August
Serie A 21:45 Sat 28 Aug
21:45
Italy Serie A
Sunday 22 August
Serie A 21:45 Sun 22 Aug
21:45
Italy Serie A
Friday 13 August
Coppa Italia 22:00 Fri 13 Aug
22:00
Italy Coppa Italia
Serie A 2021/2022
| # | Team | G | W | D | L | +/- | P |
| --- | --- | --- | --- | --- | --- | --- | --- |
| 1 | Inter Milan | 4 | 3 | 1 | 0 | 15:4 | 10 |
| 2 | Roma | 3 | 3 | 0 | 0 | 9:2 | 9 |
| 3 | AC Milan | 3 | 3 | 0 | 0 | 7:1 | 9 |
| 4 | Napoli | 3 | 3 | 0 | 0 | 6:2 | 9 |
| 5 | Fiorentina | 4 | 3 | 0 | 1 | 7:6 | 9 |
| 6 | Udinese | 3 | 2 | 1 | 0 | 6:2 | 7 |
| 7 | Atalanta | 4 | 2 | 1 | 1 | 4:3 | 7 |
| 8 | Bologna | 4 | 2 | 1 | 1 | 5:8 | 7 |
| 9 | Lazio | 3 | 2 | 0 | 1 | 9:4 | 6 |
| 10 | Torino | 4 | 2 | 0 | 2 | 7:4 | 6 |
| 11 | Sassuolo | 4 | 1 | 1 | 2 | 4:5 | 4 |
| 12 | Empoli | 3 | 1 | 0 | 2 | 3:5 | 3 |
| 13 | Venezia | 3 | 1 | 0 | 2 | 2:6 | 3 |
| 14 | Genoa | 4 | 1 | 0 | 3 | 5:10 | 3 |
| 15 | Sampdoria | 3 | 0 | 2 | 1 | 2:3 | 2 |
| 16 | Juventus | 3 | 0 | 1 | 2 | 3:5 | 1 |
| 17 | Cagliari | 3 | 0 | 1 | 2 | 5:9 | 1 |
| 18 | Spezia | 3 | 0 | 1 | 2 | 3:9 | 1 |
| 19 | Hellas Verona | 3 | 0 | 0 | 3 | 3:7 | 0 |
| 20 | Salernitana | 4 | 0 | 0 | 4 | 2:12 | 0 |
| # | Team | G | W | D | L | +/- | P |
| --- | --- | --- | --- | --- | --- | --- | --- |
| 1 | Inter Milan | 2 | 2 | 0 | 0 | 10:1 | 6 |
| 2 | AC Milan | 2 | 2 | 0 | 0 | 6:1 | 6 |
| 3 | Roma | 2 | 2 | 0 | 0 | 5:2 | 6 |
| 4 | Napoli | 2 | 2 | 0 | 0 | 4:1 | 6 |
| 5 | Bologna | 2 | 2 | 0 | 0 | 4:2 | 6 |
| 6 | Udinese | 2 | 1 | 1 | 0 | 5:2 | 4 |
| 7 | Lazio | 1 | 1 | 0 | 0 | 6:1 | 3 |
| 8 | Fiorentina | 1 | 1 | 0 | 0 | 2:1 | 3 |
| 9 | Torino | 2 | 1 | 0 | 1 | 5:2 | 3 |
| 10 | Cagliari | 2 | 0 | 1 | 1 | 4:5 | 1 |
| 11 | Sampdoria | 2 | 0 | 1 | 1 | 2:3 | 1 |
| 12 | Atalanta | 2 | 0 | 1 | 1 | 1:2 | 1 |
| 13 | Sassuolo | 2 | 0 | 1 | 1 | 0:1 | 1 |
| 14 | Venezia | 0 | 0 | 0 | 0 | 0:0 | 0 |
| 15 | Spezia | 1 | 0 | 0 | 1 | 0:1 | 0 |
| 16 | Juventus | 1 | 0 | 0 | 1 | 0:1 | 0 |
| 17 | Genoa | 2 | 0 | 0 | 2 | 2:4 | 0 |
| 18 | Hellas Verona | 2 | 0 | 0 | 2 | 3:6 | 0 |
| 19 | Empoli | 2 | 0 | 0 | 2 | 2:5 | 0 |
| 20 | Salernitana | 2 | 0 | 0 | 2 | 0:5 | 0 |