Freiburg Betting Tips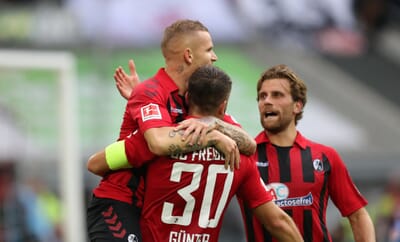 Freiburg betting tips allow you to get some in-depth recommendations on how to bet on German football matches involving Sport-Club Freiburg e.V., with this high-profile team playing their games at Schwarzwald-Stadion.
The team play in red and black, with the free Freiburg betting tips and match odds published ahead of kick-off so that you can peruse the various bookie match markets and get the latest odds that appeal to you out of the selection available.
It's important to know the injury situation and we have a list of unavailable players for every leading German football team, with this data helping us to create lineup and starting 11 information.
Freiburg Free Bets & Bonuses
Freiburg Injuries
Type
Name
Position
Matches
Goals
Assists
Info
Expected Return
Roland Sallai
M
6
1
1
Knee injury
Late November
Lukas Kübler
D
5
1
0
Illness
Late October
Jonathan Schmid
D
2
0
0
Phy discomfort
Late October
Next Game: Wolfsburg vs Freiburg
1:

2.05

X:

3.40

2:

3.75
Bet Now!
T&Cs apply, Gamble Responsibly 18+
Freiburg Lineups
Confirmed Lineups
Predicted Lineups
Freiburg Squad
Manager: Christian Streich
Goalkeepers

1

Benjamin Uphoff

21

Noah Atubolu

26

Mark Flekken
Defenders

3

Philipp Lienhart

4

N. Schlotterbeck

5

Manuel Gulde

7

Jonathan Schmid

17

Lukas Kübler

23

Dominique Heintz

24

Kimberly Ezekwem

25

K. Sildillia

30

C. Günter

31

K. Schlotterbeck
Midfielders

8

M. Eggestein

19

Janik Haberer

22

Roland Sallai

27

Nicolas Höfler

31

P. Kammerbauer

33

Noah Weißhaupt

36

Yannik Keitel
Forwards

9

Lucas Höler

11

E. Demirovic

18

Nils Petersen

29

Woo-yeong Jeong

32

Vincenzo Grifo

41

Kevin Schade

45

Nishan Burkart
Freiburg Fixtures
Saturday 23 October
Best Odds
Saturday 30 October
Saturday 06 November
Saturday 20 November
Saturday 27 November
Freiburg Results
Saturday 16 October
Bundesliga 16:30 Sat 16 Oct
16:30
Germany Bundesliga
Saturday 02 October
Bundesliga 16:30 Sat 2 Oct
16:30
Germany Bundesliga
Hertha Berlin
0-0
Freiburg
Sunday 26 September
Bundesliga 18:30 Sun 26 Sep
18:30
Germany Bundesliga
Saturday 18 September
Bundesliga 16:30 Sat 18 Sep
16:30
Germany Bundesliga
Saturday 11 September
Bundesliga 16:30 Sat 11 Sep
16:30
Germany Bundesliga
Bundesliga 2021/2022
| # | Team | G | W | D | L | +/- | P |
| --- | --- | --- | --- | --- | --- | --- | --- |
| 1 | Bayern Munich | 8 | 6 | 1 | 1 | 29:8 | 19 |
| 2 | Borussia Dortmund | 8 | 6 | 0 | 2 | 22:14 | 18 |
| 3 | Bayer Leverkusen | 8 | 5 | 1 | 2 | 21:12 | 16 |
| 4 | Freiburg | 8 | 4 | 4 | 0 | 12:6 | 16 |
| 5 | Union Berlin | 8 | 4 | 3 | 1 | 12:9 | 15 |
| 6 | Wolfsburg | 8 | 4 | 1 | 3 | 9:10 | 13 |
| 7 | FC Cologne | 8 | 3 | 3 | 2 | 13:14 | 12 |
| 8 | RB Leipzig | 8 | 3 | 2 | 3 | 16:8 | 11 |
| 9 | Hoffenheim | 8 | 3 | 2 | 3 | 17:11 | 11 |
| 10 | Monchengladbach | 8 | 3 | 2 | 3 | 10:11 | 11 |
| 11 | Mainz 05 | 8 | 3 | 1 | 4 | 8:8 | 10 |
| 12 | VfB Stuttgart | 8 | 2 | 3 | 3 | 13:14 | 9 |
| 13 | Hertha Berlin | 8 | 3 | 0 | 5 | 10:21 | 9 |
| 14 | Eintracht Frankfurt | 8 | 1 | 5 | 2 | 9:12 | 8 |
| 15 | Bochum | 8 | 2 | 1 | 5 | 5:16 | 7 |
| 16 | Augsburg | 8 | 1 | 3 | 4 | 4:14 | 6 |
| 17 | Bielefeld | 8 | 0 | 5 | 3 | 4:11 | 5 |
| 18 | Greuther Furth | 8 | 0 | 1 | 7 | 5:20 | 1 |
| # | Team | G | W | D | L | +/- | P |
| --- | --- | --- | --- | --- | --- | --- | --- |
| 1 | Borussia Dortmund | 5 | 5 | 0 | 0 | 17:8 | 15 |
| 2 | Union Berlin | 5 | 3 | 2 | 0 | 6:2 | 11 |
| 3 | FC Cologne | 4 | 3 | 1 | 0 | 9:4 | 10 |
| 4 | Bayern Munich | 4 | 3 | 0 | 1 | 16:4 | 9 |
| 5 | RB Leipzig | 4 | 3 | 0 | 1 | 14:4 | 9 |
| 6 | Freiburg | 4 | 2 | 2 | 0 | 7:3 | 8 |
| 7 | Monchengladbach | 4 | 2 | 2 | 0 | 6:3 | 8 |
| 8 | Hoffenheim | 4 | 2 | 1 | 1 | 10:5 | 7 |
| 9 | Mainz 05 | 4 | 2 | 1 | 1 | 5:2 | 7 |
| 10 | Wolfsburg | 4 | 2 | 1 | 1 | 4:4 | 7 |
| 11 | VfB Stuttgart | 4 | 2 | 0 | 2 | 11:8 | 6 |
| 12 | Bayer Leverkusen | 4 | 2 | 0 | 2 | 9:9 | 6 |
| 13 | Bochum | 3 | 1 | 1 | 1 | 3:3 | 4 |
| 14 | Augsburg | 4 | 1 | 1 | 2 | 3:9 | 4 |
| 15 | Hertha Berlin | 3 | 1 | 0 | 2 | 4:5 | 3 |
| 16 | Eintracht Frankfurt | 4 | 0 | 3 | 1 | 3:4 | 3 |
| 17 | Bielefeld | 4 | 0 | 3 | 1 | 1:5 | 3 |
| 18 | Greuther Furth | 4 | 0 | 1 | 3 | 2:7 | 1 |