Hellas Verona Betting Tips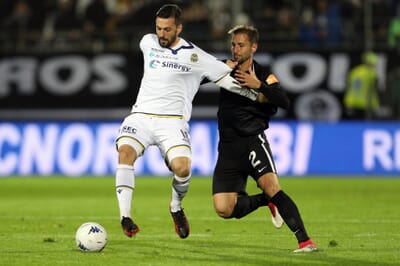 The team are known as Hellas Verona and this is an Italian football club who are based at the Stadio Marc'Antonio Bentegodi, with the club known as the Gialloblu on account of the fact that they play in yellow and blue.
We're keen to provide our readers with Hellas Verona betting tips and that means getting the latest odds and working out the best way to proceed when it comes to having a bet on Italian football. There are free Hellas Verona betting tips and picks available for all big matches.
Injury information is important and we have this available for each player, while this helps us compile a predicted lineup and then a confirmed team and starting 11 as we get closer to kick-off.
Hellas Verona Free Bets & Bonuses
Hellas Verona Injuries
Type
Name
Position
Matches
Goals
Assists
Info
Expected Return
Gianluca Frabotta
D
0
0
0
Phy discomfort
Mid October
Next Game: Hellas Verona vs Lazio
1:

3.10

X:

3.60

2:

2.20
Bet Now!
T&Cs apply, Gamble Responsibly 18+
Hellas Verona Lineups
Confirmed Lineups
Predicted Lineups
Hellas Verona Squad
Manager: Igor Tudor
Goalkeepers

1

Ivor Pandur

22

A. Berardi

96

Lorenzo Montipò
Defenders

15

Mert Cetin

16

Nicolò Casale

17

F. Ceccherini

20

Kevin Rüegg

21

Koray Günter

23

G. Magnani

30

G. Frabotta

31

Bosko Sutalo

42

Diego Coppola

78

Martin Hongla

94

B. Calabrese
Midfielders

4

Miguel Veloso

5

M. D. Faraoni

7

Antonin Barak

8

Darko Lazovic

14

Ivan Ilić

24

Daniel Bessa

27

Pawel Dawidowicz

41

C. Pierobon

61

Adrien Tameze

63

Mattia Turra

97

F. Terracciano
Forwards

9

Nikola Kalinic

10

Gianluca Caprari

11

Kevin Lasagna

18

M. Cancellieri

32

Antonino Ragusa

45

P. Yeboah Ankrah

70

D. Bragantini

99

G. Pablo Simeone
Hellas Verona Fixtures
Sunday 24 October
Best Odds
Wednesday 27 October
Sunday 31 October
Sunday 07 November
Sunday 21 November
Hellas Verona Results
Saturday 16 October
Serie A 21:45 Sat 16 Oct
21:45
Italy Serie A
AC Milan
0-0
Hellas Verona
Sunday 03 October
Serie A 16:00 Sun 3 Oct
16:00
Italy Serie A
Saturday 25 September
Serie A 21:45 Sat 25 Sep
21:45
Italy Serie A
Wednesday 22 September
Serie A 19:30 Wed 22 Sep
19:30
Italy Serie A
Salernitana
2-2
Hellas Verona
Sunday 19 September
Serie A 19:00 Sun 19 Sep
19:00
Italy Serie A
Serie A 2021/2022
| # | Team | G | W | D | L | +/- | P |
| --- | --- | --- | --- | --- | --- | --- | --- |
| 1 | Napoli | 8 | 8 | 0 | 0 | 19:3 | 24 |
| 2 | AC Milan | 8 | 7 | 1 | 0 | 18:7 | 22 |
| 3 | Inter Milan | 8 | 5 | 2 | 1 | 23:11 | 17 |
| 4 | Roma | 8 | 5 | 0 | 3 | 16:9 | 15 |
| 5 | Lazio | 8 | 4 | 2 | 2 | 18:13 | 14 |
| 6 | Atalanta | 8 | 4 | 2 | 2 | 14:10 | 14 |
| 7 | Juventus | 8 | 4 | 2 | 2 | 12:10 | 14 |
| 8 | Bologna | 8 | 3 | 3 | 2 | 13:15 | 12 |
| 9 | Fiorentina | 8 | 4 | 0 | 4 | 10:12 | 12 |
| 10 | Udinese | 8 | 2 | 3 | 3 | 10:12 | 9 |
| 11 | Empoli | 8 | 3 | 0 | 5 | 10:16 | 9 |
| 12 | Torino | 8 | 2 | 2 | 4 | 9:8 | 8 |
| 13 | Hellas Verona | 8 | 2 | 2 | 4 | 17:17 | 8 |
| 14 | Sassuolo | 8 | 2 | 2 | 4 | 9:11 | 8 |
| 15 | Venezia | 8 | 2 | 2 | 4 | 6:12 | 8 |
| 16 | Spezia | 8 | 2 | 1 | 5 | 10:20 | 7 |
| 17 | Sampdoria | 8 | 1 | 3 | 4 | 11:16 | 6 |
| 18 | Genoa | 8 | 1 | 3 | 4 | 12:18 | 6 |
| 19 | Cagliari | 8 | 1 | 3 | 4 | 11:17 | 6 |
| 20 | Salernitana | 8 | 1 | 1 | 6 | 6:17 | 4 |
| # | Team | G | W | D | L | +/- | P |
| --- | --- | --- | --- | --- | --- | --- | --- |
| 1 | AC Milan | 4 | 4 | 0 | 0 | 11:3 | 12 |
| 2 | Roma | 4 | 4 | 0 | 0 | 8:2 | 12 |
| 3 | Napoli | 4 | 4 | 0 | 0 | 7:1 | 12 |
| 4 | Lazio | 4 | 3 | 1 | 0 | 14:6 | 10 |
| 5 | Bologna | 4 | 3 | 1 | 0 | 9:4 | 10 |
| 6 | Inter Milan | 3 | 2 | 1 | 0 | 12:3 | 7 |
| 7 | Juventus | 4 | 2 | 1 | 1 | 5:4 | 7 |
| 8 | Hellas Verona | 4 | 2 | 0 | 2 | 10:8 | 6 |
| 9 | Cagliari | 5 | 1 | 2 | 2 | 8:9 | 5 |
| 10 | Udinese | 5 | 1 | 2 | 2 | 6:8 | 5 |
| 11 | Venezia | 3 | 1 | 1 | 1 | 3:3 | 4 |
| 12 | Torino | 4 | 1 | 1 | 2 | 6:4 | 4 |
| 13 | Atalanta | 4 | 1 | 1 | 2 | 5:6 | 4 |
| 14 | Sassuolo | 4 | 1 | 1 | 2 | 2:3 | 4 |
| 15 | Salernitana | 4 | 1 | 1 | 2 | 3:7 | 4 |
| 16 | Fiorentina | 3 | 1 | 0 | 2 | 4:6 | 3 |
| 17 | Spezia | 4 | 1 | 0 | 3 | 5:7 | 3 |
| 18 | Empoli | 5 | 1 | 0 | 4 | 7:14 | 3 |
| 19 | Genoa | 4 | 0 | 2 | 2 | 7:9 | 2 |
| 20 | Sampdoria | 4 | 0 | 2 | 2 | 5:10 | 2 |