Hoffenheim Betting Tips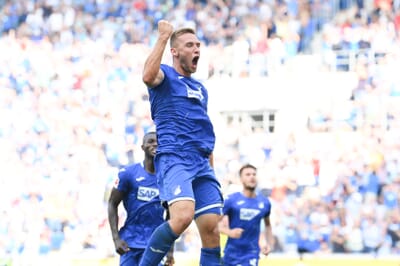 TSG 1899 Hoffenheim are known as Die Kraichgauer and the club have their name because they were founded in 1899, with the team playing in a royal blue football kit and having qualified for several European competitions.
If you want Hoffenheim betting tips, then you need to visit Sportsgambler.com on a regular basis and get the in-depth and free Hoffenheim betting tips, with the odds available in the days leading up to each match and we are always looking for the value price.
You can get the latest injury news and we also aim to provide you with predicted lineups so that you can get an idea of the players who are likely to line up along with the formation and substitutes.
Hoffenheim Free Bets & Bonuses
Hoffenheim Injuries
Type
Name
Position
Matches
Goals
Assists
Info
Expected Return
Pavel Kaderabek
D
3
1
1
Ankle injury
Mid November
Håvard Nordtveit
D
0
0
0
Phy discomfort
Late October
Marco John
M
0
0
0
Shoulder injury
Mid November
Ermin Bicakcic
D
0
0
0
ACL injury
Early November
Benjamin Hübner
D
0
0
0
MCL injury
Mid November
Next Game: Bayern Munich vs Hoffenheim
1:

1.16

X:

8.00

2:

13.00
Bet Now!
T&Cs apply, Gamble Responsibly 18+
Hoffenheim Lineups
Confirmed Lineups
Predicted Lineups
Hoffenheim Squad
Manager: Sebastian Hoeneß
Goalkeepers

1

Oliver Baumann

12

Philipp Pentke

31

Domen Gril

37

Luca Philipp
Defenders

2

Joshua Brenet

3

Pavel Kaderabek

4

Ermin Bicakcic

6

H. Nordtveit

15

Kasim Adams Nuhu

17

David Raum

21

Benjamin Hübner

25

Kevin Akpoguma

28

Chris Richards

32

Melayro Bogarde

38

Stefan Posch

0

Max Geschwill
Midfielders

8

Dennis Geiger

11

F. Grillitsch

13

Angelo Stiller

14

C. Baumgartner

16

Sebastian Rudy

18

D. Samassékou

20

M. Gačinović

22

Kevin Vogt

29

Robert Skov

30

Marco John

0

M. Zaiser
Forwards

7

J. Bruun Larsen

9

Ihlas Bebou

10

Munas Dabbur

23

Sargis Adamyan

27

Andrej Kramaric

33

Georginio Rutter

0

Andreas Ludwig
Hoffenheim Fixtures
Saturday 23 October
Best Odds
Saturday 30 October
Saturday 06 November
Saturday 20 November
Saturday 27 November
Hoffenheim Results
Friday 15 October
Bundesliga 21:30 Fri 15 Oct
21:30
Germany Bundesliga
Hoffenheim
0-0
FC Cologne
Saturday 02 October
Bundesliga 16:30 Sat 2 Oct
16:30
Germany Bundesliga
VfB Stuttgart
0-0
Hoffenheim
Saturday 25 September
Bundesliga 16:30 Sat 25 Sep
16:30
Germany Bundesliga
Saturday 18 September
Bundesliga 16:30 Sat 18 Sep
16:30
Germany Bundesliga
Saturday 11 September
Bundesliga 16:30 Sat 11 Sep
16:30
Germany Bundesliga
Bundesliga 2021/2022
| # | Team | G | W | D | L | +/- | P |
| --- | --- | --- | --- | --- | --- | --- | --- |
| 1 | Bayern Munich | 8 | 6 | 1 | 1 | 29:8 | 19 |
| 2 | Borussia Dortmund | 8 | 6 | 0 | 2 | 22:14 | 18 |
| 3 | Bayer Leverkusen | 8 | 5 | 1 | 2 | 21:12 | 16 |
| 4 | Freiburg | 8 | 4 | 4 | 0 | 12:6 | 16 |
| 5 | Union Berlin | 8 | 4 | 3 | 1 | 12:9 | 15 |
| 6 | Wolfsburg | 8 | 4 | 1 | 3 | 9:10 | 13 |
| 7 | FC Cologne | 8 | 3 | 3 | 2 | 13:14 | 12 |
| 8 | RB Leipzig | 8 | 3 | 2 | 3 | 16:8 | 11 |
| 9 | Hoffenheim | 8 | 3 | 2 | 3 | 17:11 | 11 |
| 10 | Monchengladbach | 8 | 3 | 2 | 3 | 10:11 | 11 |
| 11 | Mainz 05 | 8 | 3 | 1 | 4 | 8:8 | 10 |
| 12 | VfB Stuttgart | 8 | 2 | 3 | 3 | 13:14 | 9 |
| 13 | Hertha Berlin | 8 | 3 | 0 | 5 | 10:21 | 9 |
| 14 | Eintracht Frankfurt | 8 | 1 | 5 | 2 | 9:12 | 8 |
| 15 | Bochum | 8 | 2 | 1 | 5 | 5:16 | 7 |
| 16 | Augsburg | 8 | 1 | 3 | 4 | 4:14 | 6 |
| 17 | Bielefeld | 8 | 0 | 5 | 3 | 4:11 | 5 |
| 18 | Greuther Furth | 8 | 0 | 1 | 7 | 5:20 | 1 |
| # | Team | G | W | D | L | +/- | P |
| --- | --- | --- | --- | --- | --- | --- | --- |
| 1 | Borussia Dortmund | 5 | 5 | 0 | 0 | 17:8 | 15 |
| 2 | Union Berlin | 5 | 3 | 2 | 0 | 6:2 | 11 |
| 3 | FC Cologne | 4 | 3 | 1 | 0 | 9:4 | 10 |
| 4 | Bayern Munich | 4 | 3 | 0 | 1 | 16:4 | 9 |
| 5 | RB Leipzig | 4 | 3 | 0 | 1 | 14:4 | 9 |
| 6 | Freiburg | 4 | 2 | 2 | 0 | 7:3 | 8 |
| 7 | Monchengladbach | 4 | 2 | 2 | 0 | 6:3 | 8 |
| 8 | Hoffenheim | 4 | 2 | 1 | 1 | 10:5 | 7 |
| 9 | Mainz 05 | 4 | 2 | 1 | 1 | 5:2 | 7 |
| 10 | Wolfsburg | 4 | 2 | 1 | 1 | 4:4 | 7 |
| 11 | VfB Stuttgart | 4 | 2 | 0 | 2 | 11:8 | 6 |
| 12 | Bayer Leverkusen | 4 | 2 | 0 | 2 | 9:9 | 6 |
| 13 | Bochum | 3 | 1 | 1 | 1 | 3:3 | 4 |
| 14 | Augsburg | 4 | 1 | 1 | 2 | 3:9 | 4 |
| 15 | Hertha Berlin | 3 | 1 | 0 | 2 | 4:5 | 3 |
| 16 | Eintracht Frankfurt | 4 | 0 | 3 | 1 | 3:4 | 3 |
| 17 | Bielefeld | 4 | 0 | 3 | 1 | 1:5 | 3 |
| 18 | Greuther Furth | 4 | 0 | 1 | 3 | 2:7 | 1 |