Mainz 05 Betting Tips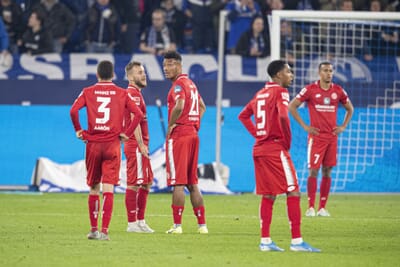 Mainz betting tips are widely available throughout the German football season and that means that you can read up on the latest team news before deciding which odds and markets make the most appeal when it comes to their next game.
We recommend checking out the injury and suspension situation with Mainz 05 before deciding which way to place your bets, with predicted lineups at Sportsgambler.com also giving you an idea of the way in which both sides will line up for a game.
Many people like to read the free Mainz betting tips every week and there's also often the chance to enjoy In-Play wagering markets on the team which means live odds constantly updating.
Mainz 05 Free Bets & Bonuses
Mainz 05 Injuries
Type
Name
Position
Matches
Goals
Assists
Info
Expected Return
Jerry St. Juste
D
5
0
0
Shoulder injury
Mid November
Adam Szalai
F
4
1
0
Meniscus injury
Mid December
Next Game: Mainz 05 vs Augsburg
1:

1.70

X:

3.80

2:

5.00
Bet Now!
T&Cs apply, Gamble Responsibly 18+
Mainz 05 Lineups
Confirmed Lineups
Predicted Lineups
Mainz 05 Squad
Manager: Bo Svensson
Goalkeepers

1

Finn Dahmen

27

Robin Zentner

32

Lasse Rieß

33

Omer Hanin

41

Marius Liesegang
Defenders

3

Aaron Martin

4

Jerry St. Juste

16

Stefan Bell

19

Moussa Niakhate

23

Anderson Lucoqui

30

Silvan Widmer

34

David Nemeth

42

Alexander Hack
Midfielders

5

J. Boëtius

6

Anton Stach

7

Jae-Sung Lee

8

L. B. Martins

18

Daniel Brosinski

22

Kevin Stöger

24

Merveille Papela

25

Niklas Tauer

26

Paul Nebel

31

Dominik Kohr

43

Romario Roesch
Forwards

9

Karim Onisiwo

11

M. Ingvartsen

28

Adam Szalai

29

J. Burkardt
Mainz 05 Fixtures
Saturday 23 October
Best Odds
Saturday 30 October
Saturday 06 November
Saturday 20 November
Saturday 27 November
Mainz 05 Results
Saturday 16 October
Bundesliga 16:30 Sat 16 Oct
16:30
Germany Bundesliga
Borussia Dortmund
0-0
Mainz 05
Sunday 03 October
Bundesliga 16:30 Sun 3 Oct
16:30
Germany Bundesliga
Mainz 05
0-0
Union Berlin
Saturday 25 September
Bundesliga 16:30 Sat 25 Sep
16:30
Germany Bundesliga
Bayer Leverkusen
1-0
Mainz 05
Saturday 18 September
Bundesliga 16:30 Sat 18 Sep
16:30
Germany Bundesliga
Saturday 11 September
Bundesliga 16:30 Sat 11 Sep
16:30
Germany Bundesliga
Bundesliga 2021/2022
| # | Team | G | W | D | L | +/- | P |
| --- | --- | --- | --- | --- | --- | --- | --- |
| 1 | Bayern Munich | 8 | 6 | 1 | 1 | 29:8 | 19 |
| 2 | Borussia Dortmund | 8 | 6 | 0 | 2 | 22:14 | 18 |
| 3 | Bayer Leverkusen | 8 | 5 | 1 | 2 | 21:12 | 16 |
| 4 | Freiburg | 8 | 4 | 4 | 0 | 12:6 | 16 |
| 5 | Union Berlin | 8 | 4 | 3 | 1 | 12:9 | 15 |
| 6 | Wolfsburg | 8 | 4 | 1 | 3 | 9:10 | 13 |
| 7 | FC Cologne | 8 | 3 | 3 | 2 | 13:14 | 12 |
| 8 | RB Leipzig | 8 | 3 | 2 | 3 | 16:8 | 11 |
| 9 | Hoffenheim | 8 | 3 | 2 | 3 | 17:11 | 11 |
| 10 | Monchengladbach | 8 | 3 | 2 | 3 | 10:11 | 11 |
| 11 | Mainz 05 | 8 | 3 | 1 | 4 | 8:8 | 10 |
| 12 | VfB Stuttgart | 8 | 2 | 3 | 3 | 13:14 | 9 |
| 13 | Hertha Berlin | 8 | 3 | 0 | 5 | 10:21 | 9 |
| 14 | Eintracht Frankfurt | 8 | 1 | 5 | 2 | 9:12 | 8 |
| 15 | Bochum | 8 | 2 | 1 | 5 | 5:16 | 7 |
| 16 | Augsburg | 8 | 1 | 3 | 4 | 4:14 | 6 |
| 17 | Bielefeld | 8 | 0 | 5 | 3 | 4:11 | 5 |
| 18 | Greuther Furth | 8 | 0 | 1 | 7 | 5:20 | 1 |
| # | Team | G | W | D | L | +/- | P |
| --- | --- | --- | --- | --- | --- | --- | --- |
| 1 | Borussia Dortmund | 5 | 5 | 0 | 0 | 17:8 | 15 |
| 2 | Union Berlin | 5 | 3 | 2 | 0 | 6:2 | 11 |
| 3 | FC Cologne | 4 | 3 | 1 | 0 | 9:4 | 10 |
| 4 | Bayern Munich | 4 | 3 | 0 | 1 | 16:4 | 9 |
| 5 | RB Leipzig | 4 | 3 | 0 | 1 | 14:4 | 9 |
| 6 | Freiburg | 4 | 2 | 2 | 0 | 7:3 | 8 |
| 7 | Monchengladbach | 4 | 2 | 2 | 0 | 6:3 | 8 |
| 8 | Hoffenheim | 4 | 2 | 1 | 1 | 10:5 | 7 |
| 9 | Mainz 05 | 4 | 2 | 1 | 1 | 5:2 | 7 |
| 10 | Wolfsburg | 4 | 2 | 1 | 1 | 4:4 | 7 |
| 11 | VfB Stuttgart | 4 | 2 | 0 | 2 | 11:8 | 6 |
| 12 | Bayer Leverkusen | 4 | 2 | 0 | 2 | 9:9 | 6 |
| 13 | Bochum | 3 | 1 | 1 | 1 | 3:3 | 4 |
| 14 | Augsburg | 4 | 1 | 1 | 2 | 3:9 | 4 |
| 15 | Hertha Berlin | 3 | 1 | 0 | 2 | 4:5 | 3 |
| 16 | Eintracht Frankfurt | 4 | 0 | 3 | 1 | 3:4 | 3 |
| 17 | Bielefeld | 4 | 0 | 3 | 1 | 1:5 | 3 |
| 18 | Greuther Furth | 4 | 0 | 1 | 3 | 2:7 | 1 |