Parma Betting Tips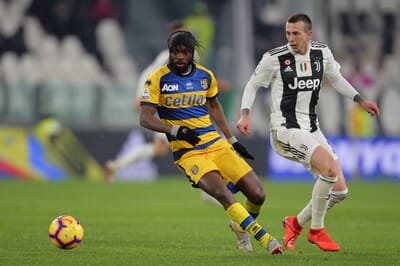 Parma Calcio 1913 are so named because they were founded in 1913 and you can get Parma betting tips available when you're a regular visitor to Sportsgambler.com, while we also have injury and suspension information to hand.
The free Parma betting tips and bookie odds can be found a few days before their next kick-off, with a host of famous players having turned out for the Gialloblu which is their nickname due to their kit.
You can get team news leading up to kick-off and the predicted lineups are published well in advance before we know the confirmed teams for the latest game. Having this up-to-date information can give you the best possible chance of making a long-term profit.
Parma Free Bets & Bonuses
Parma Injuries
No players are currently reported injured or suspended.
World's Favourite Betting Company
Bet Now!
T&Cs apply, Gamble Responsibly 18+
Parma Lineups
Confirmed Lineups
Predicted Lineups
Parma Squad
Manager: Enzo Maresca
Goalkeepers

1

Luigi Sepe

34

Simone Colombi

40

Edoardo Corvi

56

F. Bagheria

77

Filippo Rinaldi

0

Gianluigi Buffon
Defenders

2

Simone Iacoponi

3

G. Pezzella

4

Botond Balogh

6

Matteo Lucarelli

7

R. Gagliolo

16

Vincent Laurini

24

Yordan Osorio

29

Daan Dierckx

36

Abdoul Hate Bane

38

Reinaldo Radu

42

Maxime Busi

50

V. Zagaritis

54

Andrea Di Maggio

0

Matteo Darmian

0

Lautaro Valenti

0

Giacomo Ricci
Midfielders

8

Alberto Grassi

14

Jasmin Kurtic

19

Simon Sohm

20

Marcello Gazzola

23

Hernani

32

L. Simonetti

35

Chaka Traorè

37

D. Gui Camara

44

Redi Kasa

55

M. Kosznovszky

61

G. Carriero

93

Mattia Sprocati

0

Franco Vazquez

0

Alessio da Cruz

0

Stanko Juric
Forwards

9

Graziano Pelle

10

Yann Karamoh

15

Gaston Brugman

28

Valentin Mihaila

32

J. F. Brunetta

45

Roberto Inglese

52

Carl Davordzie

98

Dennis Man

0

A. Benedyczak
Parma Fixtures
Saturday 21 August
Best Odds
Saturday 28 August
Saturday 11 September
Saturday 18 September
Tuesday 21 September
Parma Results
Thursday 21 January
Coppa Italia 22:15 Thu 21 Jan
22:15
Italy Coppa Italia
Wednesday 25 November
Coppa Italia 15:30 Wed 25 Nov
15:30
Italy Coppa Italia
Wednesday 28 October
Coppa Italia 19:00 Wed 28 Oct
19:00
Italy Coppa Italia
Serie B 2021/2022
| # | Team | G | W | D | L | +/- | P |
| --- | --- | --- | --- | --- | --- | --- | --- |
| 1 | Alessandria | 0 | 0 | 0 | 0 | 0:0 | 0 |
| 2 | Ascoli | 0 | 0 | 0 | 0 | 0:0 | 0 |
| 3 | Benevento | 0 | 0 | 0 | 0 | 0:0 | 0 |
| 4 | Brescia | 0 | 0 | 0 | 0 | 0:0 | 0 |
| 5 | Cittadella | 0 | 0 | 0 | 0 | 0:0 | 0 |
| 6 | Como | 0 | 0 | 0 | 0 | 0:0 | 0 |
| 7 | Cosenza | 0 | 0 | 0 | 0 | 0:0 | 0 |
| 8 | Cremonese | 0 | 0 | 0 | 0 | 0:0 | 0 |
| 9 | Crotone | 0 | 0 | 0 | 0 | 0:0 | 0 |
| 10 | Frosinone | 0 | 0 | 0 | 0 | 0:0 | 0 |
| 11 | Lecce | 0 | 0 | 0 | 0 | 0:0 | 0 |
| 12 | Monza | 0 | 0 | 0 | 0 | 0:0 | 0 |
| 13 | Parma | 0 | 0 | 0 | 0 | 0:0 | 0 |
| 14 | Perugia | 0 | 0 | 0 | 0 | 0:0 | 0 |
| 15 | Pisa | 0 | 0 | 0 | 0 | 0:0 | 0 |
| 16 | Pordenone Calcio | 0 | 0 | 0 | 0 | 0:0 | 0 |
| 17 | Reggina | 0 | 0 | 0 | 0 | 0:0 | 0 |
| 18 | Spal | 0 | 0 | 0 | 0 | 0:0 | 0 |
| 19 | Ternana | 0 | 0 | 0 | 0 | 0:0 | 0 |
| 20 | Vicenza | 0 | 0 | 0 | 0 | 0:0 | 0 |