Sampdoria Betting Tips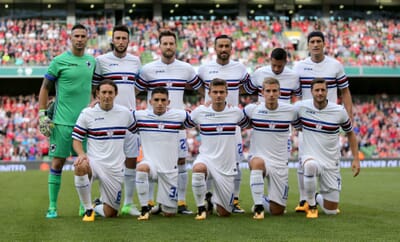 Most football fans know all about this team, one of the household names when it comes to Italian football and their blue circled kit has become iconic, with many famous players having represented this club.
It naturally follows that we provide regular Sampdoria betting tips when it comes to La Samp, with our team of experts studying the latest odds and writing free Sampdoria betting tips and recommendations according to where we see the value.
The great news is that you can access predicted and confirmed lineup information for every game, while injury and suspension news is also published to keep you informed.
Sampdoria Free Bets & Bonuses
Sampdoria Injuries
Type
Name
Position
Matches
Goals
Assists
Info
Expected Return
Fabio Depaoli
M
22
0
0
Shoulder injury
Unknown
World's Favourite Betting Company
Bet Now!
T&Cs apply, Gamble Responsibly 18+
Sampdoria Lineups
Confirmed Lineups
Predicted Lineups
Sampdoria Squad
Manager: Roberto DAversa
Goalkeepers

1

Emil Audero

28

Matteo Raspa

30

Nicola Ravaglia

35

Lorenzo Avogadri
Defenders

2

Kaique

3

Tommaso Augello

15

Omar Colley

21

Lorenzo Tonelli

22

Maya Yoshida

25

Alex Ferrari

42

Simone Giordano

51

Emanuel Ercolano

0

Julian Chabot

0

T. Farabegoli
Midfielders

5

Adrien Silva

8

Valerio Verre

16

K. Askildsen

18

Morten Thorsby

44

Simone Trimboli

0

Fabio Depaoli

0

Ronaldo Vieira

0

L. Sabattini
Forwards

20

A. La Gumina

23

M. Gabbiadini

26

Mehdi Léris

31

Jamie Yayi Mpie

99

Nik Prelec

0

F. Bonazzoli

0

F. Quagliarella

0

Felice D'Amico

0

Antonio Di Nardo

0

Erik Gerbi

0

Ibourahima Balde

0

Matteo Stoppa
Sampdoria Fixtures
Monday 23 August
Best Odds
Sunday 29 August
Sunday 12 September
Sunday 19 September
Wednesday 22 September
Sampdoria Results
Thursday 26 November
Coppa Italia 18:00 Thu 26 Nov
18:00
Italy Coppa Italia
Tuesday 27 October
Coppa Italia 15:00 Tue 27 Oct
15:00
Italy Coppa Italia
Sampdoria
1-0
Salernitana
Serie A 2021/2022
| # | Team | G | W | D | L | +/- | P |
| --- | --- | --- | --- | --- | --- | --- | --- |
| 1 | AC Milan | 0 | 0 | 0 | 0 | 0:0 | 0 |
| 2 | Atalanta | 0 | 0 | 0 | 0 | 0:0 | 0 |
| 3 | Bologna | 0 | 0 | 0 | 0 | 0:0 | 0 |
| 4 | Cagliari | 0 | 0 | 0 | 0 | 0:0 | 0 |
| 5 | Empoli | 0 | 0 | 0 | 0 | 0:0 | 0 |
| 6 | Fiorentina | 0 | 0 | 0 | 0 | 0:0 | 0 |
| 7 | Genoa | 0 | 0 | 0 | 0 | 0:0 | 0 |
| 8 | Inter | 0 | 0 | 0 | 0 | 0:0 | 0 |
| 9 | Juventus | 0 | 0 | 0 | 0 | 0:0 | 0 |
| 10 | Lazio | 0 | 0 | 0 | 0 | 0:0 | 0 |
| 11 | Roma | 0 | 0 | 0 | 0 | 0:0 | 0 |
| 12 | Salernitana | 0 | 0 | 0 | 0 | 0:0 | 0 |
| 13 | Sampdoria | 0 | 0 | 0 | 0 | 0:0 | 0 |
| 14 | Sassuolo | 0 | 0 | 0 | 0 | 0:0 | 0 |
| 15 | Spezia | 0 | 0 | 0 | 0 | 0:0 | 0 |
| 16 | SSC Napoli | 0 | 0 | 0 | 0 | 0:0 | 0 |
| 17 | Torino | 0 | 0 | 0 | 0 | 0:0 | 0 |
| 18 | Udinese | 0 | 0 | 0 | 0 | 0:0 | 0 |
| 19 | Venezia | 0 | 0 | 0 | 0 | 0:0 | 0 |
| 20 | Verona | 0 | 0 | 0 | 0 | 0:0 | 0 |