Sassuolo Betting Tips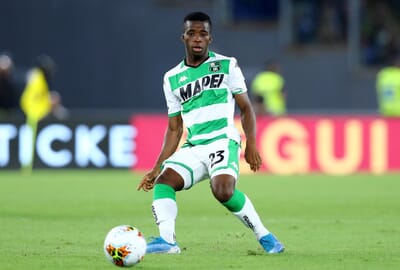 The team are also known as Unione Sportiva Sassuolo Calcio and they are a prominent football club who play their first team matches at the Mapei Stadium-Città del Tricolore.
The club are known as the Neroverdi and they were founded in 1920, with Sportsgambler.com keen to provide free Sassuolo betting tips and picks when it comes to all the latest matches taking place. We might choose the Full-Time Result market or instead make an Asian Handicap recommendation according to where we see the value.
We have lineup information for all matches throughout the campaign, with injury and suspension updates coming through on a daily basis so you can understand which players are available.
Sassuolo Free Bets & Bonuses
Sassuolo Injuries
Type
Name
Position
Matches
Goals
Assists
Info
Expected Return
Pedro Mba Obiang
M
0
0
0
Heart problems
Unknown
Filippo Romagna
D
0
0
0
Knee injury
Unknown
Next Game: Sassuolo vs Venezia
1:

1.53

X:

4.33

2:

5.50
Bet Now!
T&Cs apply, Gamble Responsibly 18+
Sassuolo Lineups
Confirmed Lineups
Predicted Lineups
Sassuolo Squad
Manager: Alessio Dionisi
Goalkeepers

24

Giacomo Satalino

47

Andrea Consigli

56

Gianluca Pegolo
Defenders

3

E. Goldaniga

5

Kaan Ayhan

6

Rogério

13

Federico Peluso

17

Mert Müldür

19

Filippo Romagna

21

Vlad Chiriches

22

Jeremy Toljan

31

G. Ferrari

44

Ryan Flamingo

70

Yeferson Paz

77

G. Kyriakopoulos
Midfielders

4

F. Magnanelli

7

Jeremie Boga

8

Maxime Lopez

14

Pedro Mba Obiang

16

Davide Frattesi

20

Abdou Harroui

23

H. J. Traorè

26

Isaac Karamoko

97

Matheus Henrique
Forwards

10

Filip Djuricic

18

G. Raspadori

25

Domenico Berardi

29

Luigi Samele

32

N. Schiappacasse

91

G. Scamacca

92

Gregoire Defrel
Sassuolo Fixtures
Saturday 23 October
Best Odds
Wednesday 27 October
Sunday 31 October
Sunday 07 November
Sunday 21 November
Sassuolo Results
Sunday 17 October
Serie A 16:00 Sun 17 Oct
16:00
Italy Serie A
Saturday 02 October
Serie A 21:45 Sat 2 Oct
21:45
Italy Serie A
Sunday 26 September
Serie A 16:00 Sun 26 Sep
16:00
Italy Serie A
Tuesday 21 September
Serie A 21:45 Tue 21 Sep
21:45
Italy Serie A
Friday 17 September
Serie A 21:45 Fri 17 Sep
21:45
Italy Serie A
Serie A 2021/2022
| # | Team | G | W | D | L | +/- | P |
| --- | --- | --- | --- | --- | --- | --- | --- |
| 1 | Napoli | 8 | 8 | 0 | 0 | 19:3 | 24 |
| 2 | AC Milan | 8 | 7 | 1 | 0 | 18:7 | 22 |
| 3 | Inter Milan | 8 | 5 | 2 | 1 | 23:11 | 17 |
| 4 | Roma | 8 | 5 | 0 | 3 | 16:9 | 15 |
| 5 | Lazio | 8 | 4 | 2 | 2 | 18:13 | 14 |
| 6 | Atalanta | 8 | 4 | 2 | 2 | 14:10 | 14 |
| 7 | Juventus | 8 | 4 | 2 | 2 | 12:10 | 14 |
| 8 | Bologna | 8 | 3 | 3 | 2 | 13:15 | 12 |
| 9 | Fiorentina | 8 | 4 | 0 | 4 | 10:12 | 12 |
| 10 | Udinese | 8 | 2 | 3 | 3 | 10:12 | 9 |
| 11 | Empoli | 8 | 3 | 0 | 5 | 10:16 | 9 |
| 12 | Torino | 8 | 2 | 2 | 4 | 9:8 | 8 |
| 13 | Hellas Verona | 8 | 2 | 2 | 4 | 17:17 | 8 |
| 14 | Sassuolo | 8 | 2 | 2 | 4 | 9:11 | 8 |
| 15 | Venezia | 8 | 2 | 2 | 4 | 6:12 | 8 |
| 16 | Spezia | 8 | 2 | 1 | 5 | 10:20 | 7 |
| 17 | Sampdoria | 8 | 1 | 3 | 4 | 11:16 | 6 |
| 18 | Genoa | 8 | 1 | 3 | 4 | 12:18 | 6 |
| 19 | Cagliari | 8 | 1 | 3 | 4 | 11:17 | 6 |
| 20 | Salernitana | 8 | 1 | 1 | 6 | 6:17 | 4 |
| # | Team | G | W | D | L | +/- | P |
| --- | --- | --- | --- | --- | --- | --- | --- |
| 1 | AC Milan | 4 | 4 | 0 | 0 | 11:3 | 12 |
| 2 | Roma | 4 | 4 | 0 | 0 | 8:2 | 12 |
| 3 | Napoli | 4 | 4 | 0 | 0 | 7:1 | 12 |
| 4 | Lazio | 4 | 3 | 1 | 0 | 14:6 | 10 |
| 5 | Bologna | 4 | 3 | 1 | 0 | 9:4 | 10 |
| 6 | Inter Milan | 3 | 2 | 1 | 0 | 12:3 | 7 |
| 7 | Juventus | 4 | 2 | 1 | 1 | 5:4 | 7 |
| 8 | Hellas Verona | 4 | 2 | 0 | 2 | 10:8 | 6 |
| 9 | Cagliari | 5 | 1 | 2 | 2 | 8:9 | 5 |
| 10 | Udinese | 5 | 1 | 2 | 2 | 6:8 | 5 |
| 11 | Venezia | 3 | 1 | 1 | 1 | 3:3 | 4 |
| 12 | Torino | 4 | 1 | 1 | 2 | 6:4 | 4 |
| 13 | Atalanta | 4 | 1 | 1 | 2 | 5:6 | 4 |
| 14 | Sassuolo | 4 | 1 | 1 | 2 | 2:3 | 4 |
| 15 | Salernitana | 4 | 1 | 1 | 2 | 3:7 | 4 |
| 16 | Fiorentina | 3 | 1 | 0 | 2 | 4:6 | 3 |
| 17 | Spezia | 4 | 1 | 0 | 3 | 5:7 | 3 |
| 18 | Empoli | 5 | 1 | 0 | 4 | 7:14 | 3 |
| 19 | Genoa | 4 | 0 | 2 | 2 | 7:9 | 2 |
| 20 | Sampdoria | 4 | 0 | 2 | 2 | 5:10 | 2 |