Schalke 04 Betting Tips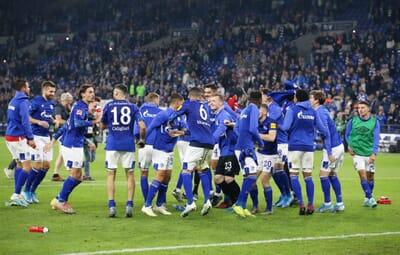 The team are a prestigious German football club and punters can enjoy regular Schalke 04 betting tips and picks when it comes to their league and cup matches throughout the domestic and European season.
You can get the latest injury information by visiting our dedicated team page, with the predicted lineups and confirmed starting 11s published in advance of kick-off so that you can understand how the team is likely to line up.
We supply you with free Schalke betting tips and information when it comes to the players who are unavailable, with some affected by injury and there are also suspensions and bans to take into account.
Schalke 04 Free Bets & Bonuses
Schalke 04 Injuries
Type
Name
Position
Matches
Goals
Assists
Info
Expected Return
Michael Langer
G
0
0
0
ACL injury
Late May
Blendi Idrizi
M
0
0
0
Knee injury
Late October
Salif Sané
D
0
0
0
Knee injury
Late October
Danny Latza
M
0
0
0
ACL injury
Late March
World's Favourite Betting Company
Bet Now!
T&Cs apply, Gamble Responsibly 18+
Schalke 04 Lineups
Confirmed Lineups
Predicted Lineups
Schalke 04 Squad
Manager: Dimitrios Grammozis
Goalkeepers

1

Ralf Fährmann

30

Martin Fraisl

34

Michael Langer
Defenders

2

Thomas Ouwejan

3

Ko Itakura

20

H. Matriciani

26

Salif Sané

31

Timo Becker

33

Malick Thiaw

35

Marcin Kaminski

38

Mehmet Can Aydin

0

Brooklyn Ezeh
Midfielders

4

Victor Palsson

8

Danny Latza

10

Rodrigo Zalazar

15

Dries Wouters

17

Florian Flick

18

Marc Rzatkowski

24

Dominick Drexler

27

Reinhold Ranftl

36

Blendi Idrizi

39

Y. Mikhailov

42

Kerim Calhanoglu

45

Jimmy Kaparos

47

Mikail Maden
Forwards

7

Darko Churlinov

9

Simon Terodde

11

Marius Bülter

21

Marvin Pieringer

44

Bleron Krasniqi
Schalke 04 Fixtures
Saturday 23 October
Best Odds
Saturday 30 October
Saturday 06 November
Saturday 20 November
Saturday 27 November
Schalke 04 Results
Friday 15 October
2. Bundesliga 19:30 Fri 15 Oct
19:30
Germany 2. Bundesliga
Hannover 96
0-0
Schalke 04
Sunday 03 October
2. Bundesliga 14:30 Sun 3 Oct
14:30
Germany 2. Bundesliga
Schalke 04
0-0
Ingolstadt
Saturday 25 September
2. Bundesliga 21:30 Sat 25 Sep
21:30
Germany 2. Bundesliga
Hansa Rostock
0-2
Schalke 04
Friday 17 September
2. Bundesliga 19:30 Fri 17 Sep
19:30
Germany 2. Bundesliga
Schalke 04
1-2
Karlsruher SC
Sunday 12 September
2. Bundesliga 14:30 Sun 12 Sep
14:30
Germany 2. Bundesliga
2. Bundesliga 2021/2022
| # | Team | G | W | D | L | +/- | P |
| --- | --- | --- | --- | --- | --- | --- | --- |
| 1 | St Pauli | 10 | 7 | 1 | 2 | 23:10 | 22 |
| 2 | Regensburg | 10 | 5 | 4 | 1 | 21:11 | 19 |
| 3 | Schalke 04 | 10 | 6 | 1 | 3 | 17:11 | 19 |
| 4 | Paderborn | 10 | 5 | 3 | 2 | 21:11 | 18 |
| 5 | Nurnberg | 10 | 4 | 6 | 0 | 12:7 | 18 |
| 6 | Darmstadt | 10 | 5 | 1 | 4 | 24:13 | 16 |
| 7 | Karlsruher SC | 10 | 4 | 4 | 2 | 16:12 | 16 |
| 8 | Hamburger SV | 10 | 3 | 6 | 1 | 16:12 | 15 |
| 9 | FC Heidenheim | 10 | 4 | 3 | 3 | 12:13 | 15 |
| 10 | Werder Bremen | 10 | 4 | 2 | 4 | 14:15 | 14 |
| 11 | Dynamo Dresden | 10 | 4 | 1 | 5 | 13:12 | 13 |
| 12 | Fortuna Dusseldorf | 10 | 3 | 3 | 4 | 14:16 | 12 |
| 13 | Hansa Rostock | 10 | 3 | 2 | 5 | 11:15 | 11 |
| 14 | Hannover 96 | 10 | 3 | 2 | 5 | 7:13 | 11 |
| 15 | Holstein Kiel | 10 | 2 | 3 | 5 | 10:20 | 9 |
| 16 | Sandhausen | 10 | 2 | 2 | 6 | 9:21 | 8 |
| 17 | Ingolstadt | 10 | 1 | 2 | 7 | 7:24 | 5 |
| 18 | Aue | 10 | 0 | 4 | 6 | 7:18 | 4 |
| # | Team | G | W | D | L | +/- | P |
| --- | --- | --- | --- | --- | --- | --- | --- |
| 1 | St Pauli | 5 | 5 | 0 | 0 | 15:3 | 15 |
| 2 | Darmstadt | 5 | 4 | 0 | 1 | 14:3 | 12 |
| 3 | Regensburg | 5 | 3 | 2 | 0 | 14:7 | 11 |
| 4 | Nurnberg | 5 | 3 | 2 | 0 | 5:1 | 11 |
| 5 | Dynamo Dresden | 5 | 3 | 0 | 2 | 8:4 | 9 |
| 6 | FC Heidenheim | 6 | 2 | 3 | 1 | 7:7 | 9 |
| 7 | Karlsruher SC | 5 | 2 | 2 | 1 | 8:6 | 8 |
| 8 | Schalke 04 | 5 | 2 | 1 | 2 | 9:7 | 7 |
| 9 | Werder Bremen | 5 | 2 | 1 | 2 | 8:7 | 7 |
| 10 | Hamburger SV | 5 | 1 | 4 | 0 | 8:7 | 7 |
| 11 | Hannover 96 | 5 | 2 | 0 | 3 | 3:6 | 6 |
| 12 | Paderborn | 5 | 1 | 2 | 2 | 7:7 | 5 |
| 13 | Hansa Rostock | 5 | 1 | 1 | 3 | 5:10 | 4 |
| 14 | Holstein Kiel | 5 | 1 | 0 | 4 | 3:11 | 3 |
| 15 | Fortuna Dusseldorf | 4 | 0 | 2 | 2 | 7:9 | 2 |
| 16 | Ingolstadt | 5 | 0 | 2 | 3 | 3:8 | 2 |
| 17 | Aue | 5 | 0 | 2 | 3 | 3:9 | 2 |
| 18 | Sandhausen | 5 | 0 | 1 | 4 | 2:13 | 1 |