Udinese Betting Tips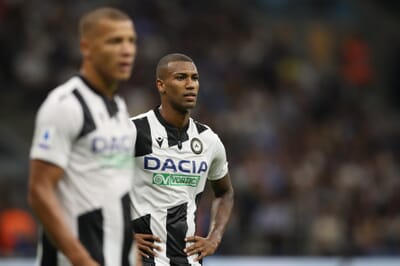 Udinese betting tips can be found at Sportsgambler.com on a regular basis, with the team known as the Bianconeri and they play their home matches at the Stadio Friuli, with the stadium capacity being over 25,000.
If you want free Udinese betting tips and team news, then you've come to the right place, with the latest injury and suspension information published and this up-to-date data can help us create a predicted lineup for your gambling purposes.
The team can be placed in Italian football accumulators and you can also bet In-Play on several matches, with live odds available with many bookmakers. There is also the option to build a bet.
Udinese Free Bets & Bonuses
Udinese Injuries
Type
Name
Position
Matches
Goals
Assists
Info
Expected Return
Ilija Nestorovski
F
22
2
1
ACL injury
Unknown
Gerard Deulofeu
F
13
1
1
Meniscus injury
Unknown
Mato Jajalo
M
0
0
0
Meniscus injury
Unknown
World's Favourite Betting Company
Bet Now!
T&Cs apply, Gamble Responsibly 18+
Udinese Lineups
Confirmed Lineups
Predicted Lineups
Udinese Squad
Manager: Luca Gotti
Goalkeepers

66

Matteo Carnelos

96

Simone Scuffet

0

Daniele Padelli
Defenders

3

Samir Santos

17

Bram Nuytinck

50

Rodrigo Becão

63

F. Mazzolo

87

S. De Maio

90

Marvin Zeegelaar

0

Destiny Udogie
Midfielders

5

Thomas Ouwejan

6

J. Makengo

8

Mato Jajalo

11

Walace

22

Tolgay Arslan

24

T. Battistella

37

Roberto Pereyra

60

Jan Kubala

64

Martin Palumbo

65

Alessandro Rigo

69

Luis Ndreu

81

Marco Ballarini

85

Enrico Oviszach

96

Mattia Compagnon

0

M. Coulibaly
Forwards

7

Stefano Okaka

9

Gerard Deulofeu

29

Petar Micin

30

I. Nestorovski

32

F. Llorente

45

F. Forestieri

67

Eric Lirussi

0

Felipe Vizeu

0

Cristo González

0

Ryder Matos

0

Ignacio Pussetto

0

L. Teodorczyk
Udinese Fixtures
Sunday 22 August
Best Odds
Friday 27 August
Sunday 12 September
Sunday 19 September
Udinese Results
Wednesday 25 November
Coppa Italia 18:30 Wed 25 Nov
18:30
Italy Coppa Italia
Wednesday 28 October
Coppa Italia 19:00 Wed 28 Oct
19:00
Italy Coppa Italia
Serie A 2021/2022
| # | Team | G | W | D | L | +/- | P |
| --- | --- | --- | --- | --- | --- | --- | --- |
| 1 | AC Milan | 0 | 0 | 0 | 0 | 0:0 | 0 |
| 2 | Atalanta | 0 | 0 | 0 | 0 | 0:0 | 0 |
| 3 | Bologna | 0 | 0 | 0 | 0 | 0:0 | 0 |
| 4 | Cagliari | 0 | 0 | 0 | 0 | 0:0 | 0 |
| 5 | Empoli | 0 | 0 | 0 | 0 | 0:0 | 0 |
| 6 | Fiorentina | 0 | 0 | 0 | 0 | 0:0 | 0 |
| 7 | Genoa | 0 | 0 | 0 | 0 | 0:0 | 0 |
| 8 | Inter | 0 | 0 | 0 | 0 | 0:0 | 0 |
| 9 | Juventus | 0 | 0 | 0 | 0 | 0:0 | 0 |
| 10 | Lazio | 0 | 0 | 0 | 0 | 0:0 | 0 |
| 11 | Roma | 0 | 0 | 0 | 0 | 0:0 | 0 |
| 12 | Salernitana | 0 | 0 | 0 | 0 | 0:0 | 0 |
| 13 | Sampdoria | 0 | 0 | 0 | 0 | 0:0 | 0 |
| 14 | Sassuolo | 0 | 0 | 0 | 0 | 0:0 | 0 |
| 15 | Spezia | 0 | 0 | 0 | 0 | 0:0 | 0 |
| 16 | SSC Napoli | 0 | 0 | 0 | 0 | 0:0 | 0 |
| 17 | Torino | 0 | 0 | 0 | 0 | 0:0 | 0 |
| 18 | Udinese | 0 | 0 | 0 | 0 | 0:0 | 0 |
| 19 | Venezia | 0 | 0 | 0 | 0 | 0:0 | 0 |
| 20 | Verona | 0 | 0 | 0 | 0 | 0:0 | 0 |