Udinese Betting Tips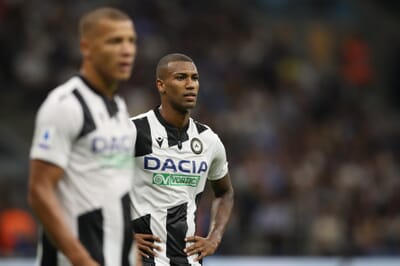 Udinese betting tips can be found at Sportsgambler.com on a regular basis, with the team known as the Bianconeri and they play their home matches at the Stadio Friuli, with the stadium capacity being over 25,000.
If you want free Udinese betting tips and team news, then you've come to the right place, with the latest injury and suspension information published and this up-to-date data can help us create a predicted lineup for your gambling purposes.
The team can be placed in Italian football accumulators and you can also bet In-Play on several matches, with live odds available with many bookmakers. There is also the option to build a bet.
Udinese Free Bets & Bonuses
Udinese Injuries
Type
Name
Position
Matches
Goals
Assists
Info
Expected Return
Gerard Deulofeu
F
6
2
0
Foot injury
Early November
Next Game: Atalanta vs Udinese
1:

1.40

X:

5.00

2:

7.50
Bet Now!
T&Cs apply, Gamble Responsibly 18+
Udinese Lineups
Confirmed Lineups
Predicted Lineups
Udinese Squad
Manager: Luca Gotti
Goalkeepers

1

Marco Silvestri

20

Daniele Padelli

66

Matteo Carnelos

0

Antonio Santurro
Defenders

2

Nehuén Pérez

3

Samir Santos

4

Marvin Zeegelaar

13

Destiny Udogie

16

N. Molina Lucero

17

Bram Nuytinck

19

Jens Larsen

50

Rodrigo Becão

67

Ricky Maset

87

S. De Maio

97

Brandon Soppy
Midfielders

5

Tolgay Arslan

6

J. Makengo

8

Mato Jajalo

11

Walace

24

Lazar Samardzic

37

Roberto Pereyra

63

Jacopo Fedrizzi

64

Jan Kubala
Forwards

9

Beto

10

Gerard Deulofeu

14

Isaac Success

23

Ignacio Pussetto

30

I. Nestorovski

45

F. Forestieri

69

Simone Ianesi

91

L. Teodorczyk
Udinese Fixtures
Sunday 24 October
Best Odds
Wednesday 27 October
Sunday 31 October
Sunday 07 November
Sunday 21 November
Udinese Results
Sunday 17 October
Serie A 16:00 Sun 17 Oct
16:00
Italy Serie A
Sunday 03 October
Serie A 16:00 Sun 3 Oct
16:00
Italy Serie A
Sunday 26 September
Serie A 16:00 Sun 26 Sep
16:00
Italy Serie A
Thursday 23 September
Serie A 21:45 Thu 23 Sep
21:45
Italy Serie A
Monday 20 September
Serie A 21:45 Mon 20 Sep
21:45
Italy Serie A
Serie A 2021/2022
| # | Team | G | W | D | L | +/- | P |
| --- | --- | --- | --- | --- | --- | --- | --- |
| 1 | Napoli | 8 | 8 | 0 | 0 | 19:3 | 24 |
| 2 | AC Milan | 8 | 7 | 1 | 0 | 18:7 | 22 |
| 3 | Inter Milan | 8 | 5 | 2 | 1 | 23:11 | 17 |
| 4 | Roma | 8 | 5 | 0 | 3 | 16:9 | 15 |
| 5 | Lazio | 8 | 4 | 2 | 2 | 18:13 | 14 |
| 6 | Atalanta | 8 | 4 | 2 | 2 | 14:10 | 14 |
| 7 | Juventus | 8 | 4 | 2 | 2 | 12:10 | 14 |
| 8 | Bologna | 8 | 3 | 3 | 2 | 13:15 | 12 |
| 9 | Fiorentina | 8 | 4 | 0 | 4 | 10:12 | 12 |
| 10 | Torino | 9 | 3 | 2 | 4 | 12:10 | 11 |
| 11 | Udinese | 8 | 2 | 3 | 3 | 10:12 | 9 |
| 12 | Empoli | 8 | 3 | 0 | 5 | 10:16 | 9 |
| 13 | Sampdoria | 9 | 2 | 3 | 4 | 13:17 | 9 |
| 14 | Hellas Verona | 8 | 2 | 2 | 4 | 17:17 | 8 |
| 15 | Sassuolo | 8 | 2 | 2 | 4 | 9:11 | 8 |
| 16 | Venezia | 8 | 2 | 2 | 4 | 6:12 | 8 |
| 17 | Spezia | 9 | 2 | 1 | 6 | 11:22 | 7 |
| 18 | Cagliari | 8 | 1 | 3 | 4 | 11:17 | 6 |
| 19 | Genoa | 9 | 1 | 3 | 5 | 14:21 | 6 |
| 20 | Salernitana | 8 | 1 | 1 | 6 | 6:17 | 4 |
| # | Team | G | W | D | L | +/- | P |
| --- | --- | --- | --- | --- | --- | --- | --- |
| 1 | AC Milan | 4 | 4 | 0 | 0 | 11:3 | 12 |
| 2 | Roma | 4 | 4 | 0 | 0 | 8:2 | 12 |
| 3 | Napoli | 4 | 4 | 0 | 0 | 7:1 | 12 |
| 4 | Lazio | 4 | 3 | 1 | 0 | 14:6 | 10 |
| 5 | Bologna | 4 | 3 | 1 | 0 | 9:4 | 10 |
| 6 | Inter Milan | 3 | 2 | 1 | 0 | 12:3 | 7 |
| 7 | Juventus | 4 | 2 | 1 | 1 | 5:4 | 7 |
| 8 | Torino | 5 | 2 | 1 | 2 | 9:6 | 7 |
| 9 | Hellas Verona | 4 | 2 | 0 | 2 | 10:8 | 6 |
| 10 | Cagliari | 5 | 1 | 2 | 2 | 8:9 | 5 |
| 11 | Udinese | 5 | 1 | 2 | 2 | 6:8 | 5 |
| 12 | Sampdoria | 5 | 1 | 2 | 2 | 7:11 | 5 |
| 13 | Venezia | 3 | 1 | 1 | 1 | 3:3 | 4 |
| 14 | Atalanta | 4 | 1 | 1 | 2 | 5:6 | 4 |
| 15 | Sassuolo | 4 | 1 | 1 | 2 | 2:3 | 4 |
| 16 | Salernitana | 4 | 1 | 1 | 2 | 3:7 | 4 |
| 17 | Fiorentina | 3 | 1 | 0 | 2 | 4:6 | 3 |
| 18 | Spezia | 4 | 1 | 0 | 3 | 5:7 | 3 |
| 19 | Empoli | 5 | 1 | 0 | 4 | 7:14 | 3 |
| 20 | Genoa | 4 | 0 | 2 | 2 | 7:9 | 2 |