Union Berlin Betting Tips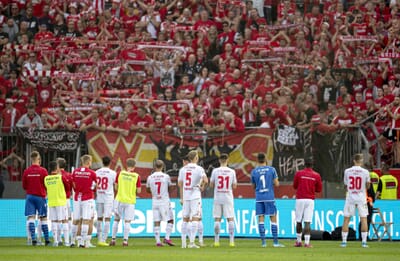 This is one of the biggest football teams in the city of Berlin, with Die Eisernen having a rivalry with Hertha BSC who have always been regarded as the leading light.
We're keen to provide as many Union Berlin betting tips as possible, with the club having been founded in January 1966 and they play their football at the modest Stadion An der Alten Försterei in front of a passionate set of supporters.
We recommend checking out the free Union Berlin betting tips and team news pages where you will find the latest injury information, while predicted and confirmed lineups are then published closer to kick-off so you can place the most informed bets.
Union Berlin Free Bets & Bonuses
Union Berlin Injuries
Type
Name
Position
Matches
Goals
Assists
Info
Expected Return
Pawel Wszolek
F
0
0
0
Ankle injury
Early November
Next Game: VfB Stuttgart vs Union Berlin
1:

2.45

X:

3.50

2:

2.80
Bet Now!
T&Cs apply, Gamble Responsibly 18+
Union Berlin Lineups
Confirmed Lineups
Predicted Lineups
Union Berlin Squad
Manager: Urs Fischer
Goalkeepers

1

Andreas Luthe

12

Jakob Busk

19

Frederik Rønnow
Defenders

3

Paul Jaeckel

4

R. Van Drongelen

5

Marvin Friedrich

6

Julian Ryerson

20

Bastian Oczipka

23

Niko Giesselmann

25

Timo Baumgartl

26

T. Puchacz

28

C. Trimmel

31

Robin Knoche

37

Mathis Bruns
Midfielders

7

Levin Öztunali

8

Rani Khedira

18

Keita Endo

21

Grischa Prömel

24

Genki Haraguchi

30

Kevin Möhwald

35

Fabio Schneider
Forwards

9

A. Voglsammer

10

Max Kruse

11

Anthony Ujah

14

Taiwo Awoniyi

15

Pawel Wszolek

17

Kevin Behrens

27

Sheraldo Becker

29

Laurenz Dehl

36

Cedric Teuchert

39

S. Abdullahi
Union Berlin Fixtures
Saturday 23 October
Best Odds
Saturday 30 October
Saturday 06 November
Saturday 20 November
Saturday 27 November
Union Berlin Results
Saturday 16 October
Bundesliga 16:30 Sat 16 Oct
16:30
Germany Bundesliga
Union Berlin
0-0
Wolfsburg
Sunday 03 October
Bundesliga 16:30 Sun 3 Oct
16:30
Germany Bundesliga
Mainz 05
0-0
Union Berlin
Saturday 25 September
Bundesliga 16:30 Sat 25 Sep
16:30
Germany Bundesliga
Union Berlin
1-0
Bielefeld
Sunday 19 September
Bundesliga 18:30 Sun 19 Sep
18:30
Germany Bundesliga
Borussia Dortmund
4-2
Union Berlin
Saturday 11 September
Bundesliga 16:30 Sat 11 Sep
16:30
Germany Bundesliga
Union Berlin
0-0
Augsburg
Bundesliga 2021/2022
| # | Team | G | W | D | L | +/- | P |
| --- | --- | --- | --- | --- | --- | --- | --- |
| 1 | Bayern Munich | 8 | 6 | 1 | 1 | 29:8 | 19 |
| 2 | Borussia Dortmund | 8 | 6 | 0 | 2 | 22:14 | 18 |
| 3 | Bayer Leverkusen | 8 | 5 | 1 | 2 | 21:12 | 16 |
| 4 | Freiburg | 8 | 4 | 4 | 0 | 12:6 | 16 |
| 5 | Union Berlin | 8 | 4 | 3 | 1 | 12:9 | 15 |
| 6 | Wolfsburg | 8 | 4 | 1 | 3 | 9:10 | 13 |
| 7 | FC Cologne | 8 | 3 | 3 | 2 | 13:14 | 12 |
| 8 | RB Leipzig | 8 | 3 | 2 | 3 | 16:8 | 11 |
| 9 | Hoffenheim | 8 | 3 | 2 | 3 | 17:11 | 11 |
| 10 | Monchengladbach | 8 | 3 | 2 | 3 | 10:11 | 11 |
| 11 | Mainz 05 | 8 | 3 | 1 | 4 | 8:8 | 10 |
| 12 | VfB Stuttgart | 8 | 2 | 3 | 3 | 13:14 | 9 |
| 13 | Hertha Berlin | 8 | 3 | 0 | 5 | 10:21 | 9 |
| 14 | Eintracht Frankfurt | 8 | 1 | 5 | 2 | 9:12 | 8 |
| 15 | Bochum | 8 | 2 | 1 | 5 | 5:16 | 7 |
| 16 | Augsburg | 8 | 1 | 3 | 4 | 4:14 | 6 |
| 17 | Bielefeld | 8 | 0 | 5 | 3 | 4:11 | 5 |
| 18 | Greuther Furth | 8 | 0 | 1 | 7 | 5:20 | 1 |
| # | Team | G | W | D | L | +/- | P |
| --- | --- | --- | --- | --- | --- | --- | --- |
| 1 | Borussia Dortmund | 5 | 5 | 0 | 0 | 17:8 | 15 |
| 2 | Union Berlin | 5 | 3 | 2 | 0 | 6:2 | 11 |
| 3 | FC Cologne | 4 | 3 | 1 | 0 | 9:4 | 10 |
| 4 | Bayern Munich | 4 | 3 | 0 | 1 | 16:4 | 9 |
| 5 | RB Leipzig | 4 | 3 | 0 | 1 | 14:4 | 9 |
| 6 | Freiburg | 4 | 2 | 2 | 0 | 7:3 | 8 |
| 7 | Monchengladbach | 4 | 2 | 2 | 0 | 6:3 | 8 |
| 8 | Hoffenheim | 4 | 2 | 1 | 1 | 10:5 | 7 |
| 9 | Mainz 05 | 4 | 2 | 1 | 1 | 5:2 | 7 |
| 10 | Wolfsburg | 4 | 2 | 1 | 1 | 4:4 | 7 |
| 11 | VfB Stuttgart | 4 | 2 | 0 | 2 | 11:8 | 6 |
| 12 | Bayer Leverkusen | 4 | 2 | 0 | 2 | 9:9 | 6 |
| 13 | Bochum | 3 | 1 | 1 | 1 | 3:3 | 4 |
| 14 | Augsburg | 4 | 1 | 1 | 2 | 3:9 | 4 |
| 15 | Hertha Berlin | 3 | 1 | 0 | 2 | 4:5 | 3 |
| 16 | Eintracht Frankfurt | 4 | 0 | 3 | 1 | 3:4 | 3 |
| 17 | Bielefeld | 4 | 0 | 3 | 1 | 1:5 | 3 |
| 18 | Greuther Furth | 4 | 0 | 1 | 3 | 2:7 | 1 |