Werder Bremen Betting Tips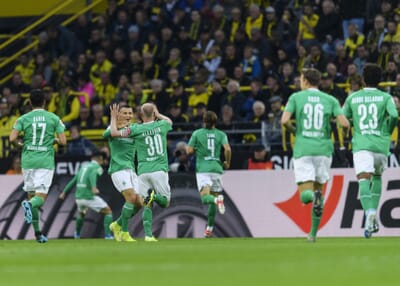 Werder Bremen are one of the most recognisable football clubs in Germany, with the team known as Die Grün-Weißen due to the fact that they play in a familiar green and white football kit.
If you're looking for free Werder Bremen betting tips, then you've come to the right place. Our team look for the latest injury updates and team news before deciding the best Werder Bremen betting tips and picks for their next German football match and we suggest the best odds and prices available.
We also publish the confirmed lineups and starting 11s closer to kick-off after previously trying to work out the predicted elevens for a match involving this popular team and their opponents.
Werder Bremen Free Bets & Bonuses
Werder Bremen Injuries
Type
Name
Position
Matches
Goals
Assists
Info
Expected Return
Jiri Pavlenka
G
0
0
0
Illness
Late October
Jean-Manuel Mbom
M
0
0
0
COVID-19
Late October
Nick Woltemade
F
0
0
0
Ankle injury
Late October
Christian Gross
M
0
0
0
Knee injury
Early November
Omer Toprak
D
0
0
0
Calf Injury
Late October
Thore Jacobsen
D
0
0
0
ACL injury
Mid March
Next Game: Sandhausen vs Werder Bremen
1:

4.50

X:

3.75

2:

1.75
Bet Now!
T&Cs apply, Gamble Responsibly 18+
Werder Bremen Lineups
Confirmed Lineups
Predicted Lineups
Werder Bremen Squad
Manager: Markus Anfang
Goalkeepers

1

Jiri Pavlenka

30

Michael Zetterer

40

Luca Plogmann
Defenders

3

Anthony Jung

13

Milos Veljkovic

21

Omer Toprak

25

Kyu-hyun Park

26

Lars Mai

27

Felix Agu

31

Simon Straudi

32

Marco Friedl

37

Thore Jacobsen

45

Jascha Brandt
Midfielders

8

Mitchell Weiser

10

L. Bittencourt

16

O. Schönfelder

20

Romano Schmid

22

Niklas Schmidt

23

Nicolai Rapp

28

Ilia Gruev

34

Jean-Manuel Mbom

36

Christian Gross

44

P. Bargfrede
Forwards

7

Marvin Ducksch

11

Niclas Füllkrug

15

Roger Assalé

17

A. Nankishi

27

T. van de

29

Nick Woltemade

43

Eren Dinkci

0

Dejan Galjen
Werder Bremen Fixtures
Saturday 23 October
Best Odds
Saturday 30 October
Saturday 06 November
Saturday 20 November
Saturday 27 November
Werder Bremen Results
Sunday 17 October
2. Bundesliga 14:30 Sun 17 Oct
14:30
Germany 2. Bundesliga
Darmstadt
0-0
Werder Bremen
Friday 01 October
2. Bundesliga 19:30 Fri 1 Oct
19:30
Germany 2. Bundesliga
Werder Bremen
0-0
FC Heidenheim
Sunday 26 September
2. Bundesliga 14:30 Sun 26 Sep
14:30
Germany 2. Bundesliga
Dynamo Dresden
3-0
Werder Bremen
Saturday 18 September
2. Bundesliga 21:30 Sat 18 Sep
21:30
Germany 2. Bundesliga
Werder Bremen
0-2
Hamburger SV
Saturday 11 September
2. Bundesliga 14:30 Sat 11 Sep
14:30
Germany 2. Bundesliga
Ingolstadt
0-3
Werder Bremen
2. Bundesliga 2021/2022
| # | Team | G | W | D | L | +/- | P |
| --- | --- | --- | --- | --- | --- | --- | --- |
| 1 | St Pauli | 10 | 7 | 1 | 2 | 23:10 | 22 |
| 2 | Regensburg | 10 | 5 | 4 | 1 | 21:11 | 19 |
| 3 | Schalke 04 | 10 | 6 | 1 | 3 | 17:11 | 19 |
| 4 | Paderborn | 10 | 5 | 3 | 2 | 21:11 | 18 |
| 5 | Nurnberg | 10 | 4 | 6 | 0 | 12:7 | 18 |
| 6 | Darmstadt | 10 | 5 | 1 | 4 | 24:13 | 16 |
| 7 | Karlsruher SC | 10 | 4 | 4 | 2 | 16:12 | 16 |
| 8 | Hamburger SV | 10 | 3 | 6 | 1 | 16:12 | 15 |
| 9 | FC Heidenheim | 10 | 4 | 3 | 3 | 12:13 | 15 |
| 10 | Werder Bremen | 10 | 4 | 2 | 4 | 14:15 | 14 |
| 11 | Dynamo Dresden | 10 | 4 | 1 | 5 | 13:12 | 13 |
| 12 | Fortuna Dusseldorf | 10 | 3 | 3 | 4 | 14:16 | 12 |
| 13 | Hansa Rostock | 10 | 3 | 2 | 5 | 11:15 | 11 |
| 14 | Hannover 96 | 10 | 3 | 2 | 5 | 7:13 | 11 |
| 15 | Holstein Kiel | 10 | 2 | 3 | 5 | 10:20 | 9 |
| 16 | Sandhausen | 10 | 2 | 2 | 6 | 9:21 | 8 |
| 17 | Ingolstadt | 10 | 1 | 2 | 7 | 7:24 | 5 |
| 18 | Aue | 10 | 0 | 4 | 6 | 7:18 | 4 |
| # | Team | G | W | D | L | +/- | P |
| --- | --- | --- | --- | --- | --- | --- | --- |
| 1 | St Pauli | 5 | 5 | 0 | 0 | 15:3 | 15 |
| 2 | Darmstadt | 5 | 4 | 0 | 1 | 14:3 | 12 |
| 3 | Regensburg | 5 | 3 | 2 | 0 | 14:7 | 11 |
| 4 | Nurnberg | 5 | 3 | 2 | 0 | 5:1 | 11 |
| 5 | Dynamo Dresden | 5 | 3 | 0 | 2 | 8:4 | 9 |
| 6 | FC Heidenheim | 6 | 2 | 3 | 1 | 7:7 | 9 |
| 7 | Karlsruher SC | 5 | 2 | 2 | 1 | 8:6 | 8 |
| 8 | Schalke 04 | 5 | 2 | 1 | 2 | 9:7 | 7 |
| 9 | Werder Bremen | 5 | 2 | 1 | 2 | 8:7 | 7 |
| 10 | Hamburger SV | 5 | 1 | 4 | 0 | 8:7 | 7 |
| 11 | Hannover 96 | 5 | 2 | 0 | 3 | 3:6 | 6 |
| 12 | Paderborn | 5 | 1 | 2 | 2 | 7:7 | 5 |
| 13 | Hansa Rostock | 5 | 1 | 1 | 3 | 5:10 | 4 |
| 14 | Holstein Kiel | 5 | 1 | 0 | 4 | 3:11 | 3 |
| 15 | Fortuna Dusseldorf | 4 | 0 | 2 | 2 | 7:9 | 2 |
| 16 | Ingolstadt | 5 | 0 | 2 | 3 | 3:8 | 2 |
| 17 | Aue | 5 | 0 | 2 | 3 | 3:9 | 2 |
| 18 | Sandhausen | 5 | 0 | 1 | 4 | 2:13 | 1 |