Wolfsburg Betting Tips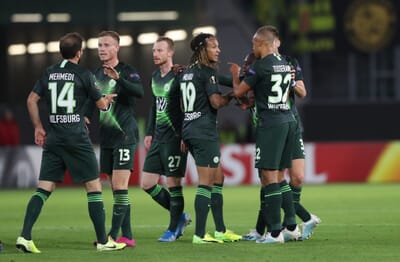 Wolfsburg were famously the Bundesliga champions during the 2008/09 season and this is a team who are known as Die Wolfe and play at the Volkswagen Arena, with the car manufacturer effectively the lifeblood of the entire town.
We're always looking for ways to provide free Wolfsburg betting tips and picks, with the German football team often a popular selection for punters and we showcase the best possible odds so that you can get the best value when it comes to this team.
Many readers are keen to understand the injury situation and we publish a list of players who are unavailable along with those who are suspended. This helps to shape the predicted and confirmed lineups.
Wolfsburg Free Bets & Bonuses
Wolfsburg Injuries
Type
Name
Position
Matches
Goals
Assists
Info
Expected Return
Kevin Mbabu
D
20
0
1
Gastrointestinal
Mid May
Bartosz Bialek
F
6
0
0
ACL injury
Late December
Renato Steffen
M
21
5
4
Ligament injury
Late July
Next Game: RB Leipzig vs Wolfsburg
1:

2.05

X:

3.60

2:

3.60
Bet Now!
T&Cs apply, Gamble Responsibly 18+
Wolfsburg Lineups
Confirmed Lineups
Predicted Lineups
Wolfsburg Squad
Manager: Oliver Glasner
Goalkeepers

1

Koen Casteels

12

Pavao Pervan

30

Niklas Klinger

35

Lino Kasten
Defenders

2

D. Itter

4

Maxence Lacroix

5

Jeffrey Bruma

6

Paulo Otavio

15

J. Roussillon

19

Kevin Mbabu

20

Ridle Baku

25

J. A. Brooks

34

M. Pongračić

39

Tim Siersleben
Midfielders

8

Renato Steffen

23

J. Guilavogui

24

Xaver Schlager

27

M. Arnold

31

Yannick Gerhardt

40

Joao Victor
Forwards

7

Josip Brekalo

9

Wouter Weghorst

14

Admir Mehmedi

17

M. Philipp

21

Bartosz Bialek

33

Daniel Ginczek

0

John Iredale
Wolfsburg Fixtures
Saturday 15 May
Best Odds
Saturday 22 May
Wolfsburg Results
Saturday 08 May
Bundesliga 16:30 Sat 8 May
16:30
Germany Bundesliga
Wolfsburg
3 - 0
Union Berlin
Saturday 24 April
Bundesliga 16:30 Sat 24 Apr
16:30
Germany Bundesliga
Wolfsburg
0 - 2
Borussia Dortmund
Wednesday 21 April
Bundesliga 21:30 Wed 21 Apr
21:30
Germany Bundesliga
VfB Stuttgart
1 - 3
Wolfsburg
Saturday 17 April
Bundesliga 16:30 Sat 17 Apr
16:30
Germany Bundesliga
Wolfsburg
2 - 3
Bayern Munich
Saturday 10 April
Bundesliga 16:30 Sat 10 Apr
16:30
Germany Bundesliga
Eintracht Frankfurt
4 - 3
Wolfsburg
Bundesliga 2020/2021
| # | Team | G | W | D | L | +/- | P |
| --- | --- | --- | --- | --- | --- | --- | --- |
| 1 | Bayern Munich | 32 | 23 | 5 | 4 | 92:40 | 74 |
| 2 | RB Leipzig | 32 | 19 | 7 | 6 | 57:28 | 64 |
| 3 | Wolfsburg | 32 | 17 | 9 | 6 | 57:32 | 60 |
| 4 | Borussia Dortmund | 32 | 18 | 4 | 10 | 69:44 | 58 |
| 5 | Eintracht Frankfurt | 32 | 15 | 12 | 5 | 63:48 | 57 |
| 6 | Bayer Leverkusen | 32 | 14 | 9 | 9 | 51:35 | 51 |
| 7 | Monchengladbach | 32 | 12 | 10 | 10 | 59:52 | 46 |
| 8 | Union Berlin | 32 | 11 | 13 | 8 | 47:41 | 46 |
| 9 | Freiburg | 32 | 12 | 8 | 12 | 49:47 | 44 |
| 10 | VfB Stuttgart | 32 | 11 | 9 | 12 | 54:52 | 42 |
| 11 | Hoffenheim | 32 | 10 | 9 | 13 | 49:52 | 39 |
| 12 | Mainz 05 | 32 | 9 | 9 | 14 | 35:51 | 36 |
| 13 | Augsburg | 32 | 9 | 6 | 17 | 32:49 | 33 |
| 14 | Hertha Berlin | 31 | 7 | 10 | 14 | 38:49 | 31 |
| 15 | Werder Bremen | 32 | 7 | 10 | 15 | 34:51 | 31 |
| 16 | Bielefeld | 32 | 8 | 7 | 17 | 23:51 | 31 |
| 17 | FC Cologne | 32 | 7 | 8 | 17 | 33:60 | 29 |
| 18 | Schalke 04 | 31 | 2 | 7 | 22 | 20:80 | 13 |
| # | Team | G | W | D | L | +/- | P |
| --- | --- | --- | --- | --- | --- | --- | --- |
| 1 | Bayern Munich | 16 | 12 | 4 | 0 | 59:19 | 40 |
| 2 | RB Leipzig | 16 | 11 | 3 | 2 | 27:11 | 36 |
| 3 | Wolfsburg | 16 | 10 | 4 | 2 | 30:13 | 34 |
| 4 | Eintracht Frankfurt | 16 | 9 | 7 | 0 | 34:19 | 34 |
| 5 | Borussia Dortmund | 16 | 10 | 2 | 4 | 37:19 | 32 |
| 6 | Union Berlin | 16 | 7 | 8 | 1 | 30:17 | 29 |
| 7 | Monchengladbach | 16 | 8 | 4 | 4 | 31:17 | 28 |
| 8 | Bayer Leverkusen | 16 | 8 | 4 | 4 | 33:21 | 28 |
| 9 | Freiburg | 16 | 7 | 5 | 4 | 31:21 | 26 |
| 10 | Hoffenheim | 16 | 7 | 3 | 6 | 30:23 | 24 |
| 11 | VfB Stuttgart | 16 | 5 | 6 | 5 | 27:24 | 21 |
| 12 | Hertha Berlin | 16 | 5 | 4 | 7 | 21:26 | 19 |
| 13 | Augsburg | 16 | 5 | 4 | 7 | 19:25 | 19 |
| 14 | Bielefeld | 16 | 6 | 1 | 9 | 12:22 | 19 |
| 15 | Mainz 05 | 16 | 4 | 4 | 8 | 15:23 | 16 |
| 16 | Werder Bremen | 16 | 3 | 5 | 8 | 14:24 | 14 |
| 17 | FC Cologne | 16 | 2 | 5 | 9 | 19:31 | 11 |
| 18 | Schalke 04 | 15 | 2 | 3 | 10 | 9:29 | 9 |