Boxing Betting Tips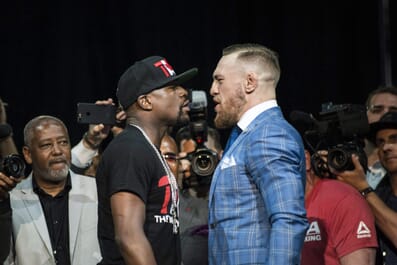 Boxing is one of the oldest and most established sports, with this sport proving particularly popular from a betting perspective due to the fact that wagering on a fight adds plenty of extra excitement if you're planning to watch a bout.
Boxing matches take place on a regular basis, with a variety of different weight divisions offering fighters the chance to go up against an opponent of a similar size and the bookmakers are quick to create betting markets, even for fights that aren't taking place for several months.
There have been some big money fights in recent memory that have attracted enormous amounts of turnover, including the clash between Floyd Mayweather and Conor McGregor in Las Vegas which saw the former eventually win despite a big wave of money coming for the MMA contender.
How to bet on boxing
The most simple way to bet on a boxing match is to try and back the winner of a particular fight. However, the odds are often uncompetitive and it's fairly typical to find odds of 1.20 about one boxer and 5.00 about the other.
There is sometimes the chance to put several fighters into a multiple bet such as an accumulator where the odds are multiplied and there's a chance of making more money should all your selections win.
However, if you are focusing primarily on a particular boxing match, then you can choose from a range of alternative markets. For example, you can nearly always choose the round where victory occurs, while there is also the option to bet on a points decision instead.
Indeed, you can wager on whether a boxer will be win by Knockout, Technical Knockout or a Points decision, while several In-Play markets are also available and it's easy to form judgements between each round depending on how the fight is proceeding.
How to make money betting on boxing
It helps to know your stuff and boxing is a sport which requires plenty of knowledge. It also helps to read the quotes from each fighter ahead of the fight, as well as any quotes coming from a particular camp. It might be that a boxer is pinpointing a particular round to enjoy a victory, while there might be other comments about how they're expecting a long and tough fight.
While the heavyweight boxing fights are very high profile, there are several other fights that take place on the undercard and there is often some value to be found here. It is fairly common for an outsider to win a boxing match and it's not always a case of following the crowd.
In-Play betting on boxing is a good way for the sharp-eyed customer to make money. Also be aware that In-Play odds are often a reflection of where the money is going, so it sometimes pay to go against the grain.

Other Sports betting Tips