Barnsley Betting Tips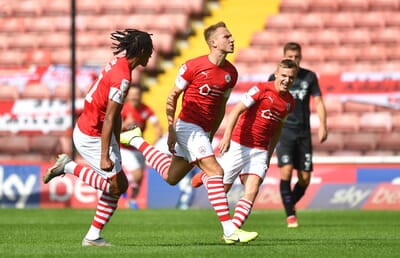 Get the free Barnsley betting tips and recommendations when you visit Sportsgambler.com so that you can bet with confidence when it comes to the latest football match involving the Tykes. This Yorkshire club are popular with bookie customers and there are lots of odds available.
The team play at Oakwell and bookmakers will create plenty of markets ahead of kick-off, with many customers wanting to get the team news and Barnsley betting tips before deciding which way to bet.
You can find out the injury and suspension situation before proceeding to look at our predicted lineups and starting 11s which will give you an idea for how the team will set up for their next match.
Barnsley Free Bets & Bonuses
Barnsley Injuries
No players are currently reported injured or suspended.
World's Favourite Betting Company
Bet Now!
T&Cs apply, Gamble Responsibly 18+
Barnsley Lineups
Confirmed Lineups
Predicted Lineups
Barnsley Squad
Manager: Markus Schopp
Goalkeepers

1

Jack Walton

31

Henry Kendrick

40

Bradley Collins

48

Corey Addai
Defenders

2

Jordan Williams

3

Ben Williams

5

Liam Kitching

6

M. Juel Andersen

7

Callum Brittain

20

Toby Sibbick

22

Clarke Oduor

24

Aapo Halme

30

Michal Helik

34

Jasper Moon

36

Rudi Pache

38

Jordan Helliwell

43

Charlie Winfield

44

Ali Omar
Midfielders

4

Callum Styles

8

Herbie Kane

18

I. Christie-Davies

21

Romal Palmer

33

Matthew Wolfe

41

Josh Benson

41

Will Lancaster

42

Brad Binns

0

Marcel Ritzmaier
Forwards

9

Cauley Woodrow

14

Carlton Morris

25

George Miller

28

Dominik Frieser

29

Victor Adeboyejo

37

Aiden Marsh

0

Elliot Simoes

0

Obbi Oularé

0

Devante Cole

0

Jack Aitchison
Barnsley Fixtures
Saturday 07 August
Best Odds
Saturday 14 August
Tuesday 17 August
Saturday 21 August
Saturday 28 August
Barnsley Results
Thursday 11 February
FA Cup 22:00 Thu 11 Feb
22:00
England FA Cup
Saturday 23 January
FA Cup 17:00 Sat 23 Jan
17:00
England FA Cup
Sunday 10 January
FA Cup 15:30 Sun 10 Jan
15:30
England FA Cup
Barnsley
2-0
Tranmere Rovers
Wednesday 23 September
EFL Cup 21:45 Wed 23 Sep
21:45
England EFL Cup
Tuesday 15 September
EFL Cup 20:00 Tue 15 Sep
20:00
England EFL Cup
Middlesbrough
0-2
Barnsley
Championship 2021/2022
| # | Team | G | W | D | L | +/- | P |
| --- | --- | --- | --- | --- | --- | --- | --- |
| 1 | Barnsley | 0 | 0 | 0 | 0 | 0:0 | 0 |
| 2 | Birmingham | 0 | 0 | 0 | 0 | 0:0 | 0 |
| 3 | Blackburn | 0 | 0 | 0 | 0 | 0:0 | 0 |
| 4 | Blackpool | 0 | 0 | 0 | 0 | 0:0 | 0 |
| 5 | Bournemouth | 0 | 0 | 0 | 0 | 0:0 | 0 |
| 6 | Bristol City | 0 | 0 | 0 | 0 | 0:0 | 0 |
| 7 | Cardiff | 0 | 0 | 0 | 0 | 0:0 | 0 |
| 8 | Coventry | 0 | 0 | 0 | 0 | 0:0 | 0 |
| 9 | Derby | 0 | 0 | 0 | 0 | 0:0 | 0 |
| 10 | Fulham | 0 | 0 | 0 | 0 | 0:0 | 0 |
| 11 | Huddersfield | 0 | 0 | 0 | 0 | 0:0 | 0 |
| 12 | Hull | 0 | 0 | 0 | 0 | 0:0 | 0 |
| 13 | Luton | 0 | 0 | 0 | 0 | 0:0 | 0 |
| 14 | Middlesbrough | 0 | 0 | 0 | 0 | 0:0 | 0 |
| 15 | Millwall | 0 | 0 | 0 | 0 | 0:0 | 0 |
| 16 | Nottingham Forest | 0 | 0 | 0 | 0 | 0:0 | 0 |
| 17 | Peterborough | 0 | 0 | 0 | 0 | 0:0 | 0 |
| 18 | Preston | 0 | 0 | 0 | 0 | 0:0 | 0 |
| 19 | Queens Park Rangers | 0 | 0 | 0 | 0 | 0:0 | 0 |
| 20 | Reading | 0 | 0 | 0 | 0 | 0:0 | 0 |
| 21 | Sheffield United | 0 | 0 | 0 | 0 | 0:0 | 0 |
| 22 | Stoke | 0 | 0 | 0 | 0 | 0:0 | 0 |
| 23 | Swansea | 0 | 0 | 0 | 0 | 0:0 | 0 |
| 24 | West Bromwich Albion | 0 | 0 | 0 | 0 | 0:0 | 0 |