Bristol City Betting Tips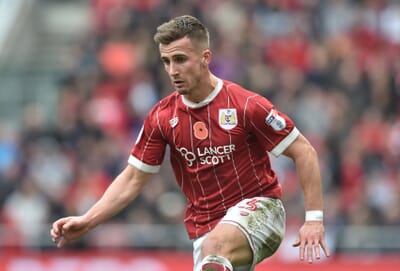 Bristol City betting tips allow you to bet on this popular team with confidence, with the team at Sportsgambler.com providing expert picks on their upcoming matches which highlights the latest odds and where the value lies.
The team play their home matches at Ashton Gate and have a rivalry with nearby Rovers, with bookie customers getting the chance to add them to weekend football accumulators when they're in action.
Free Bristol City betting tips and team news is always available and that means understanding the injury latest along with getting predicted lineups according to how they will play. Confirmed elevens help you to bet with confidence ahead of kick-off.
Bristol City Free Bets & Bonuses
Bristol City Injuries
Type
Name
Position
Matches
Goals
Assists
Info
Expected Return
Tommy Conway
F
0
0
0
Ankle injury
Mid November
Robbie Cundy
D
0
0
0
Knee injury
Late November
Antoine Semenyo
F
0
0
0
Knee injury
Late November
Next Game: West Brom vs Bristol City
1:

1.50

X:

4.20

2:

6.00
Bet Now!
T&Cs apply, Gamble Responsibly 18+
Bristol City Lineups
Confirmed Lineups
Predicted Lineups
Bristol City Squad
Manager: Nigel Pearson
Goalkeepers

1

Daniel Bentley

12

Max O'Leary

13

H. Wiles-Richards
Defenders

2

Danny Simpson

3

Jay Dasilva

5

Rob Atkinson

16

Cameron Pring

17

Nathan Baker

19

George Tanner

22

Tomas Kalas

24

Robbie Cundy

26

Zak Vyner
Midfielders

6

Matthew James

8

Joe Williams

10

Andy King

11

Callum O'Dowda

15

Tyreeq Bakinson

42

H. Massengo

45

Kasey Palmer
Forwards

9

Chris Martin

14

Andreas Weimann

18

Antoine Semenyo

21

Nahki Wells

28

Sam Pearson

33

Sam Bell

36

Alex Scott

37

Tommy Conway

40

Louis Britton

46

Saikou Janneh
Bristol City Fixtures
Saturday 23 October
Best Odds
Saturday 30 October
Tuesday 02 November
Saturday 06 November
Saturday 20 November
Bristol City Results
Tuesday 19 October
Championship 21:45 Tue 19 Oct
21:45
England Championship
Bristol City
0-0
Nottingham Forest
Saturday 16 October
Championship 17:00 Sat 16 Oct
17:00
England Championship
Bristol City
0-0
Bournemouth
Saturday 02 October
Championship 17:00 Sat 2 Oct
17:00
England Championship
Peterborough
0-0
Bristol City
Wednesday 29 September
Championship 21:45 Wed 29 Sep
21:45
England Championship
Millwall
0-0
Bristol City
Saturday 25 September
Championship 17:00 Sat 25 Sep
17:00
England Championship
Championship 2021/2022
| # | Team | G | W | D | L | +/- | P |
| --- | --- | --- | --- | --- | --- | --- | --- |
| 1 | Bournemouth | 13 | 9 | 4 | 0 | 21:8 | 31 |
| 2 | West Brom | 12 | 7 | 4 | 1 | 21:9 | 25 |
| 3 | Fulham | 12 | 7 | 2 | 3 | 27:14 | 23 |
| 4 | Coventry | 12 | 7 | 2 | 3 | 18:14 | 23 |
| 5 | QPR | 13 | 6 | 3 | 4 | 24:20 | 21 |
| 6 | Stoke | 13 | 6 | 3 | 4 | 16:14 | 21 |
| 7 | Huddersfield | 12 | 6 | 2 | 4 | 18:14 | 20 |
| 8 | Reading | 12 | 6 | 1 | 5 | 18:19 | 19 |
| 9 | Luton | 13 | 4 | 6 | 3 | 22:18 | 18 |
| 10 | Millwall | 13 | 4 | 6 | 3 | 13:14 | 18 |
| 11 | Blackburn | 13 | 4 | 5 | 4 | 21:17 | 17 |
| 12 | Nottingham Forest | 13 | 5 | 2 | 6 | 18:16 | 17 |
| 13 | Bristol City | 13 | 4 | 4 | 5 | 15:17 | 16 |
| 14 | Middlesbrough | 12 | 4 | 3 | 5 | 13:13 | 15 |
| 15 | Sheffield United | 13 | 4 | 3 | 6 | 17:19 | 15 |
| 16 | Blackpool | 12 | 4 | 3 | 5 | 12:16 | 15 |
| 17 | Swansea | 12 | 3 | 5 | 4 | 12:14 | 14 |
| 18 | Preston | 12 | 2 | 6 | 4 | 12:15 | 12 |
| 19 | Birmingham | 12 | 3 | 3 | 6 | 10:16 | 12 |
| 20 | Cardiff | 12 | 3 | 2 | 7 | 12:22 | 11 |
| 21 | Hull | 12 | 2 | 3 | 7 | 8:17 | 9 |
| 22 | Barnsley | 12 | 1 | 5 | 6 | 7:15 | 8 |
| 23 | Peterborough | 12 | 2 | 2 | 8 | 12:25 | 8 |
| 24 | Derby | 13 | 3 | 7 | 3 | 9:10 | 4 |
| # | Team | G | W | D | L | +/- | P |
| --- | --- | --- | --- | --- | --- | --- | --- |
| 1 | Coventry | 6 | 6 | 0 | 0 | 14:3 | 18 |
| 2 | Stoke | 7 | 5 | 1 | 1 | 10:5 | 16 |
| 3 | West Brom | 6 | 4 | 2 | 0 | 11:4 | 14 |
| 4 | Bournemouth | 6 | 4 | 2 | 0 | 13:7 | 14 |
| 5 | QPR | 7 | 4 | 2 | 1 | 12:7 | 14 |
| 6 | Fulham | 6 | 4 | 1 | 1 | 14:5 | 13 |
| 7 | Reading | 6 | 4 | 1 | 1 | 12:8 | 13 |
| 8 | Huddersfield | 6 | 4 | 0 | 2 | 11:9 | 12 |
| 9 | Blackburn | 6 | 3 | 2 | 1 | 14:8 | 11 |
| 10 | Derby | 7 | 2 | 5 | 0 | 7:5 | 11 |
| 11 | Sheffield United | 7 | 3 | 1 | 3 | 13:10 | 10 |
| 12 | Middlesbrough | 6 | 3 | 1 | 2 | 10:7 | 10 |
| 13 | Luton | 6 | 2 | 3 | 1 | 11:8 | 9 |
| 14 | Swansea | 6 | 2 | 3 | 1 | 5:3 | 9 |
| 15 | Preston | 6 | 2 | 3 | 1 | 7:7 | 9 |
| 16 | Blackpool | 6 | 3 | 0 | 3 | 4:7 | 9 |
| 17 | Peterborough | 6 | 2 | 2 | 2 | 9:7 | 8 |
| 18 | Millwall | 6 | 2 | 2 | 2 | 6:7 | 8 |
| 19 | Barnsley | 6 | 1 | 2 | 3 | 3:6 | 5 |
| 20 | Hull | 6 | 1 | 2 | 3 | 4:8 | 5 |
| 21 | Birmingham | 6 | 1 | 2 | 3 | 3:9 | 5 |
| 22 | Nottingham Forest | 6 | 1 | 1 | 4 | 6:10 | 4 |
| 23 | Bristol City | 7 | 0 | 4 | 3 | 4:8 | 4 |
| 24 | Cardiff | 6 | 1 | 1 | 4 | 5:10 | 4 |