Millwall Betting Tips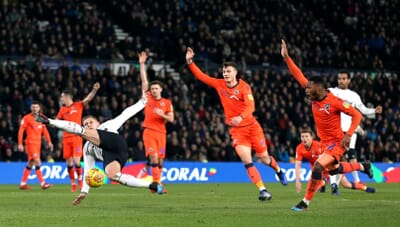 Millwall are an iconic London football team who play at The Den and this club have a reputation for creating a fierce atmosphere which can make it a difficult ground to visit.
You can get free Millwall betting tips and picks throughout the season and it's a great way of being kept up-to-date with the Lions in terms of their chances of winning the next match and the best angle to approach the latest game.
Many punters will wait for Millwall betting tips and team news before wagering on the odds and you can also get an injury update so that you know which players are missing. The Lions lineup information is also available so you can get the confirmed teams and starting 11s.
Millwall Free Bets & Bonuses
Millwall Injuries
No players are currently reported injured or suspended.
Next Game: Millwall vs Stoke
1:

2.40

X:

3.30

2:

2.87
Bet Now!
T&Cs apply, Gamble Responsibly 18+
Millwall Lineups
Confirmed Lineups
Predicted Lineups
Millwall Squad
Manager: Gary Rowett
Goalkeepers

1

George Long

33

B. Bialkowski

41

Joe Wright

0

Ryan Sandford
Defenders

2

Danny McNamara

3

Murray Wallace

4

Shaun Hutchinson

5

Jake Cooper

11

Scott Malone

15

Alex Pearce

26

Daniel Ballard

0

Besart Topalloj

0

Junior Tiensia
Midfielders

6

M. Kieftenbeld

7

Jed Wallace

8

Ben Thompson

14

Sheyi Ojo

17

George Saville

18

Ryan Leonard

21

Connor Mahoney

24

Billy Mitchell

28

George Evans
Forwards

9

Tom Bradshaw

10

Matt Smith

20

Mason Bennett

22

J. D. Bödvarsson

23

Benik Afobe
Millwall Fixtures
Saturday 23 October
Best Odds
Saturday 30 October
Tuesday 02 November
Saturday 06 November
Saturday 20 November
Millwall Results
Tuesday 19 October
Championship 21:45 Tue 19 Oct
21:45
England Championship
Sheffield United
0-0
Millwall
Saturday 16 October
Championship 17:00 Sat 16 Oct
17:00
England Championship
Saturday 02 October
Championship 17:00 Sat 2 Oct
17:00
England Championship
Wednesday 29 September
Championship 21:45 Wed 29 Sep
21:45
England Championship
Millwall
0-0
Bristol City
Saturday 25 September
Championship 17:00 Sat 25 Sep
17:00
England Championship
Nottingham Forest
1-1
Millwall
Championship 2021/2022
| # | Team | G | W | D | L | +/- | P |
| --- | --- | --- | --- | --- | --- | --- | --- |
| 1 | Bournemouth | 13 | 9 | 4 | 0 | 21:8 | 31 |
| 2 | West Brom | 12 | 7 | 4 | 1 | 21:9 | 25 |
| 3 | Fulham | 12 | 7 | 2 | 3 | 27:14 | 23 |
| 4 | Coventry | 12 | 7 | 2 | 3 | 18:14 | 23 |
| 5 | QPR | 13 | 6 | 3 | 4 | 24:20 | 21 |
| 6 | Stoke | 13 | 6 | 3 | 4 | 16:14 | 21 |
| 7 | Huddersfield | 12 | 6 | 2 | 4 | 18:14 | 20 |
| 8 | Reading | 12 | 6 | 1 | 5 | 18:19 | 19 |
| 9 | Luton | 13 | 4 | 6 | 3 | 22:18 | 18 |
| 10 | Millwall | 13 | 4 | 6 | 3 | 13:14 | 18 |
| 11 | Blackburn | 13 | 4 | 5 | 4 | 21:17 | 17 |
| 12 | Nottingham Forest | 13 | 5 | 2 | 6 | 18:16 | 17 |
| 13 | Bristol City | 13 | 4 | 4 | 5 | 15:17 | 16 |
| 14 | Middlesbrough | 12 | 4 | 3 | 5 | 13:13 | 15 |
| 15 | Sheffield United | 13 | 4 | 3 | 6 | 17:19 | 15 |
| 16 | Blackpool | 12 | 4 | 3 | 5 | 12:16 | 15 |
| 17 | Swansea | 12 | 3 | 5 | 4 | 12:14 | 14 |
| 18 | Preston | 12 | 2 | 6 | 4 | 12:15 | 12 |
| 19 | Birmingham | 12 | 3 | 3 | 6 | 10:16 | 12 |
| 20 | Cardiff | 12 | 3 | 2 | 7 | 12:22 | 11 |
| 21 | Hull | 12 | 2 | 3 | 7 | 8:17 | 9 |
| 22 | Barnsley | 12 | 1 | 5 | 6 | 7:15 | 8 |
| 23 | Peterborough | 12 | 2 | 2 | 8 | 12:25 | 8 |
| 24 | Derby | 13 | 3 | 7 | 3 | 9:10 | 4 |
| # | Team | G | W | D | L | +/- | P |
| --- | --- | --- | --- | --- | --- | --- | --- |
| 1 | Coventry | 6 | 6 | 0 | 0 | 14:3 | 18 |
| 2 | Stoke | 7 | 5 | 1 | 1 | 10:5 | 16 |
| 3 | West Brom | 6 | 4 | 2 | 0 | 11:4 | 14 |
| 4 | Bournemouth | 6 | 4 | 2 | 0 | 13:7 | 14 |
| 5 | QPR | 7 | 4 | 2 | 1 | 12:7 | 14 |
| 6 | Fulham | 6 | 4 | 1 | 1 | 14:5 | 13 |
| 7 | Reading | 6 | 4 | 1 | 1 | 12:8 | 13 |
| 8 | Huddersfield | 6 | 4 | 0 | 2 | 11:9 | 12 |
| 9 | Blackburn | 6 | 3 | 2 | 1 | 14:8 | 11 |
| 10 | Derby | 7 | 2 | 5 | 0 | 7:5 | 11 |
| 11 | Sheffield United | 7 | 3 | 1 | 3 | 13:10 | 10 |
| 12 | Middlesbrough | 6 | 3 | 1 | 2 | 10:7 | 10 |
| 13 | Luton | 6 | 2 | 3 | 1 | 11:8 | 9 |
| 14 | Swansea | 6 | 2 | 3 | 1 | 5:3 | 9 |
| 15 | Preston | 6 | 2 | 3 | 1 | 7:7 | 9 |
| 16 | Blackpool | 6 | 3 | 0 | 3 | 4:7 | 9 |
| 17 | Peterborough | 6 | 2 | 2 | 2 | 9:7 | 8 |
| 18 | Millwall | 6 | 2 | 2 | 2 | 6:7 | 8 |
| 19 | Barnsley | 6 | 1 | 2 | 3 | 3:6 | 5 |
| 20 | Hull | 6 | 1 | 2 | 3 | 4:8 | 5 |
| 21 | Birmingham | 6 | 1 | 2 | 3 | 3:9 | 5 |
| 22 | Nottingham Forest | 6 | 1 | 1 | 4 | 6:10 | 4 |
| 23 | Bristol City | 7 | 0 | 4 | 3 | 4:8 | 4 |
| 24 | Cardiff | 6 | 1 | 1 | 4 | 5:10 | 4 |