QPR Betting Tips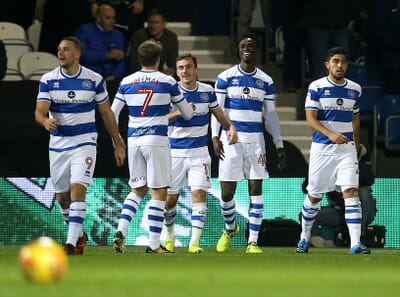 Queens Park Rangers are a football club based in Shepherd's Bush which is located in west London. The team play their home matches at Loftus Road and they are renowned for playing in a blue and white kit.
QPR betting tips are something you'll find at Sportsgambler.com on a regular basis, with our team of experts studying the latest odds and finding some value so that the readers can hopefully profit when it comes to their online bets.
Get injury and suspension updates when you visit the site and access free QPR betting tips which includes team news and the predicted lineups along with the confirmed 11s before the match kicks off.
QPR Injuries
Type
Name
Position
Matches
Goals
Assists
Info
Expected Return
Lee Wallace
D
3
0
1
Hamstring
Late October
Sam Field
M
0
0
0
Knee injury
Late October
Next Game: Peterborough vs QPR
1:

3.10

X:

3.40

2:

2.20
Bet Now!
T&Cs apply, Gamble Responsibly 18+
QPR Lineups
Confirmed Lineups
Predicted Lineups
QPR Squad
Manager: Mark Warburton
Goalkeepers

1

Seny Dieng

13

Jordan Archer

33

Dillon Barnes

35

Joe Walsh
Defenders

2

Osman Kakay

3

Lee Wallace

4

Robert Dickie

5

Jordy de Wijs

6

Yoann Barbet

16

Sam McCallum

20

Jimmy Dunne

22

Moses Odubajo

40

Joe Gubbins
Midfielders

7

Stefan Johansen

8

Luke Amos

10

Ilias Chair

12

Dominic Ball

14

George Thomas

15

Sam Field

17

Andre Dozzell

24

Charlie Owens

39

Dillon De Silva

41

S. Duke-McKenna
Forwards

9

Lyndon Dykes

11

Charlie Austin

19

Andre Gray

21

Chris Willock

34

Odysseus Alfa

37

Albert Adomah

0

S. Armstrong
QPR Fixtures
Saturday 23 October
Best Odds
Saturday 30 October
Wednesday 03 November
Saturday 06 November
Saturday 20 November
QPR Results
Tuesday 19 October
Championship 21:45 Tue 19 Oct
21:45
England Championship
Saturday 16 October
Championship 14:30 Sat 16 Oct
14:30
England Championship
Saturday 02 October
Championship 17:00 Sat 2 Oct
17:00
England Championship
Tuesday 28 September
Championship 21:45 Tue 28 Sep
21:45
England Championship
Friday 24 September
Championship 22:00 Fri 24 Sep
22:00
England Championship
Championship 2021/2022
| # | Team | G | W | D | L | +/- | P |
| --- | --- | --- | --- | --- | --- | --- | --- |
| 1 | Bournemouth | 13 | 9 | 4 | 0 | 21:8 | 31 |
| 2 | Fulham | 13 | 8 | 2 | 3 | 29:14 | 26 |
| 3 | West Brom | 13 | 7 | 4 | 2 | 22:11 | 25 |
| 4 | Coventry | 13 | 7 | 2 | 4 | 19:16 | 23 |
| 5 | QPR | 13 | 6 | 3 | 4 | 24:20 | 21 |
| 6 | Huddersfield | 13 | 6 | 3 | 4 | 18:14 | 21 |
| 7 | Stoke | 13 | 6 | 3 | 4 | 16:14 | 21 |
| 8 | Reading | 13 | 6 | 1 | 6 | 20:22 | 19 |
| 9 | Luton | 13 | 4 | 6 | 3 | 22:18 | 18 |
| 10 | Middlesbrough | 13 | 5 | 3 | 5 | 15:13 | 18 |
| 11 | Millwall | 13 | 4 | 6 | 3 | 13:14 | 18 |
| 12 | Blackpool | 13 | 5 | 3 | 5 | 15:18 | 18 |
| 13 | Blackburn | 13 | 4 | 5 | 4 | 21:17 | 17 |
| 14 | Nottingham Forest | 13 | 5 | 2 | 6 | 18:16 | 17 |
| 15 | Swansea | 13 | 4 | 5 | 4 | 14:15 | 17 |
| 16 | Bristol City | 13 | 4 | 4 | 5 | 15:17 | 16 |
| 17 | Sheffield United | 13 | 4 | 3 | 6 | 17:19 | 15 |
| 18 | Preston | 13 | 3 | 6 | 4 | 14:16 | 15 |
| 19 | Birmingham | 13 | 3 | 4 | 6 | 10:16 | 13 |
| 20 | Peterborough | 13 | 3 | 2 | 8 | 14:26 | 11 |
| 21 | Cardiff | 13 | 3 | 2 | 8 | 12:24 | 11 |
| 22 | Hull | 13 | 2 | 3 | 8 | 9:19 | 9 |
| 23 | Barnsley | 13 | 1 | 5 | 7 | 7:17 | 8 |
| 24 | Derby | 13 | 3 | 7 | 3 | 9:10 | 4 |
| # | Team | G | W | D | L | +/- | P |
| --- | --- | --- | --- | --- | --- | --- | --- |
| 1 | Coventry | 6 | 6 | 0 | 0 | 14:3 | 18 |
| 2 | Fulham | 7 | 5 | 1 | 1 | 16:5 | 16 |
| 3 | Stoke | 7 | 5 | 1 | 1 | 10:5 | 16 |
| 4 | West Brom | 6 | 4 | 2 | 0 | 11:4 | 14 |
| 5 | Bournemouth | 6 | 4 | 2 | 0 | 13:7 | 14 |
| 6 | QPR | 7 | 4 | 2 | 1 | 12:7 | 14 |
| 7 | Middlesbrough | 7 | 4 | 1 | 2 | 12:7 | 13 |
| 8 | Reading | 7 | 4 | 1 | 2 | 14:11 | 13 |
| 9 | Huddersfield | 7 | 4 | 1 | 2 | 11:9 | 13 |
| 10 | Swansea | 7 | 3 | 3 | 1 | 7:4 | 12 |
| 11 | Preston | 7 | 3 | 3 | 1 | 9:8 | 12 |
| 12 | Blackburn | 6 | 3 | 2 | 1 | 14:8 | 11 |
| 13 | Derby | 7 | 2 | 5 | 0 | 7:5 | 11 |
| 14 | Sheffield United | 7 | 3 | 1 | 3 | 13:10 | 10 |
| 15 | Luton | 6 | 2 | 3 | 1 | 11:8 | 9 |
| 16 | Blackpool | 6 | 3 | 0 | 3 | 4:7 | 9 |
| 17 | Peterborough | 6 | 2 | 2 | 2 | 9:7 | 8 |
| 18 | Millwall | 6 | 2 | 2 | 2 | 6:7 | 8 |
| 19 | Barnsley | 6 | 1 | 2 | 3 | 3:6 | 5 |
| 20 | Hull | 7 | 1 | 2 | 4 | 5:10 | 5 |
| 21 | Birmingham | 6 | 1 | 2 | 3 | 3:9 | 5 |
| 22 | Nottingham Forest | 6 | 1 | 1 | 4 | 6:10 | 4 |
| 23 | Bristol City | 7 | 0 | 4 | 3 | 4:8 | 4 |
| 24 | Cardiff | 6 | 1 | 1 | 4 | 5:10 | 4 |