Formula 1 - Betting Tips for F1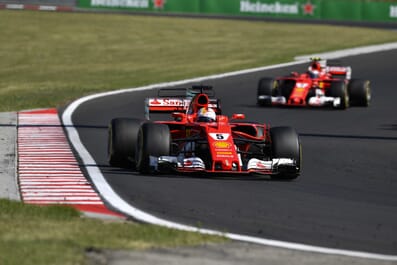 Formula 1 is a globally popular sport where some of the most talented drivers in the world compete across a range of tracks in different continents for the ultimate pursuit of winning the Formula 1 Drivers title.
Formula 1 continues to demand a big TV audience, with online bookmakers creating a range of betting markets for each Grand Prix as well as outright markets such as Drivers Championship and Constructors Championship.
The history of Formula 1
The sport has recently been dominated by the Mercedes team and Lewis Hamilton has been champion in 2014, 2015 and 2017, while Nico Rosberg triumphed for the same team in 2016. Previously to this, Sebastian Vettel won four consecutive Drivers Championships for the Red Bull team.
Indeed, the majority of betting customers tend to back the favourites when it comes to Grand Prix and the Formula 1 championship. However, Jenson Button was an unlikely winner for the Brawn team in 2009 which happened a year after Hamilton's first ever triumph in 2008.
One of the most legendary F1 drivers is Michael Schumacher who won titles in 1994 and 1995 with Benetton, while the German also won five consecutive Formula 1 drivers' championships between 2000 and 2004.
Going slightly further back, the late Ayrton Senna won three titles while his compatriot Nelson Piquet was a winner on two occasions. Frenchman Alain Prost was also a three-time champion during a similar era and he had many famous clashes with Senna.
The first ever Formula 1 championship took place in 1950, with Argentine Juan Manuel Fangio stepping to the fore a year later and he was able to win five times for a range of different constructors. Following on from this, there were several British champions such as Graham Hill, Jackie Stewart and James Hunt.
How to bet and win on Formula 1
As always, it helps to have some knowledge with regard to Formula 1 racing and the majority of bets are placed on the Grand Prix which tend to take place every fortnight.
The betting markets are opened ahead of qualifying and you can place bets on pole position, including In-Play wagers as the drivers complete laps of their respective circuits and aim to get a profitable position on the grid.
Following on from qualifying, there is then the opportunity to bet on Grand Prix markets. Sometimes, the GP Winner market tends to be a closed shop that features the top two or three drivers and then big odds about everyone else.
However, there is often value that can be found by having a bet on a driver to be on the podium or alternatively on a driver to be among the points. With the points being given to any driver finishing in the top ten, then this is an exciting market that can give you good value all the way through the race.
In 2017, Frenchman Esteban Ocon was able to finish in the points for the majority of races and customers betting on him were able to profit despite the fact that he didn't make the podium at all.

Other Sports betting Tips