Montpellier Betting Tips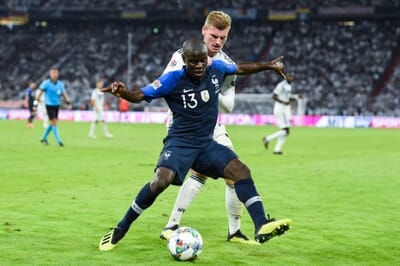 Montpellier Hérault Sport Club were founded in 1919 and they are one of the oldest football clubs in France, with the team playing at Stade de la Mosson which holds over 30,000 spectators.
If you're looking for Montpellier betting tips, then our writers are keen to provide as many as possible during the season. La Paillade always have a number of high-profile games and they are also popular when it comes to accumulator bets, with customers wanting to get the best odds.
We have free Montpellier betting tips and team news available for every match. We find out which players are injured and the likely length of absence, with suspension information also available.
Montpellier Free Bets & Bonuses
Montpellier Injuries
Type
Name
Position
Matches
Goals
Assists
Info
Expected Return
Jonas Omlin
G
31
0
0
Thigh injury
Mid May
Pedro Mendes
D
20
0
0
ACL injury
Out for season
Ambroise Oyongo
D
13
1
0
ACL injury
Late October
Next Game: Montpellier vs Brest
1:

2.20

X:

3.60

2:

3.00
Bet Now!
T&Cs apply, Gamble Responsibly 18+
Montpellier Lineups
Confirmed Lineups
Predicted Lineups
Montpellier Squad
Manager: Michel Der Zakarian
Goalkeepers

1

Jonas Omlin

16

Dimitry Bertaud

30

Matis Carvalho
Defenders

2

Arnaud Souquet

3

Daniel Congré

4

Hilton

5

Pedro Mendes

7

Mihailo Ristić

17

Thibault Tamas

27

Clément Vidal

31

Nicolas Cozza

33

Maxime Estève

0

Ambroise Oyongo

0

Mathías Suárez
Midfielders

6

Junior Sambia

11

Teji Savanier

12

Jordan Ferri

13

Joris Chotard

14

Damien Le Tallec

24

Il-Lok Yun

25

Florent Mollet

26

Samy Benchamma

0

Kylian Kaiboue

0

Adil Ben Achour
Forwards

9

Andy Delort

10

Gaëtan Laborde

18

Yannis Ammour

19

Stephy Mavididi

20

K. Larenzo Dolly

21

Elye Wahi

28

Béni Makouana

32

Petar Skuletic

34

Oucasse Mendy
Montpellier Fixtures
Sunday 16 May
Best Odds
Sunday 23 May
Montpellier Results
Sunday 09 May
Ligue 1 16:00 Sun 9 May
16:00
France Ligue 1
Strasbourg
2 - 3
Montpellier
Sunday 02 May
Ligue 1 18:05 Sun 2 May
18:05
France Ligue 1
Montpellier
1 - 2
Saint-Etienne
Sunday 25 April
Ligue 1 14:00 Sun 25 Apr
14:00
France Ligue 1
Friday 16 April
Ligue 1 22:00 Fri 16 Apr
22:00
France Ligue 1
Saturday 10 April
Ligue 1 22:00 Sat 10 Apr
22:00
France Ligue 1
Montpellier
3 - 3
Marseille
Ligue 1 2020/2021
| # | Team | G | W | D | L | +/- | P |
| --- | --- | --- | --- | --- | --- | --- | --- |
| 1 | Lille | 36 | 23 | 10 | 3 | 62:22 | 79 |
| 2 | PSG | 36 | 24 | 4 | 8 | 80:28 | 76 |
| 3 | Monaco | 36 | 23 | 5 | 8 | 74:41 | 74 |
| 4 | Lyon | 36 | 21 | 10 | 5 | 74:38 | 73 |
| 5 | Marseille | 36 | 15 | 11 | 10 | 50:44 | 56 |
| 6 | Lens | 36 | 15 | 11 | 10 | 55:51 | 56 |
| 7 | Rennes | 36 | 15 | 10 | 11 | 49:38 | 55 |
| 8 | Montpellier | 36 | 13 | 11 | 12 | 58:61 | 50 |
| 9 | Nice | 36 | 14 | 7 | 15 | 47:49 | 49 |
| 10 | Metz | 36 | 12 | 10 | 14 | 42:45 | 46 |
| 11 | Saint-Etienne | 36 | 12 | 9 | 15 | 42:53 | 45 |
| 12 | Angers | 36 | 12 | 8 | 16 | 37:53 | 44 |
| 13 | Reims | 36 | 9 | 15 | 12 | 41:44 | 42 |
| 14 | Brest | 36 | 11 | 7 | 18 | 50:64 | 40 |
| 15 | Bordeaux | 36 | 11 | 6 | 19 | 37:55 | 39 |
| 16 | Strasbourg | 36 | 10 | 8 | 18 | 46:57 | 38 |
| 17 | Lorient | 36 | 10 | 8 | 18 | 47:66 | 38 |
| 18 | Nantes | 36 | 8 | 13 | 15 | 42:53 | 37 |
| 19 | Nimes | 36 | 9 | 8 | 19 | 38:64 | 35 |
| 20 | Dijon | 36 | 3 | 9 | 24 | 24:69 | 18 |
| # | Team | G | W | D | L | +/- | P |
| --- | --- | --- | --- | --- | --- | --- | --- |
| 1 | Monaco | 18 | 11 | 5 | 2 | 41:20 | 38 |
| 2 | PSG | 18 | 12 | 1 | 5 | 40:14 | 37 |
| 3 | Lyon | 18 | 11 | 3 | 4 | 40:20 | 36 |
| 4 | Lille | 18 | 10 | 6 | 2 | 28:11 | 36 |
| 5 | Marseille | 18 | 9 | 5 | 4 | 29:21 | 32 |
| 6 | Lorient | 18 | 9 | 2 | 7 | 29:28 | 29 |
| 7 | Rennes | 18 | 8 | 4 | 6 | 24:21 | 28 |
| 8 | Brest | 18 | 8 | 4 | 6 | 32:31 | 28 |
| 9 | Lens | 18 | 7 | 6 | 5 | 28:26 | 27 |
| 10 | Montpellier | 18 | 7 | 3 | 8 | 34:35 | 24 |
| 11 | Nice | 18 | 7 | 3 | 8 | 25:28 | 24 |
| 12 | Bordeaux | 18 | 6 | 4 | 8 | 16:21 | 22 |
| 13 | Angers | 18 | 6 | 3 | 9 | 19:25 | 21 |
| 14 | Saint-Etienne | 18 | 5 | 6 | 7 | 20:28 | 21 |
| 15 | Reims | 18 | 4 | 8 | 6 | 15:19 | 20 |
| 16 | Metz | 18 | 5 | 4 | 9 | 18:25 | 19 |
| 17 | Nantes | 18 | 3 | 8 | 7 | 20:27 | 17 |
| 18 | Strasbourg | 18 | 4 | 4 | 10 | 20:28 | 16 |
| 19 | Nimes | 18 | 3 | 5 | 10 | 20:34 | 14 |
| 20 | Dijon | 18 | 1 | 6 | 11 | 8:27 | 9 |