Leeds v West Brom Championship betting preview and tips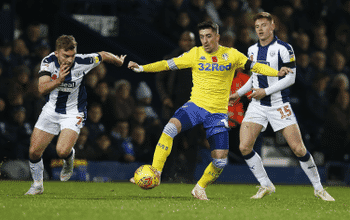 20:45 Fri 01 Mar
Football
We're fast approaching the end of the Championship season, with Leeds and West Brom firmly in the mix when it comes to automatic promotion. Friday night's encounter at the Elland Road is likely to have a huge bearing on which teams head to the Premier League.
As you might expect, Marcelo Bielsa's team are warm favourites to land the spoils and they have won eleven of their seventeen matches at Elland Road, with the Whites getting back on the winning trail by beating Swansea and Bolton.
Previously to this, the Yorkshire side had hit the buffers, with Hull, Nottingham Forest, Stoke and Norwich all claiming recent victories and Leeds have only won their past two encounters by a single goal.
Nevertheless, United are full of goals and they have found the net in the past nine encounters to date, while West Brom arrive in west Yorkshire knowing that they need to start racking up wins to trouble the automatic places.
The Baggies were turned over at home to Sheffield United last weekend, although they had previously landed ten points from four matches and it's worth noting that Darren Moore's side have better form on the road than at home.
West Brom have been a high-scoring team in the Championship all season and it's easy to see them finding the net against opponents who will also be on the front foot to try and ensure that they finish ahead of either Norwich and Sheffield United.
Jay Rodriguez and Dwight Gayle are among the division's leading scorers, while Leeds have Patrick Bamford looking sharp and enjoying a run of matches in the team.
We can't be confident of the outcome but the net should bulge at least once at both ends, with a high-scoring match potentially on the cards.
BETTING TIP
BTTS @ 1.66 with bet365

All odds are correct at time of publishing and are subject to change
Published Feb 25, 2019, 13:36 by
Tony Thomas
Team News
Leeds: 4-1-4-1 (Confirmed Line-up)
West Brom: 4-3-3 (Confirmed Line-up)
Championship - League Table
| # | Team | G | W | D | L | +/- | P |
| --- | --- | --- | --- | --- | --- | --- | --- |
| 1 | Norwich | 43 | 25 | 12 | 6 | 87:53 | 87 |
| 2 | Sheffield Unite | 43 | 24 | 10 | 9 | 71:39 | 82 |
| 3 | Leeds | 43 | 23 | 9 | 11 | 66:42 | 78 |
| 4 | West Bromwich A | 43 | 22 | 10 | 11 | 83:57 | 76 |
| 5 | Aston Villa | 43 | 19 | 15 | 9 | 79:58 | 72 |
| 6 | Middlesbrough | 43 | 18 | 13 | 12 | 45:36 | 67 |
| 7 | Bristol City | 42 | 18 | 12 | 12 | 56:47 | 66 |
| 8 | Derby | 42 | 17 | 13 | 12 | 61:52 | 64 |
| 9 | Sheffield Wedne | 43 | 15 | 16 | 12 | 54:56 | 61 |
| 10 | Preston | 43 | 16 | 12 | 15 | 64:59 | 60 |
| 11 | Hull | 43 | 17 | 9 | 17 | 63:62 | 60 |
| 12 | Swansea | 42 | 17 | 8 | 17 | 59:57 | 59 |
| 13 | Nottingham Fore | 43 | 14 | 15 | 14 | 56:54 | 57 |
| 14 | Birmingham | 43 | 13 | 17 | 13 | 60:56 | 56 |
| 15 | Blackburn | 43 | 15 | 11 | 17 | 59:65 | 56 |
| 16 | Brentford | 43 | 14 | 13 | 16 | 67:59 | 55 |
| 17 | Stoke | 43 | 11 | 19 | 13 | 41:48 | 52 |
| 18 | Queens Park Ran | 43 | 13 | 9 | 21 | 51:67 | 48 |
| 19 | Reading | 43 | 10 | 15 | 18 | 48:64 | 45 |
| 20 | Wigan | 43 | 11 | 12 | 20 | 47:63 | 45 |
| 21 | Millwall | 42 | 10 | 14 | 18 | 45:57 | 44 |
| 22 | Rotherham | 43 | 8 | 16 | 19 | 49:76 | 40 |
| 23 | Bolton | 43 | 8 | 8 | 27 | 29:74 | 32 |
| 24 | Ipswich | 43 | 4 | 16 | 23 | 32:71 | 28 |