Bournemouth
v

Arsenal Betting Tips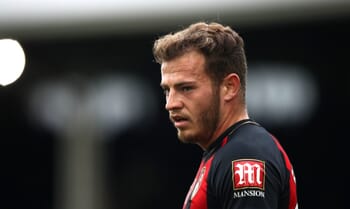 14:30 Sun 25 Nov
Football
Tip: Bournemouth +0.5
Units: 1/5
It's not difficult to side with Bournemouth in a fixture which they won last season after tossing away a three-goal lead the season before when leading 3-0 against the Gunners.
Team news | League Table | Odds
It's clearly a team that the Cherries relish playing against at the Vitality Stadium, with Eddie Howe finding further improvement from his squad this season, partly thanks to the acquisition of David Brooks along with the bright performances from Callum Wilson and Ryan Fraser.
Bournemouth have only lost once at home and that was last time out when they gave Manchester United the mother of all batterings only to have one goal to show for their endeavours. The Red Devils then clawed back to claim the spoils.
If there's one weakness in the Cherries' ranks, it's the defensive frailty which means sixteen goals have been shipped in twelve games and Arsenal certainly have the players to take advantage.
Unai Emery's side are themselves unbeaten since the opening two matches which were both lost, although that string of victories has now turned into draws, with Crystal Palace, Liverpool and Wolves all taking a point.
Bournemouth will be confident of following suit, with the Arsenal defence hardly inspiring confidence and it was notable how effective Wolves were in getting forward and creating chances against the London team.
BETTING TIP
Bournemouth +0.5 @ 1.88 with bet365

Team News
Confirmed Line-up: Bournemouth - Arsenal
Bournemouth
: 4-4-2 (Confirmed Line-up)
Arsenal
: 3-4-2-1 (Confirmed Line-up)
05

Sokratis Papastathopoulos
14

Pierre Emerick Aubameyang
Bournemouth
4-4-2
Arsenal
3-4-2-1
Premier League
- League Table
| # | Team | G | W | D | L | +/- | P |
| --- | --- | --- | --- | --- | --- | --- | --- |
| 1 | Arsenal | 0 | 0 | 0 | 0 | 0:0 | 0 |
| 2 | Aston Villa | 0 | 0 | 0 | 0 | 0:0 | 0 |
| 3 | Chelsea | 0 | 0 | 0 | 0 | 0:0 | 0 |
| 4 | Everton | 0 | 0 | 0 | 0 | 0:0 | 0 |
| 5 | Liverpool | 0 | 0 | 0 | 0 | 0:0 | 0 |
| 6 | Manchester City | 0 | 0 | 0 | 0 | 0:0 | 0 |
| 7 | Manchester Unit | 0 | 0 | 0 | 0 | 0:0 | 0 |
| 8 | Newcastle Unite | 0 | 0 | 0 | 0 | 0:0 | 0 |
| 9 | Tottenham | 0 | 0 | 0 | 0 | 0:0 | 0 |
| 10 | West Ham | 0 | 0 | 0 | 0 | 0:0 | 0 |
| 11 | Burnley | 0 | 0 | 0 | 0 | 0:0 | 0 |
| 12 | Crystal Palace | 0 | 0 | 0 | 0 | 0:0 | 0 |
| 13 | Leicester | 0 | 0 | 0 | 0 | 0:0 | 0 |
| 14 | Norwich | 0 | 0 | 0 | 0 | 0:0 | 0 |
| 15 | Sheffield Unite | 0 | 0 | 0 | 0 | 0:0 | 0 |
| 16 | Southampton | 0 | 0 | 0 | 0 | 0:0 | 0 |
| 17 | Watford | 0 | 0 | 0 | 0 | 0:0 | 0 |
| 18 | Wolverhampton W | 0 | 0 | 0 | 0 | 0:0 | 0 |
| 19 | Bournemouth | 0 | 0 | 0 | 0 | 0:0 | 0 |
| 20 | Brighton | 0 | 0 | 0 | 0 | 0:0 | 0 |