Crystal Palace v Brighton Premier League betting preview and tips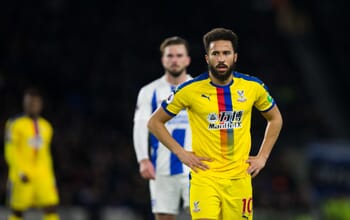 13:30 Sat 09 Mar
Football
At the time of writing, Palace are only three points better off than Brighton having played a game more, although they clearly look like a well-oiled machine compared to a Seagulls team are now looking over their shoulders.
Chris Hughton's side have not won a Premier League match since overcoming Everton at the end of December, with Brighton tossing a two-goal lead away at West Ham shortly after that and there was also the frittering away of a two-goal lead at Fulham a few weeks later.
The failure to manage games has become a recurring theme, with Albion falling behind to an early Leicester goal last week and eventually losing the game by a 2-1 scoreline despite seeing plenty of the ball in this match.
As for Palace, they were recently turned over at home to Manchester United although Roy Hodgson's team look stronger than they have done all season, with four wins coming in the past seven matches.
A recent 4-1 win at Leicester highlighted the class of Palace, with Wilfried Zaha looking to torment opponents in what is regarded as a Premier League derby and we also like Christian Benteke back in a centre forward position.
Palace's home form hasn't been great this season although Roy Hodgson has only just started to get choices when it comes to a centre forward option, with Michy Batshuayi looking to put himself on the market and he's looked lively.
We can't trust Brighton away from home and their form on the road has been decidedly poor since they enjoyed promotion, with Hughton not using transfer budgets wisely and reliant on Glen Murray to score the goals that will keep them in the top flight.

BETTING TIP
Crystal Palace to win @ 1.80 with bet365

All odds are correct at time of publishing and are subject to change
Published Feb 28, 2019, 15:48 by
Tony Thomas
Team News
Crystal Palace: 4-3-3 (Confirmed Line-ups)
Brighton: 4-3-3 (Confirmed Line-ups)
Premier League
| # | Team | G | W | D | L | +/- | P |
| --- | --- | --- | --- | --- | --- | --- | --- |
| 1 | Liverpool | 34 | 26 | 7 | 1 | 77:20 | 85 |
| 2 | Manchester City | 33 | 27 | 2 | 4 | 86:22 | 83 |
| 3 | Tottenham | 33 | 22 | 1 | 10 | 64:34 | 67 |
| 4 | Arsenal | 33 | 20 | 6 | 7 | 66:40 | 66 |
| 5 | Chelsea | 34 | 20 | 6 | 8 | 57:36 | 66 |
| 6 | Manchester Unit | 33 | 19 | 7 | 7 | 63:44 | 64 |
| 7 | Leicester | 34 | 14 | 5 | 15 | 46:45 | 47 |
| 8 | Wolverhampton W | 33 | 13 | 8 | 12 | 41:42 | 47 |
| 9 | Everton | 34 | 13 | 7 | 14 | 46:44 | 46 |
| 10 | Watford | 33 | 13 | 7 | 13 | 47:48 | 46 |
| 11 | West Ham | 34 | 12 | 6 | 16 | 42:52 | 42 |
| 12 | Bournemouth | 34 | 12 | 5 | 17 | 49:61 | 41 |
| 13 | Crystal Palace | 34 | 11 | 6 | 17 | 40:46 | 39 |
| 14 | Burnley | 34 | 11 | 6 | 17 | 42:60 | 39 |
| 15 | Newcastle Unite | 34 | 10 | 8 | 16 | 32:43 | 38 |
| 16 | Southampton | 33 | 9 | 9 | 15 | 39:54 | 36 |
| 17 | Brighton | 33 | 9 | 6 | 18 | 32:53 | 33 |
| 18 | Cardiff | 34 | 9 | 4 | 21 | 30:63 | 31 |
| 19 | Fulham | 34 | 5 | 5 | 24 | 32:76 | 20 |
| 20 | Huddersfield | 34 | 3 | 5 | 26 | 19:67 | 14 |