Liverpool
v

Cardiff Betting Tips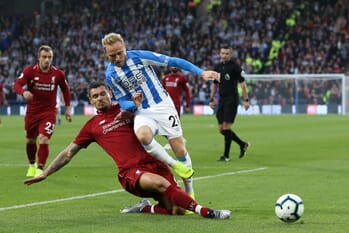 16:00 Sat 27 Oct
Football
Tip: Liverpool win to nil
Units: 1/5
Jurgen Klopp played a dangerous game with his team selection at Huddersfield, although a 1-0 victory at the John Smith's Stadium means that they hang on to the coat tails of Manchester City despite the widening goal difference gap.
Team news | League Table | Odds
We might expect a stronger team for the visit of Cardiff on Saturday, with the German hoping that the Reds beat Red Star Belgrade comfortably in the Champions League, with Sadio Mane expected to return to the starting line-up for this clash.
Liverpool have been near-flawless at Anfield, with Manchester City the only team to deny the Merseyside team and we know what to expect from Cardiff City, with Neil Warnock's side coming into this game off the back of a 4-2 win over Fulham.
The Bluebirds battled really hard away to Tottenham recently and only lost the game by a single goal so it's not certain that the floodgates will open but the Liverpool front three could cause all kinds of torment and Roberto Firmino should be well-rested.
The visitors will prioritise keeping things tight and making themselves hard to break down, with a Liverpool clean sheet looking likely and we can get an attractive price about them winning the game without reply.
Virgil van Dijk and Dejan Lovren have been the preferred central defensive pairing recently, although we might expect Trent Alexander-Arnold to return as the right back in this clash, with Alisson continuing to look like a safe pair of hands at the back.
Indeed, Liverpool's midfielder seem almost more adept at covering the defence rather than affording the team a huge amount of creativity, with Klopp happy with another routine win before sterner tests await further down the line.
BETTING TIP
Liverpool win to nil @ 1.66 with bet365

Team News
Confirmed Line-up: Liverpool - Cardiff
Liverpool
: 4-3-3 (Confirmed Line-up)
Cardiff
: 4-4-1-1 (Confirmed Line-up)
66

Trent Alexander-Arnold
Liverpool
4-3-3
Cardiff
4-4-1-1
Premier League
- League Table
| # | Team | G | W | D | L | +/- | P |
| --- | --- | --- | --- | --- | --- | --- | --- |
| 1 | Arsenal | 0 | 0 | 0 | 0 | 0:0 | 0 |
| 2 | Aston Villa | 0 | 0 | 0 | 0 | 0:0 | 0 |
| 3 | Chelsea | 0 | 0 | 0 | 0 | 0:0 | 0 |
| 4 | Everton | 0 | 0 | 0 | 0 | 0:0 | 0 |
| 5 | Liverpool | 0 | 0 | 0 | 0 | 0:0 | 0 |
| 6 | Manchester City | 0 | 0 | 0 | 0 | 0:0 | 0 |
| 7 | Manchester Unit | 0 | 0 | 0 | 0 | 0:0 | 0 |
| 8 | Newcastle Unite | 0 | 0 | 0 | 0 | 0:0 | 0 |
| 9 | Tottenham | 0 | 0 | 0 | 0 | 0:0 | 0 |
| 10 | West Ham | 0 | 0 | 0 | 0 | 0:0 | 0 |
| 11 | Burnley | 0 | 0 | 0 | 0 | 0:0 | 0 |
| 12 | Crystal Palace | 0 | 0 | 0 | 0 | 0:0 | 0 |
| 13 | Leicester | 0 | 0 | 0 | 0 | 0:0 | 0 |
| 14 | Norwich | 0 | 0 | 0 | 0 | 0:0 | 0 |
| 15 | Sheffield Unite | 0 | 0 | 0 | 0 | 0:0 | 0 |
| 16 | Southampton | 0 | 0 | 0 | 0 | 0:0 | 0 |
| 17 | Watford | 0 | 0 | 0 | 0 | 0:0 | 0 |
| 18 | Wolverhampton W | 0 | 0 | 0 | 0 | 0:0 | 0 |
| 19 | Bournemouth | 0 | 0 | 0 | 0 | 0:0 | 0 |
| 20 | Brighton | 0 | 0 | 0 | 0 | 0:0 | 0 |