Man Utd v Leicester Premier League Betting Preview & Tips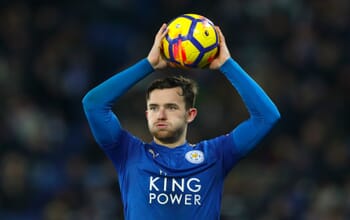 20:45 Fri 10 Aug
Football
Twelve months ago, Leicester were handed a tricky curtain-raiser when heading to the Emirates Stadium in a match that they lost 4-3.
Once again, the fixtures computer hasn't been terribly kind, with the Foxes this time heading to Old Trafford where they are big outsiders to claim anything against a Manchester United team who finished second in the Premier League last term.
Leicester are starting life without Riyad Mahrez who eventually left through the exit door after issuing various come and get me pleas for the past twelve months. The team will clearly be poorer without the talented Algerian although funds are likely to be reinvested.
James Maddison is likely to make his full debut, while Jonny Evans will become Harry Maguire's regular central defensive partner and perhaps this is a decent time to be facing a United team who are likely to be missing first-team players.
Romelu Lukaku, Jesse Lingard, Marcus Rashford, Ashley Young and Phil Jones are among those likely to be having an extended break, although the same will apply to Maguire and Jamie Vardy.
Opening matches of the season can be somewhat predictable, with Leicester hoping to ruffle a few feathers, while Jose Mourinho will look to create a more attacking brand of football in a bid to make the club have more appeal and ultimately challenge Manchester City at the top.
It could be a good time to oppose United who are likely to encounter a defensive strategy deployed by the visitors and we'll have a speculative punt on the draw, with the likely absence of Lukaku expected to be keenly felt.
BETTING TIP
Draw @ 5.00 with BetVictor

All odds are correct at time of publishing and are subject to change
Published Jul 13, 2018, 16:33 by
Tony Thomas
Team News
Man Utd: 4-3-3 (Confirmed Line-ups)
Leicester: 4-2-3-1 (Confirmed Line-ups)
02

Victor Nilsson-Lindelof
Premier League
| # | Team | G | W | D | L | +/- | P |
| --- | --- | --- | --- | --- | --- | --- | --- |
| 1 | Liverpool | 31 | 23 | 7 | 1 | 70:18 | 76 |
| 2 | Manchester City | 30 | 23 | 3 | 4 | 76:20 | 72 |
| 3 | Tottenham | 30 | 20 | 1 | 9 | 57:32 | 61 |
| 4 | Arsenal | 30 | 18 | 6 | 6 | 63:39 | 60 |
| 5 | Manchester Unit | 30 | 17 | 7 | 6 | 58:40 | 58 |
| 6 | Chelsea | 30 | 17 | 6 | 7 | 50:33 | 57 |
| 7 | Wolverhampton W | 30 | 12 | 8 | 10 | 38:36 | 44 |
| 8 | Watford | 30 | 12 | 7 | 11 | 42:44 | 43 |
| 9 | West Ham | 31 | 12 | 6 | 13 | 41:46 | 42 |
| 10 | Everton | 31 | 11 | 8 | 12 | 42:39 | 41 |
| 11 | Leicester | 31 | 12 | 5 | 14 | 40:43 | 41 |
| 12 | Bournemouth | 31 | 11 | 5 | 15 | 43:56 | 38 |
| 13 | Newcastle Unite | 31 | 9 | 8 | 14 | 31:40 | 35 |
| 14 | Crystal Palace | 30 | 9 | 6 | 15 | 36:41 | 33 |
| 15 | Brighton | 29 | 9 | 6 | 14 | 32:42 | 33 |
| 16 | Southampton | 30 | 7 | 9 | 14 | 34:50 | 30 |
| 17 | Burnley | 31 | 8 | 6 | 17 | 35:59 | 30 |
| 18 | Cardiff | 30 | 8 | 4 | 18 | 27:57 | 28 |
| 19 | Fulham | 31 | 4 | 5 | 22 | 29:70 | 17 |
| 20 | Huddersfield | 31 | 3 | 5 | 23 | 18:57 | 14 |