Newcastle v Man Utd Premier League betting preview and tips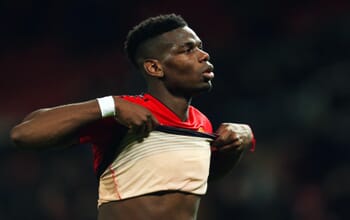 21:00 Wed 02 Jan
Football
Manchester United suffered consecutive defeats against Valencia and Liverpool before the Old Trafford board decided enough was enough and they parted company with Jose Mourinho.
Ole Gunnar Solskjaer might not be a first class football manager although the Norwegian is clearly a popular figure among the United players and Paul Pogba is among those who is enjoying his football again.
The Frenchman has been pivotal in wins over Cardiff and Huddersfield, with the Red Devils enjoying an emphatic 5-1 win at the Cardiff City Stadium and we might see more fireworks at St James' Park.
Rafael Benitez will know this isn't a good time to be facing United although he'll cast his mind back to their clash at Old Trafford where his team raced into a 2-0 lead before eventually losing 3-2.
The Magpies have clear daylight between themselves and the bottom three, although home form has been particularly disappointing, with seven defeats experienced in ten clashes on Tyneside.
Scoring goals is clearly proving to be a problem, with Jose Salomon Rondon showing glimpses in front of goal as his seven goals testify, although United just have so many more attacking options.
Alexis Sanchez is nearing a return to fitness, with Anthony Martial expected to be fit for this clash and United seem an appealing betting prospect after months of mediocrity at Old Trafford.
Despite an average season, the Red Devils have still managed to win four times on the road and nick a victory at Juventus, while they have come away from Stamford Bridge with a 2-2 draw.
Now that they have a motivated group of players, it could be the time to continue backing them and hope that they can steamroller a team who might be feeling the pinch of a busy fixture schedule.
BETTING TIP
Manchester United to win @ 1.60 (3/5) with bet365

All odds are correct at time of publishing and are subject to change
Published Dec 27, 2018, 23:56 by
Tony Thomas
Team News
Newcastle: 5-4-1 (Confirmed Line-ups)
Man Utd: 4-2-3-1 (Confirmed Line-ups)
02

Victor Nilsson-Lindelof
Premier League
| # | Team | G | W | D | L | +/- | P |
| --- | --- | --- | --- | --- | --- | --- | --- |
| 1 | Liverpool | 31 | 23 | 7 | 1 | 70:18 | 76 |
| 2 | Manchester City | 30 | 23 | 3 | 4 | 76:20 | 72 |
| 3 | Tottenham | 30 | 20 | 1 | 9 | 57:32 | 61 |
| 4 | Arsenal | 30 | 18 | 6 | 6 | 63:39 | 60 |
| 5 | Manchester Unit | 30 | 17 | 7 | 6 | 58:40 | 58 |
| 6 | Chelsea | 30 | 17 | 6 | 7 | 50:33 | 57 |
| 7 | Wolverhampton W | 30 | 12 | 8 | 10 | 38:36 | 44 |
| 8 | Watford | 30 | 12 | 7 | 11 | 42:44 | 43 |
| 9 | West Ham | 31 | 12 | 6 | 13 | 41:46 | 42 |
| 10 | Everton | 31 | 11 | 8 | 12 | 42:39 | 41 |
| 11 | Leicester | 31 | 12 | 5 | 14 | 40:43 | 41 |
| 12 | Bournemouth | 31 | 11 | 5 | 15 | 43:56 | 38 |
| 13 | Newcastle Unite | 31 | 9 | 8 | 14 | 31:40 | 35 |
| 14 | Crystal Palace | 30 | 9 | 6 | 15 | 36:41 | 33 |
| 15 | Brighton | 29 | 9 | 6 | 14 | 32:42 | 33 |
| 16 | Southampton | 30 | 7 | 9 | 14 | 34:50 | 30 |
| 17 | Burnley | 31 | 8 | 6 | 17 | 35:59 | 30 |
| 18 | Cardiff | 30 | 8 | 4 | 18 | 27:57 | 28 |
| 19 | Fulham | 31 | 4 | 5 | 22 | 29:70 | 17 |
| 20 | Huddersfield | 31 | 3 | 5 | 23 | 18:57 | 14 |