Newcastle v Tottenham Premier League betting preview and tips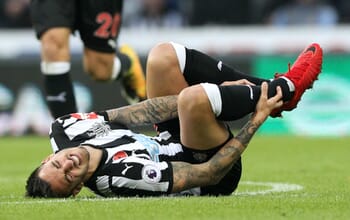 13:30 Sat 11 Aug
Football
Newcastle United were no respecters of the opposition last season. Arsenal and Manchester United were among the teams beaten at St James' Park, with Rafael Benitez relishing the chance to pit his wits against the top teams in the Premier League.
Benitez won't be too fazed by meeting Tottenham so early in the season, with the Spaniard among the most popular Newcastle managers of all time and it shouldn't be forgotten that the Magpies landed a top half finish last term.
While 33 points separated the two teams, that owed a little to Newcastle losing four of their final five matches, with Benitez looking to bolster his attacking options this time around.
Tottenham are targeting another top four Premier League finish and possibly a Premier League title tilt although it should be remembered that they return to a new-look White Hart Lane and have several recovering World Cup players in the squad.
Mauricio Pochettino will have to make assessments on a host of players including Harry Kane, Toby Alderweireld and Hugo Lloris, with the Argentine likely to give several of these players an extended break.
It all amounts to a tough match for the London team and we're happy to plump for a draw in this clash rather than risk the visitors at skinny odds.
BETTING TIP
Draw @ 3.60 with BetVictor

All odds are correct at time of publishing and are subject to change
Published Jul 13, 2018, 16:50 by
Tony Thomas
Team News
Newcastle: 4-4-1-1 (Confirmed Line-ups)
Tottenham: 4-2-3-1 (Confirmed Line-ups)
Premier League
| # | Team | G | W | D | L | +/- | P |
| --- | --- | --- | --- | --- | --- | --- | --- |
| 1 | Liverpool | 31 | 23 | 7 | 1 | 70:18 | 76 |
| 2 | Manchester City | 30 | 23 | 3 | 4 | 76:20 | 72 |
| 3 | Tottenham | 30 | 20 | 1 | 9 | 57:32 | 61 |
| 4 | Arsenal | 30 | 18 | 6 | 6 | 63:39 | 60 |
| 5 | Manchester Unit | 30 | 17 | 7 | 6 | 58:40 | 58 |
| 6 | Chelsea | 30 | 17 | 6 | 7 | 50:33 | 57 |
| 7 | Wolverhampton W | 30 | 12 | 8 | 10 | 38:36 | 44 |
| 8 | Watford | 30 | 12 | 7 | 11 | 42:44 | 43 |
| 9 | West Ham | 31 | 12 | 6 | 13 | 41:46 | 42 |
| 10 | Everton | 31 | 11 | 8 | 12 | 42:39 | 41 |
| 11 | Leicester | 31 | 12 | 5 | 14 | 40:43 | 41 |
| 12 | Bournemouth | 31 | 11 | 5 | 15 | 43:56 | 38 |
| 13 | Newcastle Unite | 31 | 9 | 8 | 14 | 31:40 | 35 |
| 14 | Crystal Palace | 30 | 9 | 6 | 15 | 36:41 | 33 |
| 15 | Brighton | 29 | 9 | 6 | 14 | 32:42 | 33 |
| 16 | Southampton | 30 | 7 | 9 | 14 | 34:50 | 30 |
| 17 | Burnley | 31 | 8 | 6 | 17 | 35:59 | 30 |
| 18 | Cardiff | 30 | 8 | 4 | 18 | 27:57 | 28 |
| 19 | Fulham | 31 | 4 | 5 | 22 | 29:70 | 17 |
| 20 | Huddersfield | 31 | 3 | 5 | 23 | 18:57 | 14 |