Birmingham Betting Tips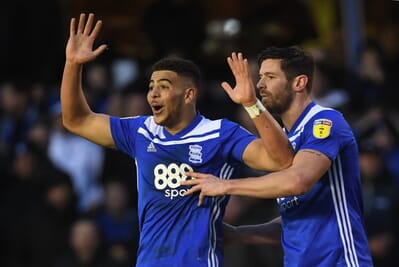 At Sportsgambler.com, we specialise in the English Championship and that means readers can get free Birmingham betting tips on a regular basis. We look at the latest odds for the next Blues match and make recommendations according to what we think will happen.
The expert Birmingham City betting tips and team news can be found at Sportsgambler.com so that you can discover the injury situation at St Andrews, while we also list any players that are suspended and create a predicted lineup based on this information.
There are lots of Birmingham City bookmaker markets every time they take to the field and we're always confident of finding the right angle.
Birmingham Free Bets & Bonuses
Birmingham Injuries
Type
Name
Position
Matches
Goals
Assists
Info
Expected Return
Neil Etheridge
G
43
0
0
Hip injury
Early June
Scott Hogan
F
33
7
0
Hip injury
Mid May
Jon Toral
M
15
2
1
Hamstring
Late May
World's Favourite Betting Company
Bet Now!
T&Cs apply, Gamble Responsibly 18+
Birmingham Lineups
Confirmed Lineups
Predicted Lineups
Birmingham Squad
Manager: Aitor Karanka
Goalkeepers

1

Andres Prieto

30

Neil Etheridge

38

Zach Jeacock

0

Connal Trueman
Defenders

2

Maxime Colin

3

K. Pedersen

4

Marc Roberts

5

George Friend

6

Yan Valery

12

Harlee Dean

15

J. Clarke-Salter

19

Mikel San José

25

J. Dacres-Cogley

42

Steve Seddon

43

Geraldo Bajrami

45

Ryan Burke

50

Nico Gordon
Midfielders

8

Adam Clayton

18

Riley McGree

20

Gary Gardner

23

Jon Toral

24

Rekeem Harper

28

Miguel Fernandez

34

Ivan Sunjic

35

Alen Halilovic

47

Ryan Stirk

48

Jack Concannon

51

Kyle Hurst

53

Tate Campbell

0

Bernard Sun
Forwards

9

Scott Hogan

10

Lucas Jutkiewicz

11

Jérémie Bela

14

Jonathan Leko

16

Sam Cosgrove

17

Ivan Sanchez

40

Adan George

44

C. Boyd-Munce

49

Jayden Reid

0

Josh Andrews

0

K. Simmonds
Birmingham Results
Saturday 08 May
Championship 14:30 Sat 8 May
14:30
England Championship
Blackburn
5 - 2
Birmingham
Saturday 01 May
Championship 17:00 Sat 1 May
17:00
England Championship
Saturday 24 April
Championship 17:00 Sat 24 Apr
17:00
England Championship
Wednesday 21 April
Championship 21:45 Wed 21 Apr
21:45
England Championship
Birmingham
1 - 1
Nottingham Forest
Sunday 18 April
Championship 14:00 Sun 18 Apr
14:00
England Championship
Rotherham
0 - 1
Birmingham
Championship 2020/2021
| # | Team | G | W | D | L | +/- | P |
| --- | --- | --- | --- | --- | --- | --- | --- |
| 1 | Norwich | 45 | 29 | 9 | 7 | 73:34 | 96 |
| 2 | Watford | 45 | 26 | 10 | 9 | 61:30 | 88 |
| 3 | Brentford | 45 | 23 | 15 | 7 | 76:41 | 84 |
| 4 | Swansea | 45 | 23 | 11 | 11 | 56:37 | 80 |
| 5 | Bournemouth | 45 | 22 | 11 | 12 | 73:44 | 77 |
| 6 | Barnsley | 45 | 23 | 8 | 14 | 56:48 | 77 |
| 7 | Reading | 45 | 19 | 12 | 14 | 60:52 | 69 |
| 8 | Cardiff | 45 | 18 | 13 | 14 | 65:48 | 67 |
| 9 | QPR | 45 | 18 | 11 | 16 | 54:54 | 65 |
| 10 | Middlesbrough | 45 | 18 | 10 | 17 | 55:50 | 64 |
| 11 | Millwall | 46 | 15 | 17 | 14 | 47:52 | 62 |
| 12 | Luton | 45 | 17 | 11 | 17 | 40:49 | 62 |
| 13 | Preston | 45 | 17 | 7 | 21 | 47:55 | 58 |
| 14 | Blackburn | 46 | 15 | 12 | 19 | 65:54 | 57 |
| 15 | Stoke | 45 | 14 | 15 | 16 | 48:52 | 57 |
| 16 | Coventry | 46 | 14 | 13 | 19 | 49:61 | 55 |
| 17 | Nottingham Forest | 45 | 12 | 16 | 17 | 36:43 | 52 |
| 18 | Birmingham | 46 | 13 | 13 | 20 | 37:61 | 52 |
| 19 | Bristol City | 45 | 15 | 6 | 24 | 45:65 | 51 |
| 20 | Huddersfield | 45 | 12 | 12 | 21 | 48:69 | 48 |
| 21 | Derby | 45 | 11 | 10 | 24 | 33:55 | 43 |
| 22 | Rotherham | 45 | 11 | 8 | 26 | 43:59 | 41 |
| 23 | Sheffield Wed | 45 | 12 | 10 | 23 | 37:58 | 40 |
| 24 | Wycombe | 45 | 10 | 10 | 25 | 36:69 | 40 |
| # | Team | G | W | D | L | +/- | P |
| --- | --- | --- | --- | --- | --- | --- | --- |
| 1 | Watford | 22 | 18 | 2 | 2 | 42:12 | 56 |
| 2 | Norwich | 23 | 14 | 6 | 3 | 39:15 | 48 |
| 3 | Brentford | 23 | 12 | 9 | 2 | 39:20 | 45 |
| 4 | Bournemouth | 22 | 13 | 3 | 6 | 40:22 | 42 |
| 5 | Swansea | 23 | 12 | 6 | 5 | 27:16 | 42 |
| 6 | Barnsley | 22 | 12 | 5 | 5 | 28:20 | 41 |
| 7 | Reading | 22 | 12 | 3 | 7 | 35:25 | 39 |
| 8 | Middlesbrough | 22 | 11 | 4 | 7 | 30:22 | 37 |
| 9 | Coventry | 23 | 10 | 7 | 6 | 30:22 | 37 |
| 10 | Blackburn | 23 | 9 | 7 | 7 | 37:28 | 34 |
| 11 | QPR | 22 | 10 | 4 | 8 | 29:26 | 34 |
| 12 | Luton | 23 | 8 | 9 | 6 | 25:23 | 33 |
| 13 | Sheffield Wed | 23 | 8 | 8 | 7 | 22:17 | 32 |
| 14 | Stoke | 23 | 9 | 5 | 9 | 29:28 | 32 |
| 15 | Huddersfield | 23 | 8 | 7 | 8 | 28:23 | 31 |
| 16 | Millwall | 23 | 7 | 10 | 6 | 24:24 | 31 |
| 17 | Cardiff | 22 | 8 | 5 | 9 | 36:25 | 29 |
| 18 | Nottingham Forest | 22 | 6 | 8 | 8 | 20:22 | 26 |
| 19 | Preston | 23 | 7 | 5 | 11 | 21:24 | 26 |
| 20 | Wycombe | 23 | 7 | 5 | 11 | 17:28 | 26 |
| 21 | Derby | 22 | 6 | 6 | 10 | 17:23 | 24 |
| 22 | Bristol City | 22 | 7 | 3 | 12 | 17:27 | 24 |
| 23 | Birmingham | 23 | 6 | 4 | 13 | 18:37 | 22 |
| 24 | Rotherham | 23 | 5 | 4 | 14 | 26:35 | 19 |