Birmingham Betting Tips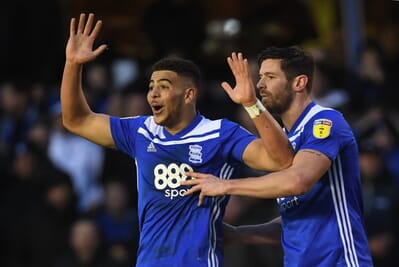 At Sportsgambler.com, we specialise in the English Championship and that means readers can get free Birmingham betting tips on a regular basis. We look at the latest odds for the next Blues match and make recommendations according to what we think will happen.
The expert Birmingham City betting tips and team news can be found at Sportsgambler.com so that you can discover the injury situation at St Andrews, while we also list any players that are suspended and create a predicted lineup based on this information.
There are lots of Birmingham City bookmaker markets every time they take to the field and we're always confident of finding the right angle.
Birmingham Free Bets & Bonuses
Birmingham Injuries
Type
Name
Position
Matches
Goals
Assists
Info
Expected Return
Adan George
F
0
0
0
ACL injury
Early May
Neil Etheridge
G
0
0
0
COVID-19
Late October
Next Game: Birmingham vs Swansea
1:

2.25

X:

3.30

2:

3.20
Bet Now!
T&Cs apply, Gamble Responsibly 18+
Birmingham Lineups
Confirmed Lineups
Predicted Lineups
Birmingham Squad
Manager: Lee Bowyer
Goalkeepers

1

Neil Etheridge

13

Matija Sarkic

27

Connal Trueman
Defenders

2

Maxime Colin

3

K. Pedersen

4

Marc Roberts

5

George Friend

12

Harlee Dean

21

Dion Sanderson

23

J. Familia-Castillo

50

Nico Gordon

52

Marcel Oakley
Midfielders

6

Ryan Woods

7

Tahith Chong

8

Adam Clayton

15

Chuks Aneke

18

Riley McGree

20

Gary Gardner

24

Jordan Graham

34

Ivan Sunjic

51

Kyle Hurst

53

Tate Campbell

0

Alfie Chang
Forwards

9

Scott Hogan

10

Lucas Jutkiewicz

11

Jérémie Bela

17

Ivan Sanchez

36

Troy Deeney

40

Adan George

44

C. Boyd-Munce

54

K. Simmonds
Birmingham Fixtures
Saturday 23 October
Best Odds
Saturday 30 October
Tuesday 02 November
Saturday 06 November
Saturday 20 November
Birmingham Results
Wednesday 20 October
Championship 21:45 Wed 20 Oct
21:45
England Championship
Huddersfield
0-0
Birmingham
Friday 15 October
Championship 22:00 Fri 15 Oct
22:00
England Championship
Saturday 02 October
Championship 17:00 Sat 2 Oct
17:00
England Championship
Birmingham
0-0
Nottingham Forest
Tuesday 28 September
Championship 21:45 Tue 28 Sep
21:45
England Championship
Saturday 25 September
Championship 17:00 Sat 25 Sep
17:00
England Championship
Championship 2021/2022
| # | Team | G | W | D | L | +/- | P |
| --- | --- | --- | --- | --- | --- | --- | --- |
| 1 | Bournemouth | 13 | 9 | 4 | 0 | 21:8 | 31 |
| 2 | Fulham | 13 | 8 | 2 | 3 | 29:14 | 26 |
| 3 | West Brom | 13 | 7 | 4 | 2 | 22:11 | 25 |
| 4 | Coventry | 13 | 7 | 2 | 4 | 19:16 | 23 |
| 5 | QPR | 13 | 6 | 3 | 4 | 24:20 | 21 |
| 6 | Huddersfield | 13 | 6 | 3 | 4 | 18:14 | 21 |
| 7 | Stoke | 13 | 6 | 3 | 4 | 16:14 | 21 |
| 8 | Reading | 13 | 6 | 1 | 6 | 20:22 | 19 |
| 9 | Luton | 13 | 4 | 6 | 3 | 22:18 | 18 |
| 10 | Middlesbrough | 13 | 5 | 3 | 5 | 15:13 | 18 |
| 11 | Millwall | 13 | 4 | 6 | 3 | 13:14 | 18 |
| 12 | Blackpool | 13 | 5 | 3 | 5 | 15:18 | 18 |
| 13 | Blackburn | 13 | 4 | 5 | 4 | 21:17 | 17 |
| 14 | Nottingham Forest | 13 | 5 | 2 | 6 | 18:16 | 17 |
| 15 | Swansea | 13 | 4 | 5 | 4 | 14:15 | 17 |
| 16 | Bristol City | 13 | 4 | 4 | 5 | 15:17 | 16 |
| 17 | Sheffield United | 13 | 4 | 3 | 6 | 17:19 | 15 |
| 18 | Preston | 13 | 3 | 6 | 4 | 14:16 | 15 |
| 19 | Birmingham | 13 | 3 | 4 | 6 | 10:16 | 13 |
| 20 | Peterborough | 13 | 3 | 2 | 8 | 14:26 | 11 |
| 21 | Cardiff | 13 | 3 | 2 | 8 | 12:24 | 11 |
| 22 | Hull | 13 | 2 | 3 | 8 | 9:19 | 9 |
| 23 | Barnsley | 13 | 1 | 5 | 7 | 7:17 | 8 |
| 24 | Derby | 13 | 3 | 7 | 3 | 9:10 | 4 |
| # | Team | G | W | D | L | +/- | P |
| --- | --- | --- | --- | --- | --- | --- | --- |
| 1 | Coventry | 6 | 6 | 0 | 0 | 14:3 | 18 |
| 2 | Fulham | 7 | 5 | 1 | 1 | 16:5 | 16 |
| 3 | Stoke | 7 | 5 | 1 | 1 | 10:5 | 16 |
| 4 | West Brom | 6 | 4 | 2 | 0 | 11:4 | 14 |
| 5 | Bournemouth | 6 | 4 | 2 | 0 | 13:7 | 14 |
| 6 | QPR | 7 | 4 | 2 | 1 | 12:7 | 14 |
| 7 | Middlesbrough | 7 | 4 | 1 | 2 | 12:7 | 13 |
| 8 | Reading | 7 | 4 | 1 | 2 | 14:11 | 13 |
| 9 | Huddersfield | 7 | 4 | 1 | 2 | 11:9 | 13 |
| 10 | Swansea | 7 | 3 | 3 | 1 | 7:4 | 12 |
| 11 | Preston | 7 | 3 | 3 | 1 | 9:8 | 12 |
| 12 | Blackburn | 6 | 3 | 2 | 1 | 14:8 | 11 |
| 13 | Derby | 7 | 2 | 5 | 0 | 7:5 | 11 |
| 14 | Sheffield United | 7 | 3 | 1 | 3 | 13:10 | 10 |
| 15 | Luton | 6 | 2 | 3 | 1 | 11:8 | 9 |
| 16 | Blackpool | 6 | 3 | 0 | 3 | 4:7 | 9 |
| 17 | Peterborough | 6 | 2 | 2 | 2 | 9:7 | 8 |
| 18 | Millwall | 6 | 2 | 2 | 2 | 6:7 | 8 |
| 19 | Barnsley | 6 | 1 | 2 | 3 | 3:6 | 5 |
| 20 | Hull | 7 | 1 | 2 | 4 | 5:10 | 5 |
| 21 | Birmingham | 6 | 1 | 2 | 3 | 3:9 | 5 |
| 22 | Nottingham Forest | 6 | 1 | 1 | 4 | 6:10 | 4 |
| 23 | Bristol City | 7 | 0 | 4 | 3 | 4:8 | 4 |
| 24 | Cardiff | 6 | 1 | 1 | 4 | 5:10 | 4 |