Blackburn Betting Tips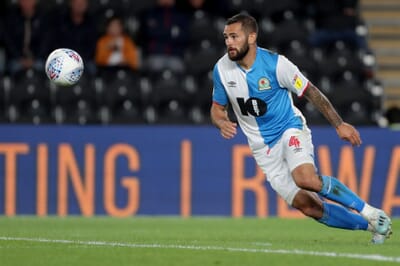 Rovers are a club who have previously won the Premier League and they're based in Lancashire, with the team's home being Ewood Park. Rovers play in a blue and white kit and they have several local rivalries including one with Burnley.
Free Blackburn betting tips and picks can be accessed on a frequent basis, with punters able to read the latest expert Blackburn betting tips before deciding which way to bet. You can view the updated odds and work out which markets offer the best value.
If you want the starting lineup before placing any bets, you can get the predicted team well in advance of their next match and a confirmed starting 11 is also published before a ball is kicked.
Blackburn Free Bets & Bonuses
Blackburn Injuries
Type
Name
Position
Matches
Goals
Assists
Info
Expected Return
Bradley Dack
M
0
0
0
ACL injury
Early November
Next Game: Blackburn vs Reading
1:

1.90

X:

3.50

2:

4.00
Bet Now!
T&Cs apply, Gamble Responsibly 18+
Blackburn Lineups
Confirmed Lineups
Predicted Lineups
Blackburn Squad
Manager: Tony Mowbray
Goalkeepers

1

Thomas Kaminski

13

Aynsley Pears

41

A. Stergiakis

45

Jordan Eastham
Defenders

2

Ryan Nyambe

3

Harry Pickering

5

Daniel Ayala

24

Hayden Carter

25

J. Paul van

26

Darragh Lenihan

27

Lewis Travis

28

Scott Wharton

33

Lenni Cirino

35

Jake Garrett

36

Tyler Magloire

40

Dan Pike
Midfielders

4

Bradley Johnson

6

Jacob Davenport

8

Joe Rothwell

10

Tyrhys Dolan

19

L. Clarkson

20

Tayo Edun

21

John Buckley

23

Bradley Dack

24

J. Rankin-Costello

37

Luke Brennan

43

Connor McBride

0

Jalil Saadi

0

Sam Durrant
Forwards

7

Reda Khadra

9

Sam Gallagher

14

D. Butterworth

22

Ben Brereton

30

Ian Poveda

0

Sam Burns
Blackburn Fixtures
Saturday 23 October
Best Odds
Saturday 30 October
Wednesday 03 November
Saturday 06 November
Saturday 20 November
Blackburn Results
Tuesday 19 October
Championship 21:45 Tue 19 Oct
21:45
England Championship
Saturday 16 October
Championship 17:00 Sat 16 Oct
17:00
England Championship
Saturday 02 October
Championship 17:00 Sat 2 Oct
17:00
England Championship
Tuesday 28 September
Championship 21:45 Tue 28 Sep
21:45
England Championship
Huddersfield
3-2
Blackburn
Saturday 25 September
Championship 17:00 Sat 25 Sep
17:00
England Championship
Championship 2021/2022
| # | Team | G | W | D | L | +/- | P |
| --- | --- | --- | --- | --- | --- | --- | --- |
| 1 | Bournemouth | 13 | 9 | 4 | 0 | 21:8 | 31 |
| 2 | West Brom | 12 | 7 | 4 | 1 | 21:9 | 25 |
| 3 | Fulham | 12 | 7 | 2 | 3 | 27:14 | 23 |
| 4 | Coventry | 12 | 7 | 2 | 3 | 18:14 | 23 |
| 5 | QPR | 13 | 6 | 3 | 4 | 24:20 | 21 |
| 6 | Stoke | 13 | 6 | 3 | 4 | 16:14 | 21 |
| 7 | Huddersfield | 12 | 6 | 2 | 4 | 18:14 | 20 |
| 8 | Reading | 12 | 6 | 1 | 5 | 18:19 | 19 |
| 9 | Luton | 13 | 4 | 6 | 3 | 22:18 | 18 |
| 10 | Millwall | 13 | 4 | 6 | 3 | 13:14 | 18 |
| 11 | Blackburn | 13 | 4 | 5 | 4 | 21:17 | 17 |
| 12 | Nottingham Forest | 13 | 5 | 2 | 6 | 18:16 | 17 |
| 13 | Bristol City | 13 | 4 | 4 | 5 | 15:17 | 16 |
| 14 | Middlesbrough | 12 | 4 | 3 | 5 | 13:13 | 15 |
| 15 | Sheffield United | 13 | 4 | 3 | 6 | 17:19 | 15 |
| 16 | Blackpool | 12 | 4 | 3 | 5 | 12:16 | 15 |
| 17 | Swansea | 12 | 3 | 5 | 4 | 12:14 | 14 |
| 18 | Preston | 12 | 2 | 6 | 4 | 12:15 | 12 |
| 19 | Birmingham | 12 | 3 | 3 | 6 | 10:16 | 12 |
| 20 | Cardiff | 12 | 3 | 2 | 7 | 12:22 | 11 |
| 21 | Hull | 12 | 2 | 3 | 7 | 8:17 | 9 |
| 22 | Barnsley | 12 | 1 | 5 | 6 | 7:15 | 8 |
| 23 | Peterborough | 12 | 2 | 2 | 8 | 12:25 | 8 |
| 24 | Derby | 13 | 3 | 7 | 3 | 9:10 | 4 |
| # | Team | G | W | D | L | +/- | P |
| --- | --- | --- | --- | --- | --- | --- | --- |
| 1 | Coventry | 6 | 6 | 0 | 0 | 14:3 | 18 |
| 2 | Stoke | 7 | 5 | 1 | 1 | 10:5 | 16 |
| 3 | West Brom | 6 | 4 | 2 | 0 | 11:4 | 14 |
| 4 | Bournemouth | 6 | 4 | 2 | 0 | 13:7 | 14 |
| 5 | QPR | 7 | 4 | 2 | 1 | 12:7 | 14 |
| 6 | Fulham | 6 | 4 | 1 | 1 | 14:5 | 13 |
| 7 | Reading | 6 | 4 | 1 | 1 | 12:8 | 13 |
| 8 | Huddersfield | 6 | 4 | 0 | 2 | 11:9 | 12 |
| 9 | Blackburn | 6 | 3 | 2 | 1 | 14:8 | 11 |
| 10 | Derby | 7 | 2 | 5 | 0 | 7:5 | 11 |
| 11 | Sheffield United | 7 | 3 | 1 | 3 | 13:10 | 10 |
| 12 | Middlesbrough | 6 | 3 | 1 | 2 | 10:7 | 10 |
| 13 | Luton | 6 | 2 | 3 | 1 | 11:8 | 9 |
| 14 | Swansea | 6 | 2 | 3 | 1 | 5:3 | 9 |
| 15 | Preston | 6 | 2 | 3 | 1 | 7:7 | 9 |
| 16 | Blackpool | 6 | 3 | 0 | 3 | 4:7 | 9 |
| 17 | Peterborough | 6 | 2 | 2 | 2 | 9:7 | 8 |
| 18 | Millwall | 6 | 2 | 2 | 2 | 6:7 | 8 |
| 19 | Barnsley | 6 | 1 | 2 | 3 | 3:6 | 5 |
| 20 | Hull | 6 | 1 | 2 | 3 | 4:8 | 5 |
| 21 | Birmingham | 6 | 1 | 2 | 3 | 3:9 | 5 |
| 22 | Nottingham Forest | 6 | 1 | 1 | 4 | 6:10 | 4 |
| 23 | Bristol City | 7 | 0 | 4 | 3 | 4:8 | 4 |
| 24 | Cardiff | 6 | 1 | 1 | 4 | 5:10 | 4 |