Cardiff Betting Tips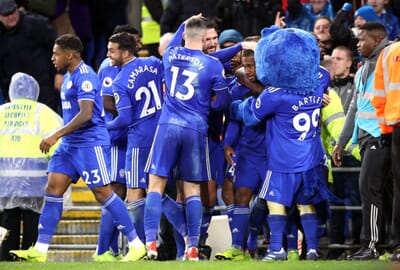 This popular football club are based in south Wales and they are well supported, with their nickname being the Bluebirds. The team play their football at the Cardiff City Stadium and you can get expert Cardiff City betting tips and picks for all the high-profile games throughout the season.
Check out the free Cardiff betting tips and odds and see where the value lies, with hundreds of bookmaker markets generally available for matches whether they are playing a league or cup match.
You can get injury information to understand which players are absent, with lineup and starting 11 data also giving you a full picture for each match before you go ahead and place bets.
Cardiff Free Bets & Bonuses
Cardiff Injuries
No players are currently reported injured or suspended.
Next Game: Cardiff vs Middlesbrough
1:

2.37

X:

3.30

2:

3.00
Bet Now!
T&Cs apply, Gamble Responsibly 18+
Cardiff Lineups
Confirmed Lineups
Predicted Lineups
Cardiff Squad
Manager: Mick McCarthy
Goalkeepers

1

Dillon Phillips

25

Alex Smithies

31

George Ratcliffe
Defenders

2

Mark McGuinness

3

Joel Bagan

4

Sean Morrison

5

Aden Flint

16

Curtis Nelson

30

Ciaron Brown

38

Perry Ng
Midfielders

6

Will Vaulks

7

Leandro Bacuna

8

Joe Ralls

21

Marlon Pack

26

Ryan Giles

27

Rubin Colwill

28

Tom Sang

34

T. K. D'Almeida

35

Kieron Evans

36

Keenan Patten

37

Sam Bowen
Forwards

10

Kieffer Moore

14

Isaac Vassell

19

James Collins

29

Mark Harris

42

Ntazana Mayembe
Cardiff Fixtures
Saturday 23 October
Best Odds
Saturday 30 October
Wednesday 03 November
Saturday 06 November
Saturday 20 November
Cardiff Results
Wednesday 20 October
Championship 21:45 Wed 20 Oct
21:45
England Championship
Sunday 17 October
Championship 14:00 Sun 17 Oct
14:00
England Championship
Saturday 02 October
Championship 17:00 Sat 2 Oct
17:00
England Championship
Tuesday 28 September
Championship 21:45 Tue 28 Sep
21:45
England Championship
Saturday 25 September
Championship 17:00 Sat 25 Sep
17:00
England Championship
Championship 2021/2022
| # | Team | G | W | D | L | +/- | P |
| --- | --- | --- | --- | --- | --- | --- | --- |
| 1 | Bournemouth | 13 | 9 | 4 | 0 | 21:8 | 31 |
| 2 | Fulham | 13 | 8 | 2 | 3 | 29:14 | 26 |
| 3 | West Brom | 13 | 7 | 4 | 2 | 22:11 | 25 |
| 4 | Coventry | 13 | 7 | 2 | 4 | 19:16 | 23 |
| 5 | QPR | 13 | 6 | 3 | 4 | 24:20 | 21 |
| 6 | Huddersfield | 13 | 6 | 3 | 4 | 18:14 | 21 |
| 7 | Stoke | 13 | 6 | 3 | 4 | 16:14 | 21 |
| 8 | Reading | 13 | 6 | 1 | 6 | 20:22 | 19 |
| 9 | Luton | 13 | 4 | 6 | 3 | 22:18 | 18 |
| 10 | Middlesbrough | 13 | 5 | 3 | 5 | 15:13 | 18 |
| 11 | Millwall | 13 | 4 | 6 | 3 | 13:14 | 18 |
| 12 | Blackpool | 13 | 5 | 3 | 5 | 15:18 | 18 |
| 13 | Blackburn | 13 | 4 | 5 | 4 | 21:17 | 17 |
| 14 | Nottingham Forest | 13 | 5 | 2 | 6 | 18:16 | 17 |
| 15 | Swansea | 13 | 4 | 5 | 4 | 14:15 | 17 |
| 16 | Bristol City | 13 | 4 | 4 | 5 | 15:17 | 16 |
| 17 | Sheffield United | 13 | 4 | 3 | 6 | 17:19 | 15 |
| 18 | Preston | 13 | 3 | 6 | 4 | 14:16 | 15 |
| 19 | Birmingham | 13 | 3 | 4 | 6 | 10:16 | 13 |
| 20 | Peterborough | 13 | 3 | 2 | 8 | 14:26 | 11 |
| 21 | Cardiff | 13 | 3 | 2 | 8 | 12:24 | 11 |
| 22 | Hull | 13 | 2 | 3 | 8 | 9:19 | 9 |
| 23 | Barnsley | 13 | 1 | 5 | 7 | 7:17 | 8 |
| 24 | Derby | 13 | 3 | 7 | 3 | 9:10 | 4 |
| # | Team | G | W | D | L | +/- | P |
| --- | --- | --- | --- | --- | --- | --- | --- |
| 1 | Coventry | 6 | 6 | 0 | 0 | 14:3 | 18 |
| 2 | Fulham | 7 | 5 | 1 | 1 | 16:5 | 16 |
| 3 | Stoke | 7 | 5 | 1 | 1 | 10:5 | 16 |
| 4 | West Brom | 6 | 4 | 2 | 0 | 11:4 | 14 |
| 5 | Bournemouth | 6 | 4 | 2 | 0 | 13:7 | 14 |
| 6 | QPR | 7 | 4 | 2 | 1 | 12:7 | 14 |
| 7 | Middlesbrough | 7 | 4 | 1 | 2 | 12:7 | 13 |
| 8 | Reading | 7 | 4 | 1 | 2 | 14:11 | 13 |
| 9 | Huddersfield | 7 | 4 | 1 | 2 | 11:9 | 13 |
| 10 | Swansea | 7 | 3 | 3 | 1 | 7:4 | 12 |
| 11 | Preston | 7 | 3 | 3 | 1 | 9:8 | 12 |
| 12 | Blackburn | 6 | 3 | 2 | 1 | 14:8 | 11 |
| 13 | Derby | 7 | 2 | 5 | 0 | 7:5 | 11 |
| 14 | Sheffield United | 7 | 3 | 1 | 3 | 13:10 | 10 |
| 15 | Luton | 6 | 2 | 3 | 1 | 11:8 | 9 |
| 16 | Blackpool | 6 | 3 | 0 | 3 | 4:7 | 9 |
| 17 | Peterborough | 6 | 2 | 2 | 2 | 9:7 | 8 |
| 18 | Millwall | 6 | 2 | 2 | 2 | 6:7 | 8 |
| 19 | Barnsley | 6 | 1 | 2 | 3 | 3:6 | 5 |
| 20 | Hull | 7 | 1 | 2 | 4 | 5:10 | 5 |
| 21 | Birmingham | 6 | 1 | 2 | 3 | 3:9 | 5 |
| 22 | Nottingham Forest | 6 | 1 | 1 | 4 | 6:10 | 4 |
| 23 | Bristol City | 7 | 0 | 4 | 3 | 4:8 | 4 |
| 24 | Cardiff | 6 | 1 | 1 | 4 | 5:10 | 4 |