Top Goalscorer Copa America 2021 Betting Tips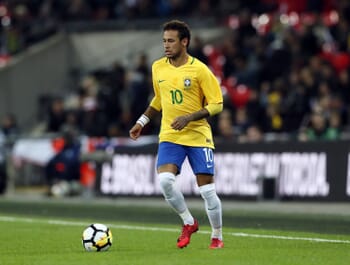 00:00 Mon 14 Jun
Football
CONMEBOL
Copa America
Tip:Neymar
Units:2/5
Odds: 5.00
bet365
Interestingly, the top scorers at the 2019 Copa America were Everton and Paolo Guerrero and the strikers both notched just three goals throughout the tournament.
However, the tournament format involved three groups of four teams before the quarter final stage, while the 2021 renewal will involve two groups of five teams and there will be a round robin phase which involves each side playing four different opponents before the last eight stage.
Therefore, we should expect the tournament's leading scorer to plunder several goals en route to winning the Golden Boot and we should consider players who operate for the leading teams when placing our bets.
We're especially interested in players representing Brazil and Colombia considering that they're both in the North Zone which is also known as Group B on the basis that there are several weak opponents on the horizon.
Venezuela are among the weaker teams in the tournament and appear at the 2021 Copa America as a potential whipping boy, while Peru and Ecuador could also be rich pickings for the two strongest sides in the section.
Our 2021 Copa America Top Goalscorer Prediction
When it comes to Brazil, it appears likely that they will play a 4-2-3-1 formation with either Roberto Firmino and Gabriel Jesus as the lone forward. The fact that they will effectively split duties throughout the tournament doesn't render them an attractive betting prospect.
However, NEYMAR looks a completely different prospect, with the Paris Saint-Germain forward sure to get plenty of game time and he has scored 65 goals in 104 international appearances, with the 29-year-old at the peak of his powers.
Brazil manager Tite is likely to rotate his squad against weaker opponents and it's a really difficult puzzle working out the leading scorer for Brazil, let alone whether they can bag enough to top the scoring charts although Neymar demands inclusion and looks a solid bet.
Messi, Suarez and Cavani Also Among Golden Boot Favourites
Naturally, some punters will want to back Lionel Messi and the Barcelona star could have shone in his native Argentina, although the fact that this tournament is being played in Brazil is an obvious negative considering that the Barca star is going to be met with hostility.
Uruguay, Paraguay and Chile could prove to be stubborn and there's the obvious possibility that Messi will be wrapped in cotton wool for the latter stages of the competition.
Luis Suarez and Edinson Cavani have had a rum old time of things together representing Uruguay and it wouldn't be a surprise to find either player near the top of the scoring charts, with Suarez having helped Atletico Madrid to a first Spanish La Liga title in ten years, while Cavani has been spectacular for Manchester United.
However, our prediction is that Neymar will be sitting pretty on top of the scoring charts come the end of a tournament which has had to be hastily rearranged.
BETTING TIP TOP SCORER COPA AMERICA 2021
Neymar @ 5.00 with bet365
Copa America Free Bets & Bonuses
Free Daily Betting Tips
16:00 Saturday 19 Jun
19:00 Saturday 19 Jun
22:00 Saturday 19 Jun
19:00 Sunday 20 Jun
19:00 Sunday 20 Jun
00:00 Monday 21 Jun
03:00 Monday 21 Jun
19:00 Monday 21 Jun
19:00 Monday 21 Jun
22:00 Monday 21 Jun
22:00 Monday 21 Jun